College Football: UCF Students to Wear Red Bandanas to Honor Fallen BC Hero
September 6, 2011
Nobody will forget where they were during the fateful hours of the 9/11 attacks. For my generation, that will be one of the most defining moments of our existence.
Though we were all affected as patriotic citizens of the United States of America, there were few families or communities that were adversely effected by these attacks on a personal level.
There was a story on ESPN that aired recently about a former Boston College student and lacrosse player that worked in the upper floors of one of the Twin Towers.
Welles Crowther graduated from Boston College several years before the 9/11 attacks occurred. He was remembered not only for his valiant efforts in sports, but his impact on the lives of others.
Welles was a volunteer junior firefighter growing up, and while he chose a career path elsewhere, his love for being a firefighter and helping others came to fruition during one of the most influential events in American history.
Working in the upper floors of the south tower of the World Trade Center, Welles was very close to where the plane hit. In this video from ESPN, you can hear the story of Welles putting his life on the line to save people during the attacks.
Growing up, Welles was given a red bandana handkerchief from his father. From the age of six, he carried that handkerchief everywhere he went, including on the lacrosse field at Boston College. Several people that Welles saved remembered a man appearing through the smoke and fire, carrying that red handkerchief.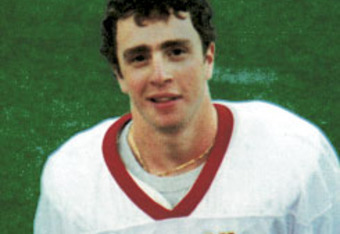 The people he saved were the only eye witnesses of Welles' story, and it was that red handkerchief that allowed his family to truly know that he spent his last waking minutes helping and impacting others in the greatest of ways.
This Saturday marks the 10th anniversary of these infamous attacks, and a time to remember fallen heroes like Welles Crowther.
There has been a huge push by the student population of the University of Central Florida to wear red bandanas this Saturday, as UCF hosts Boston College, to remember great selfless Americans like Welles.
The two students responsible for starting this trend are Neal Surrena and Garrett Weiss, who were touched by the story of Welles.
Originally, the event (which started via Facebook), was an attempt to get a small group at the game to wear red bandanas to honor Welles.
Neal and Garrett invited around 30 of their friends on Sunday morning, and when they checked back later that afternoon, there were over 1,000 people confirmed to take part.
When I asked Neal about his motives for the event, he responded "I started the event because Welles Crowther's determination, bravery, and heart inspired me more than any other story I have ever read."
Currently, there are almost 4,000 confirmed guests that will wear a red bandana at the game this Saturday.
"Everything just makes me thankful for people in the world willing to sacrifice their lives for complete strangers" Neal said, " From the red bandana he always kept since he was 6, to wanting to be a firefighter his whole life, to saving 12 people that day."
Once the word got out about this event and about the sacrifice that Welles made, the idea spread like a wildfire. People like Welles are truly inspirational to everyone. Garrett and Neal were so inspired by Welles, and this idea is their way of paying respect; this idea is a way for many of us to pay respect.
The most effective way of leadership is to lead by example, which is exactly what Welles did. In response to Welles' action, students like Neal and Garrett take action.
With the intention of only getting a small following, this idea of wearing a red bandana for Welles has touched the UCF, Boston College and NCAA communities.
Neal is "honored" to pay his respects to a great American hero like Welles Crowther.
This is the Facebook Event that Neal and Garrett created. Spread the word so that the colors of Boston College's red and UCF's gold are shared among not opponents, but brothers and sisters.