WHAT IF?... No Urban Meyer, Tim Tebow and Brian Kelly
September 6, 2011
Jonathan Daniel/Getty Images
Do you ever ponder on college football's landscape and how things turn out for your team?  I've been watching college football since I was six years old, so I can give a vivid description of each of the last 20 seasons.  Really.  I know it's completely irrelevant today (so save the smart comments), but I was watching Notre Dame and Michigan this past weekend, and wondered what if Brian Kelly never made it to Notre Dame?  What if Rich Rod never left West Virginia, would Brady Hoke still be in San Diego?  Tim Tebow could have been wearing crimson & cream instead of orange & blue? 
What if Urban Meyer was never offered the coaching job at Florida? I'm going to tell you the reason why it would have never happened.  I'm gone to make Gator Nation very feel special. Lets have some fun, shall we?
Lets go back to the night of September 6th, 2003 in Coral Gables, Florida. It's middle of the 3rd quarter, and the Mighty Gators were up 33-10 after a 65 yard run by DeShawn Wynn, followed by a Ran Carthon 4-yard touchdown run over the highly favored Miami Hurricanes ranked 9th nationally. Then the dream turns into a complete nightmare for Florida as Miami scored 28 unanswered points going on to win 38-33. Take into consideration the circumstances of that ball game—at that time Florida had not beaten the Hurricanes since a 35-23 win in 1985 up in Gainesville.  Miami was the bigger brother of Florida State and the Seminoles were the Gators' much hated big brother; therefore, a win in south Florida would have been monumental.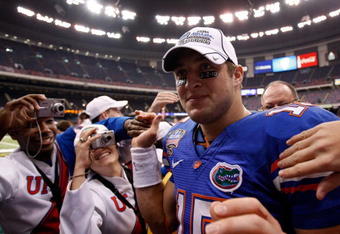 Kevin C. Cox/Getty Images
Now lets fast forward in that same season to November 29th. There was a tie for the SEC Eastern Divisional title between Florida, Tennessee and Georgia. The tie-breaker came down to the team with the highest BCS ranking and the Gators had the best opportunity to reach the pinnacle among the three teams because the Florida State Seminoles were ACC Champions and a top 10 squad. However, the Gators were "Swindled in the Swamp" to a loss of 38-34. Georgia received the bid to represent the east in Atlanta for the SEC Championship against LSU, a team Florida had beaten earlier that season, 19-7, in Baton Rouge.
Where am I going with this, you ask?  If Florida defeats Miami in Coral Gables, beats Florida State and goes on to play and possibly beat LSU again for the conference title then Ron Zook wouldn't been fired in 2004 after the Mississippi State loss.  If a head coach wins a SEC title, he doesn't get fired the very next year during the middle of the season. Zook buys  himself another year in Gainesville and Urban Meyer leaves Utah for South Bend because Meyer was the guy the Fightin' Irish want desperately. Tim Tebow signs with Alabama and Mike Shula may still be in Tuscaloosa with one of college football's greatest players wearing crimson and cream. 
Remember, Mike Shula stayed overnight at TimTebow's home before national signing day. This may seem like a fictional scenario, but remember how down the Gator Nation was after Spurrier left for the NFL and the desperate need to win any kind of championship.  Brian Kelly is probably in Ann Arbor because Rich Rodriguez would have stayed in Morgantown or left for somewhere else.  College football's landscape is something to think about. 
Still think these games aren't important?