Army Football: Young Players Emerge in Disappointing Opener at Northern Illinois
September 5, 2011
Army had a disappointing start to its season with a 49-26 loss at Northern Illinois that was not really even that close. 
The highlight of the night for Army fans may have been the play of several young players who have been placed in key roles because of the graduation losses to the offensive line and across the defense.
On offense, junior quarterback Trent Steelman was not getting much time to start his option plays and was not getting far when he ran, with 37 yards to show for 17 carries. 
Junior Malcolm Brown gave Army the best running performance of the night with 92 yards on nine carries. 
Starting fullback Jared Hassin had a frustrating time getting into the flow of the game, with just 16 yards on seven attempts. 
Sophomore Raymond Maples was more productive, gaining 25 yards on five carries. 
The surprise contribution came from freshman running back Trenton Turrentine, who contributed 68 yards on 11 carries with a touchdown in his first varsity game.
Steelman completed 5 of 11 passes for 86 yards, with 6'5" sophomore starting wideout Jared McFarlin making four receptions for the Black Knights.  Steelman was intercepted by the Huskies' Rashaan Melvin at the Army 48, setting up a 19-yard Chandler Harnish touchdown pass to Nathan Palmer early in the second quarter.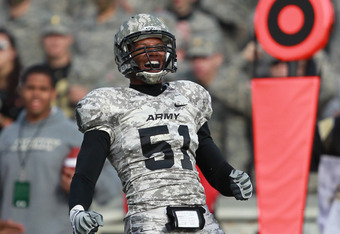 Senior Max Jenkins came in late and had two completions and an 11-yard touchdown pass to McFarlin. 
On offense, the Black Knights went without a huddle, looking at the sidelines before each snap for instructions held up on cards for them to see.  Steelman then had a chance to change the play at the line of scrimmage. 
The Black Knights showed the "Wishbone" formation, with a fullback up front (usually Hassin), with Brown, Maples, or sophomore Jon Crucitti at slot backs behind and on either side. On most plays they played with two wideouts, McFarland and Davyd Brooks. 
The challenge was on defense, where the Black Knights showed little ability to curtail Northern Illinois quarterback Chandler Harnish, who threw a career high five touchdowns and ran for one more.  Harnish completed 12 of 19 passes for 195 yards and ran for 80 yards on the night. 
Army outside linebacker senior Steve Erzinger was all over the field, contributing to 21 tackles, five solo and a sack.  Sophomore Reggie Nesbit held his own; the 190-pound middle linebacker was involved in 12 tackles and three solos.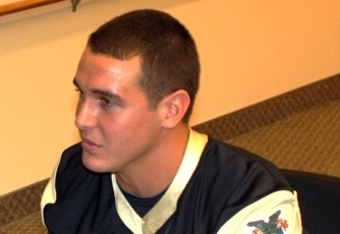 Special teams were sloppy, with Kolin Walk's first punt blocked and run back for a touchdown to provide NIU their first points.  After the opening Army touchdown, senior placekicker Alex Carlton missed the extra point, and Army chased the missed point by going for two points on the three touchdowns they scored in the fourth quarter.
Coach Rich Ellerson spoke on WABC to Army broadcaster Tony Marino after the game. The coach accepted responsibility for the team's performance, indicating the veterans were not quite ready to play:
"That's on me, I had all spring and summer to get these guys ready to the edge and be prepared and we weren't either.  We talk about being precise and poised, and we were not either. We knew we were going to have some young guys that might do some interesting things, but that wasn't the issue, really.  It was those guys we talked about that we would need to lean on, to our veteran leadership.  I didn't have those guys ready to block, ready to tackle, and ready to protect that punt... and that's on me."
One of the most experienced defensive lineman on the team, junior Jarrett Mackey, was injured and in street clothes by the end of the game.  Mackey plays the "Quick" position that the now-graduated Josh McNary had utilized to mount a strong pass rush in recent years. Coach Ellerson commented about this injury, "That's a hard one."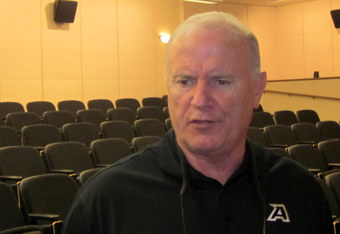 Marino tried to find out from Coach Ellerson the positives that emerged from the game. "The good news is we had a lot of guys play. The bad news is the reason we had a lot guys play is because we had a lot of guys banged up.  We have so much to work on, it is hard to get excited about anything."
Ellerson appreciated the effort of his players and the fourth quarter effort that produced three touchdowns. "In spite of the injuries, in spite of getting our nose bloodied, we kept trying to play, trying to get better.  We kept competing, that means the guys like to play.  Start with that, we like to play.  We know what it is like to play well.  I don't want to take anything away from Northern Illinois, that's a great football team. We didn't give them a great game.  We didn't bring our best stuff and that's on me."
On planning for a very tough opponent next Saturday at Michie Stadium, the San Diego State Aztecs,  Coach Ellerson commented:
"First we have got to fill some holes, and then we are playing a team, San Diego State is a very gifted team.  They have been working now on the option for eight-nine straight months and they have a head coach who knows that inside out and backwards. So offensively, it is going to be a real challenge. Defensively, we are going to need to retool a little bit.and come up with something we can do and do effectively and play ourselves on the edge."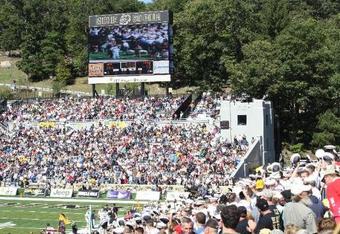 Coach Ellerson has a real challenge on his hands over the next two weeks.  San Diego State comes into Michie Stadium after a decisive 35-14 win over Navy in last season's Poinsettia Bowl, and Saturday's win at Qualcomm Stadium 49-21 over Ellerson's old team, Cal Poly. 
Army will then host a Northwestern team that defeated Boston College 24-17 Saturday on the road, with back-up quarterback Kain Colter replacing the injured Dan Persa. 
ESPN3 color analyst Bob Chmiel talked during the game about the way to stop an option team: up the middle, before the play gets going. The Black Knights will need to find a way to open holes up the middle for Steelman and Hassin to run between the guards, and to get the ball to the fast slotbacks to run around the outside.  Perhaps that will be the key: finding ways to open up the middle through more outside plays or even short passes to the backs and receivers. 
On defense, the Black Knights need to make their "Double Eagle Flex" work effectively against the run while playing a relatively small defensive line and corps of linebackers against upcoming teams with very large offensive lines. 
Perhaps the coaches should break out the tape of last year's game against Hawaii, an opponent with an offensive line the size of an NFL team.  In that game at Michie Stadium, Army was down 21-0 and came back with four straight touchdowns to take the lead in the third quarter 28-21.
Ken Kraetzer covers West Point Football and Iona basketball for WVOX radio in New Rochelle, NY.  Listen to the West Point Football Report Tuesday nights at 5:30 p.m. on WVOX.com during the season.  Contact him on kgk914@aol.com