College Football Rankings: 6 Ranked Teams That Shouldn't Be on Tuesday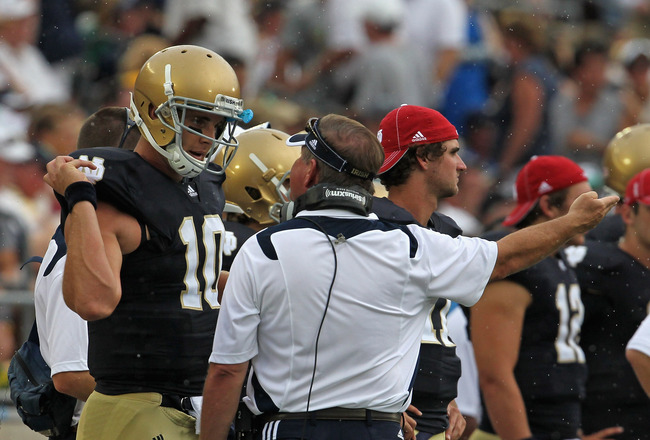 Jonathan Daniel/Getty Images
The opening week in college football was filled with drama, from last-minute comebacks to giant upsets, the season was, like always, well worth the wait.
There were only four teams in the top 25 to lose this weekend, and two of which were teams in the top 25 playing each other. But that doesn't mean that every team that won is deserving of their ranking.
Some teams barely pulled out a win, while others struggled against teams they should have manhandled.
Drawing some conclusions from the weekend, this list will take a look at six teams that won't necessarily, but should, fall out of the top 25.
Missouri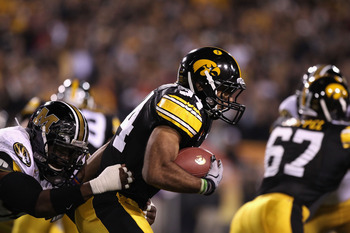 Christian Petersen/Getty Images
Although the 21st-ranked Missouri Tigers managed to get a victory over Miami of Ohio Saturday, the Missouri offense didn't look very good.
Missouri's new guy under center, James Franklin, went 17 for 26 for only 129 yards with an interception and a touchdown through the air. Franklin was also the team's leading rusher with 72 yards on 14 attempts, scoring a touchdown on the ground as well.
Luckily the Missouri defense was easily able to control Miami of Ohio, but Missouri was expected to dominate on both sides of the ball.
While the performance was enough to get the Tigers by Miami of Ohio, Franklin will have to pick up his game in order to have a prayer against Oklahoma, who they play on the 24th of September.
The Tigers won't drop out of the top 25 after a victory, but maybe they should.
USC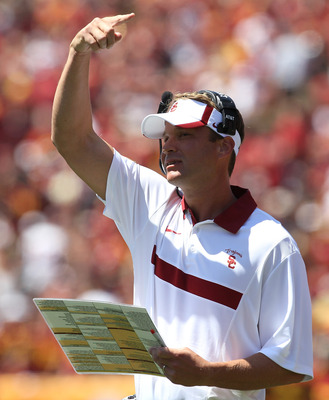 Stephen Dunn/Getty Images
The 25th-ranked USC Trojans squeaked out a win out Saturday versus a Minnesota Gophers squad that didn't look very dynamic.
In their 19-17 victory, USC quarterback Matt Barkley threw 54 times for 304 yards and three touchdowns. Even with a great game from Barkley, and two missed field goals by the Gophers, the Trojans were only able to win by two.
USC shouldn't be a top 25 team on Monday, but they will be. I just hope their fans don't expect them to stay there for very long.
Auburn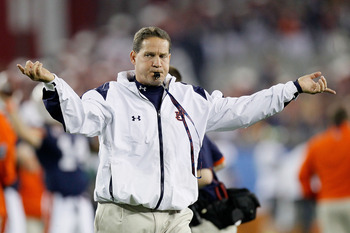 Kevin C. Cox/Getty Images
If it wasn't for an amazing fourth quarter comeback, the 23rd-ranked Auburn Tigers would, and probably should have, lost to Utah State.
The Auburn offense wasn't the problem either, they scored 14 late and put up 42 points. Cam Newton's replacement, Barret Trotter, did what he needed to do in order to lead the team to a win.
But giving up five rushing touchdowns does not bode well for a team that plays in a rush-happy SEC.
After the joy of a national championship, it is going to be a long season for Auburn fans.
Georgia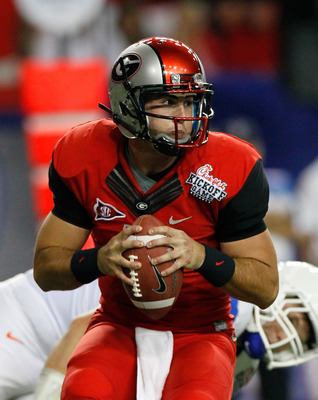 Kevin C. Cox/Getty Images
The 19th-ranked Georgia Bulldogs played a very good, and often underrated, Boise State team on Saturday, so I would like to give them the benefit of the doubt.
The only problem is that just looking at the score doesn't tell the whole story.
Kellen Moore, playing like the cool customer he is, picked apart Georgia's defense. And other than two big plays—a long touchdown run and a long touchdown pass on 4th-and-2—Georgia didn't do much against the Boise State defense either.
The Bulldogs had a very difficult Week 1 matchup, but in the SEC, their schedule doesn't get much easier.
TCU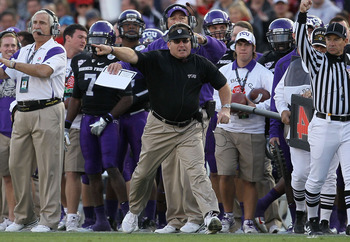 Stephen Dunn/Getty Images
TCU under Gary Patterson has been know for their defense. Against the Baylor Bears on Friday, it seemed that TCU's defense didn't even show up.
In a shootout that made the NBA All-Star Game look like a soccer match, TCU lost 50-48.
Baylor's quarterback, the lightning-quick Robert Griffin III, carved up the TCU defense as he passed for 359 yards and five touchdowns. At times, Baylor receiver Kendall Wright, looked unstoppable, catching perfectly placed passes by Griffin.
After the game, fans on both sides began to ask if TCU made Griffin look like an Heisman lock, or if Griffin is really just that good (probably a little of both).
Fourteenth-ranked TCU has a weak schedule and probably won't fall out of the top 25 Monday either, so they might be able to stay ranked for a while. But you can bet TCU won't be in the top 25 after their November 12th meeting with Kellen Moore and Boise State.
Notre Dame
Jonathan Daniel/Getty Images
Notre Dame probably had the most dismal game, especially the first half, of any team in the top 25.
The only bright spots for the team were a decent second-half comeback by Tommy Rees after first-string quarterback Dayne Crist was pulled (although Rees still made some bad throws and mistakes), outstanding play from Michael Floyd (two touchdowns and 154 yards on 12 receptions), and a solid running game from Cierre Wood with over 100 yards
Although the team could have played better, it was mistakes that really killed the Irish. A fumble for a touchdown, a dropped punt inside the 20-yard line and two interceptions in the red zone, might have derailed Notre Dame's BCS hopes after just one week.
Not only did the bumbling team not look ready for what should have been a relatively easy matchup against the University of South Florida, but Brian Kelly was also outcoached by Skip Holtz, son of the legendary Irish coach Lou Holtz.
As an Irish fan, as much as it pains me to say it, there is no way Notre Dame deserves to be in the top 25. The team will need to fight its way back against an extremely tough schedule ahead. It's going to be an uphill battle for the Irish all season.
Keep Reading