College Football 2011: Oregon Ducks Football Still Relevant Culture of Success
September 4, 2011
Ronald Martinez/Getty Images
Last night, in front of 80,000-plus fans at Cowboys Stadium, the University of Oregon lost their season opener against LSU.
"Everyone loses games," I continue to promise myself over and over and over. "Few change them." This helps, of course. It reminds me why all hope is not lost, and why Oregon is still such an incredible school.
But it only helps for so long.
The game was one of the most hyped showcases of two of the most talented teams in the country in recent memory, and the team that went undefeated in the regular season to earn a spot in the BCS National Championship last year (affectionately referred to as the Oregon Ducks) came out entirely flat.
LSU outplayed the Ducks, and by and large, the Ducks helped the Tigers' cause with stupid blunders, poor decisions and bad calls.
This morning, I found myself waking up from a deep sleep, as if I was awakening from a hangover.
What happened last night?
This is what I kept thinking to myself, immediately at nine in the morning before I ate breakfast and before I got out of bed, as if I had some sort of crazy night of partying. 
Did we really do THAT?
As my bedroom became less blurry, memories rushed back as if they were being recalled from a previously drunken haze. In a lot of ways, that's what last night felt like. For a night that I had been looking forward to for months, it felt wasted away in an intoxicated frenzy.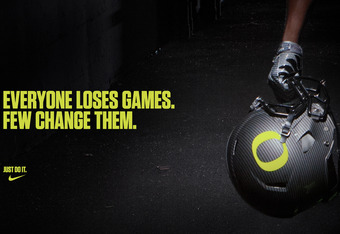 Except, I was sober—it was the Ducks that looked woozy and disoriented.
Darron Thomas didn't play his game, as he scrambled the ball only twice and was somehow expected to throw 54 times. LaMichael James was held under 60 yards, and his "big play potential" was virtually minimized. Kenjon Barner fumbled. De'Anhony Thomas fumbled. Once again, the Ducks looked overmatched by a strong SEC-defense, and poor play contributed to a lopsided Tigers' victory.
What the hell happened last night?
It's easy to put the blame on other people when you make poor decisions. That's one of the first steps of denial. In that state, one might blame Cliff Harris for being inactive because a veteran like Cliff never would have fumbled the kick returns.
In that state, one might blame the refs for calling twelve penalties on the Ducks even though the undersized and inexperienced offensive line was ill-prepared for the strong LSU defensive line.
It's a lot easier to pass off what happened in the season opener with denial. Last night, however, was as real as each victory that helped Oregon go undefeated last season.
As a fan, you hate to see teams with the potential of the Oregon Ducks get entirely shut down so early in the season. It speaks volumes for the nature of college football, and why it is imperative to institute a playoff system: The defending Pac-10 Champions and BCS National Championship runners-up in all likeliness end their campaign for a title in Week 1, even though that was only one game that they came up short in.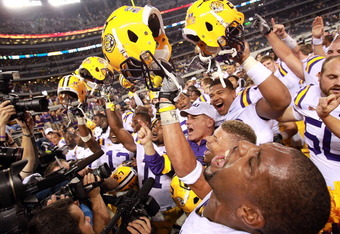 Ronald Martinez/Getty Images
Does that sound fair to anyone?
For me, even pretending to be an objective observer, I would rather see Oregon get their cracks at LSU again and see if we could prepare a better game plan.
Last night, perhaps because of the strange home field advantage that LSU was able to garner or perhaps because of the fact that they had so many months to prepare for this game, LSU took the Ducks out of their element and didn't let them play their own game.
Oregon lost the possession game (26:56 to 33:04), gave up the ball four times (which allowed easy LSU scores and momentum shifters), and the Ducks averaged only 3.4 yards per rush as they were unable to break that big play.
In the fourth quarter, Chip Kelly was arguably outcoached, as the Ducks were unable to garner a successful comeback and, in the most important drive of the game, was not able to put up a first down. Penalties were abundant, and it was clear that the team was shooting themselves in the foot.
Kelly scheduled this game against LSU for a reason. He wanted to be able to prove that his team was better than the SEC competitors. He and his team learned that they have holes at offensive line and at the receiving position, and need to fix them if they wish to contend. This LSU team took the Ducks out of their element.
While true freshman De'Anthony Thomas looked promising (six receptions for 47 yards, plus 22 yards on the rush with a touchdown), he didn't look prepared for LSU's hard-hitting defense, as he handed over the ball twice. Used to being able to outrun defenses at Crenshaw High School, playing an SEC defense is an entirely different game.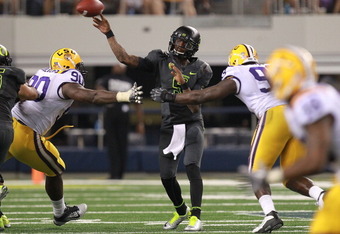 Ronald Martinez/Getty Images
This was his first meaningful game, and what a game it was to start off with. There was a lot of pressure on this young player's back. He may have been a part of the problem, but the blame should not fall on his talented shoulders.
The blame should be on the team. They lost the game.
But as we walk away and look forward to Nevada, the Ducks need to understand that everyone loses games.
Chip Kelly should remind his players and his fans that they could use this loss as a bit of an allegory for life. You're going to get knocked down, you're going to get the crap kicked out of you sometimes, and it's not always going to seem fair.
Still, losses happen to everyone.
It's impossible to win every game, and that's what made last years title run so special; it was improbable, and they gave every team a run for their money. It's not easy to win every game, and it's not easy to become a dynasty in football; you need to back up your talk with wins. It's a lot harder than the Ducks made it look last season.
When Chip Kelly brought his team into the locker room last night, I hope he showed his team the Nike advertisement that came out when they lost in the national championship. His team is very special, and it's an honor to play for the University of Oregon.
For a team in the middle-of-nowhere in the Pacific Northwest, Eugene football has no distinct geographical or historical reason as to why they became so good. They don't have the cultural attachment like Texas or Alabama does, they don't have the academic draw that Stanford does, and they don't have the history that USC or LSU does.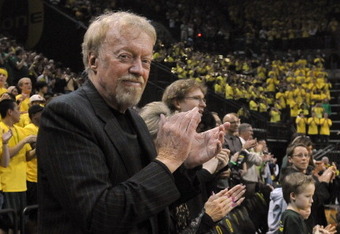 Steve Dykes/Getty Images
Oregon built this all of the way up on their own strength.
The Ducks are sometimes called the University of Nike, but I take that "insult" with pride. Phil Knight, a track runner at the school, created and founded one of the most successful international companies of all-time. He could use his philanthropy anywhere, but chooses to give back to the education that brought him there.
As the recent Grantland column tells us, Oregon is changing the game. They're building for the football player and giving them a reason to move out to the Pacific Northwest rather than sunny southern California.
They entice players with beautiful and innovative uniforms. Players like LaMichael James and LeGarrete Blount have admitted were a draw, and if you don't believe that the uniforms are a part of the game, ask Boise State or Georgia why they changed their jerseys this year to bright colors similar in style to Oregon.
They have the most up-to-date and cutting edge equipment in the world. Our weight room powers buildings on campus from the energy created from the treadmills.
We run an entirely different style of play than the rest of the country. Their blur offense is creative and inventive, they run the option very well, and their creative play calling with placards has already influenced the likes of last year's national champions, Auburn, who used those creative placards in their season debut.
For a school that produced Phil Knight and Steve Prefontaine, author of One Flew Over The Cuckoo's Nest, Ken Kesey, author of Fight Club, Chuck Palahniuk, Ahmad Rashad, Norv Turner and countless other notable alumni, they're continuing to make an impact on the game of football at the college level.       
Last night was unsettling and brutal to watch, and even if national championship implications may be forced to wash away, the season is not lost. If the Ducks can get back into shape and garner a one-loss season, one loss to LSU is not the worst thing in the world.
In fact, it's even more respectable to think that the Ducks could rally back, learn from their mistakes, and fix them. For sports fans, it would be encouraging and an uplifting story. The pressure is on, Oregon.
Let's see what the culture continues to produce, and whom it may inspire along the way. We have a tradition of being untraditional. That's just the Oregon way.
Cheers to the rest of the season, and Go Ducks! I know I'll be there to watch along the way, and if I had to make a prediction, the rest of you will be watching at home, too.
The Ducks are just too compelling to ignore.
Click here to Follow @BryanKalbrosky.