South Carolina Football 2011: Why Starting Connor Shaw Was a Bad Idea
September 4, 2011
Streeter Lecka/Getty Images
On Friday, I wrote that starting Connor Shaw would be a "bad idea." 
I was promptly raked over the coals by Gamecock fans and Bleacher Report regulars who said things like, "How dare you presume to know better than the Ol' Ball Coach?" and, "Just who do you think you are?" or, "The boy has earned the right to start," and so forth.
Okay, so the actual responses weren't so well articulated, but you get the general idea.
Just to recap, here are the three reasons why starting Connor Shaw was a bad idea:
1. College football is all about winning, and anyone who tells you otherwise is either a loser, dumb, or trying to sell you a timeshare. When we were in kindergarten, we learned how to treat others, how to get along and how to make sure that every kid got a chance to play Oregon Trail when it was his or her turn.
But college football isn't kindergarten, it's a multi-million dollar business with big payouts, high stakes and lots of old white guys who answer to names like "Buck" and "Hoss" slapping each other on the back and chugging Whiskey Gimlets in plush, leather-bound rooms.
Don't get me wrong, America needs more of this "everyone gets a turn" attitude—perhaps now more than ever. In my opinion, there are too many rich old white guys named "Buck" and "Hoss" who control far more than their fair share of the wealth. People are suffering, and that sucks.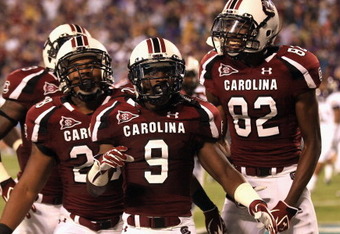 Streeter Lecka/Getty Images
But it just doesn't belong in the hyper-competitive world of big-time college football. This is South Carolina's chance to make a deep run, and I for one don't want to risk missing out on that just because Stephen Garcia is a drunken lout who spends his all of his time at Village Idiot while Connor Shaw organizes Encounter groups and teaches Sunday School at First Methodist.  
I have no way of knowing if either of these things are true, by the way, as I am formally banned from both Village Idiot and First Methodist. But that's a story for another day.

2. I was depressed until Garcia came in to the game, and I suspect I'm not alone. After a particularly rough day, all I wanted was to see South Carolina beat up on an inferior East Carolina squad. 
And, c'mon people, let's get real. ECU is not in the same league as the Gamecocks. There is no way in heck that South Carolina should have ever been down by 17 points, and I don't care how many people tell me, "Well, you know, Dominique Davis is a really accomplished QB."  
We need Garcia, plain and simple. And when you're talking about a sport like college football, where every single game matters almost more than life itself, you simply can't afford to take any chances. Can you imagine where we'd be right now if South Carolina had lost to the ECU Pirates last night?  

3. Connor Shaw—who I firmly believe will be a good QB—just isn't there yet. People love to look ahead, to get on the bandwagon, to pull for the guy who will probably be the starting QB very soon. But the time is not yet right. Did you happen to notice how the offense as a whole responded when Garcia came off the bench last night? It was electric. He's their leader.  
Shaw will get his turn to play Oregon Trail, don't you worry. But not just yet. There's too much football to be played.