Andrew Luck Leads Stanford to 57-3 Rout of San Jose State
September 4, 2011
Ezra Shaw/Getty Images
New head coach David Shaw had a near perfect debut as the successor to Jim Harbaugh as he took over the Stanford Cardinals coaching reigns this season.
Just as Shaw made the decision to hire him as the replacement coach look good, Andrew Luck quickly made his decision to stay in college for another year rather than enter the NFL look like a wise one as well.
Shaw from the sidelines and Luck on the field helped lead the Stanford Cardinals to a 57-3 rout of the San Jose State Spartans on Saturday.
Luck, the Heisman Trophy favorite entering the season and probable No. 1 NFL draft pick next year, completed 17-of-26 passes totaling 171 yards and threw two touchdown passes before leaving the game in the hands of Stanford's backup quarterback, Brett Nottingham.
Luck connected with seven different receivers on the day and threw his two touchdowns to tight end Zach Ertz and fullback Ryan Hewitt.
The Cardinals defense put on an impressive display, forcing six SJSU fumbles, three of which were recovered by Stanford.
The defense created more opportunities for Luck and the Cardinal offense to keep racking up the points.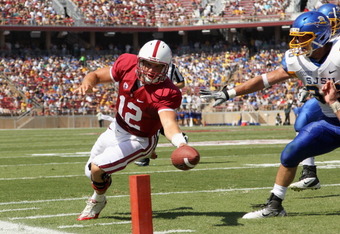 Ezra Shaw/Getty Images
"I think a lot of (the scoring) was our defense and special teams putting us in a position where you can't mess up," Luck told the Associated Press (as reported by ESPN) following the game. "I definitely don't think we're satisfied on offense."
Luck would remain on the field for 43 of Stanford's 57 points before being lifted, along with the rest of the starters, for the backup squad to take over.
Stephan Taylor ran for 61 yards and a pair of touchdowns and Chris Owusu caught seven passes for 76 yards to add to the offensive highlights.
Meanwhile, San Jose State (1-12 last season) has now lost 11 straight games dating back to last season and 18 straight games against ranked teams.