Auburn Football: The Tigers Will Need Better Defense Against Miss. State
September 3, 2011
Christian Petersen/Getty Images
For an Auburn fan, the near loss to Utah State was as nerve racking as Alabama being ahead 24 points at halftime. What I mean is trailing late in the fourth quarter to 23-point underdog Utah State in the season opener had to be an unfathomable feeling, unthinkable, unheard of.
Yet, ESPN kept mentioning that no BCS National Champion had ever lost their next season opener.  I could feel the cringe across Tigerland.  However, in the style they've become accustomed to, Auburn pulled it out, this time with 30 seconds remaining in the game.
What they should be worrying about, now that Utah State is finally only a W in the win column, is the fact that they face a much-improved, both offensively and defensively, Mississippi State team this weekend, at home in Jordan-Hare Stadium.
Thursday night against Memphis, State QB Chris Relf and the MSU offense put up 645 yards of total offense in their 59-14 win over the Tigers in Memphis, impressive even though Memphis wasn't considered a serious contender.
But neither was Utah State against Auburn Saturday, and the Aggies clearly dominated the Plainsmen on both sides of the ball.
MSU handled Memphis the way a contender for the Western SEC title handles a season opener.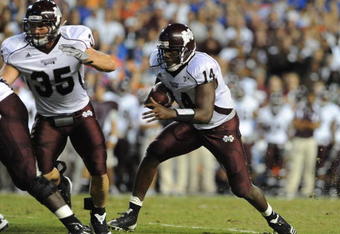 Al Messerschmidt/Getty Images
MSU Head Coach Dan Mullen has been on a quest, now in his third season with the Bulldogs. He would love to be on the other side of those three points by which he lost to Auburn last year.  
The defending National Champions had better take heed of what they were doing wrong this past weekend, and make it better in just one week.
Offensively, coordinator Gus Malzahn seemed to finally gel with things late in the game, using key players more effectively and ultimately scoring the points to win.
What Utah State was doing so effectively against the Auburn defense was the option play, an age-old staple of college football, that you'd think most teams would have experience with, and know how to defend in their sleep.
However, this is a young AU team, mentioned time and time again before Saturday's kickoff. But playing as loosely as they did, as aggressive-less as they did today, will not be so easy to come back from next weekend against Mississippi State.
I'm sure the Auburn faint-of-heart will agree that one more possession by Utah State, giving them more time, and the story might have turned out differently.
AU Defensive Coordinator Ted Roof needs to figure out what was wrong and how to fix it, and fast, because the same defense that could not stop Utah State had better not be the same defense that faces the Bulldogs this weekend, if the Tigers want to win their first SEC contest.