A Sporty Prediction: The 2012 BCS National Champions
September 3, 2011
Jonathan Daniel/Getty Images
Alright BCS football fans, here we are, back at another prediction. Do you think I could possibly go two years in a row at being correct?
I have been doing a little research, with the NCAA handing out suspensions and investigating, it's easy to steer clear of those institutions that are currently cleaning up messes "off" the field or within (USC, Miami, Ohio State, LSU).
I honestly do not believe that an SEC team is going to pull it off this year. The torch needs to be passed on to another conference. Sorry guys.
In anticipation with this year's schedules, it would seem easier to go with those teams that do not have much of a schedule (MWC, WAC, etc.) versus those who have tougher ones (Big Ten, SEC, etc.).
With all due respect to Stanford and the leadership of Luck, it is difficult for me to choose a team with a new quarterback or a new head coach. Sometimes I feel that it takes a year to get comfortable with the scheme and get the players to respond.
With that said, Oklahoma is going to be lacking defense this year. They will still be strong, however, not number one contenders. Don't count out Missouri.
The Big East is going to have another painful year. You have seen their records last year and the lack of show in the Top 25.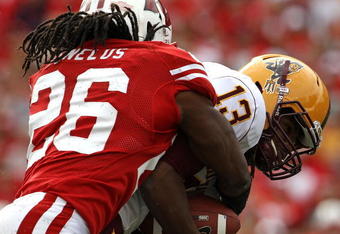 Jonathan Daniel/Getty Images
It is also unfortunate that we couldn't see Paterno hoisted up one last time. The guy is relentless (and well respected)!
What has my gut been telling me (about a prediction)?
I don't know if I could be any further off, but last year, going with Auburn was a gut instinct, I think I am going to go with the same method this season too.
What have I got to lose?
Last season, one of the most impressive defensive backs I seen was junior Antonio Fenelus. This kid was all over coverage with 56 tackles, four INT's and a Pick Six in 2010. He hits hard, a good play stopper and impressive. Couple that with Darius Feaster and I am just waiting in anticipation to see these boys back for this season.
Now that JJ Watt (Houston Texans) is gone to the NFL, freshman linebacker Derek Watt is up and coming. Ought to be interesting to see how this player progresses in the next coming seasons. Follow this with linebackers Mike Taylor and Chris Borland and you have a strong defensive system.
As I stated earlier, I'm not too keen on the new quarterback situations, yet I think recruiting Russell Wilson may have been a good move. There were some awes in the crowd when Wilson left the North Carolina State Wolfpack. Maybe some were shocked, too. He is said, by personnel, to be progressing nicely.
Last but not least, James White. Have you seen this guy? As a freshman he gave a stellar 1052 yards in rushing, 14 TD's in 156 attempts. Now, call me silly, but as a sophomore this year, I'd be scared of what  number 20 is going to do to other defenses. Besides, 20 isn't such a bad number to pick considering the history and records to be had by others that have worn the "feared" jersey.
Add junior running back Montee Ball and there is just too much power to stop.
I guess if you really know your football, you've already got it figured out who I am going with... ?
If you don't know your football, it's okay. I'm just a lucky gal who takes pride in the fact that these guys make me look smart, when I'm right!
The 2012 National Champions will be:
The University of Wisconsin