TCU Defended Its Perfect Regular-Season Record Against Baylor Tonight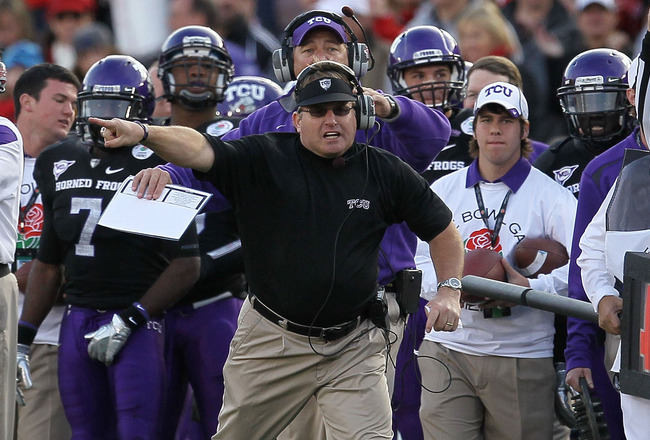 Gary Patterson leads the Horned Frogs
Stephen Dunn/Getty Images
What could we discover from tonight's contest? 14th-ranked TCU had not lost a regular-season game since 2008. 25 in a row, could it continue?
Last year, TCU blasted Baylor 45-10. But Andy Dalton, who called the signals in that game, is gone. Casey Pachall, a sophomore, is replacing Dalton. Is he the right man for the job or should Gary Patterson turn to Matt Brown, a redshirt freshman?
Pachall has four new offensive linemen up front and they will need them to keep the Bears at bay. How will that work out?
As usual, TCU is expected to have a stingy defense. But the defense lost six starters from a unit that led the FBS in yards (228.5) and points (12.0) allowed per game. Will that matter? Or will TCU extend the win streak and keep on rolling?
With linebackers Tank Carder (Mountain West defensive player of the year) and Tanner Brock returning along with defensive linemen D.J. Yendrey and Stanley Maponga and senior safety Tekerrein Cuba, is there enough to keep the Bears out of the end zone?
Gary Patterson is considered one of the premier coaches in all of college football. But I'm sure Baylor's Art Briles remembers how the Horned Frogs jumped all over his Bears last season. What special surprises will he conjure up for the opener in front of the home crowd in Waco, Texas?
More importantly, can TCU's inexperienced defense stop Baylor's Robert Griffin III, a world class athlete, who returns after throwing the most yards in Baylor history, (6,073)? He threw for 3,501 yards and 22 TDs while completing 67 percent of his passes last season, sixth in the nation.
See how it all turned out and what we learned....
Robert Griffin III Got off to a Fast Start and Never Looked Back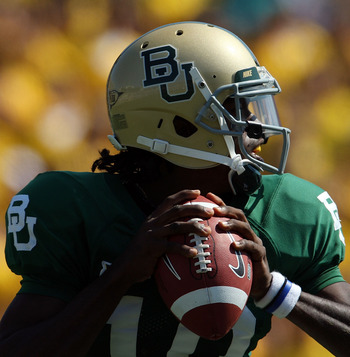 Ronald Martinez/Getty Images
It didn't take long! The Bears scored on their first drive with an Art Briles trick play. I knew he would conjure up something.
Robert Griffin III, the best athlete playing quarterback in all of college football, drove the Bears right down the field. He completed his first two passes. Then on a trick play, he flipped the ball to his receiver in the flat, Kendall Wright. Wright turned and heaved the ball to a streaking Terrance Williams for a 40-yard score.
That was the opening salvo. But there would be a lot more volleys sounded before this battle ended...and most of them were by Griffin. He had a Heisman Trophy type of night. He completed 21 of 27 for 359 yards and five TDs.
He is definitely on my radar for the Heisman Watch.
TCU Quarterback Casey Pachall Proved He Could Hang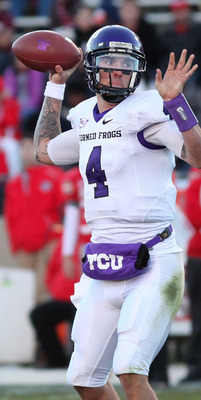 Eric Draper/Getty Images
Casey got the Frogs on the board with his feet rather than his arm, running for a nine-yard TD, But as the game progressed, Pachall's legs cramped up, and he needed to rely more and more on his arm...and so did Coach Patterson.
Not as spectacular as Robert Griffin, nevertheless, Casey Pachall had a very decent first game as a starter. He completed 25 of 39 for 259 yards and 4 TDs but one very costly interception.
I don't think Pachall or the TCU fans will remember the 25 of 39 or the 259 yards or even the 4 TDs. What they will remember is that one very costly interception.


Kendall Wright Is the Perfect Complement to Robert Griffin III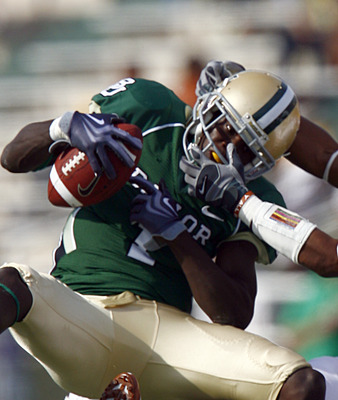 Tom Pennington/Getty Images
Robert Griffin and Kendall Wright put on one heck of an offensive show!
Wright threw for the first score of the game. Later, Wright would receive a lob from Griffin, then throw downfield, and hit none other than Robert Griffin himself for a crucial first down.
Wright is becoming Art Briles' favorite trickster.
In between those two plays, Griffin completed 18 passes to Wright for 189 yards and two TDs. The two of them took over the game in the second and third quarters and will be a hard combination for any team in the Big 12 to stop cold.
What Happened to Gary Patterson's Touted Defense?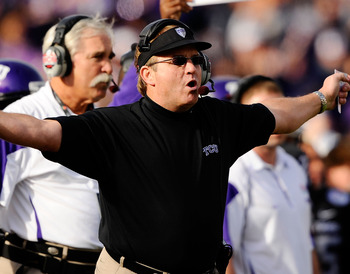 Kevork Djansezian/Getty Images
That's not only a question that I asked myself but one that Gary Patterson is asking himself, not just for tonight but for all of this week and perhaps the entire season.
Was it the fact that TCU has six new starters on defense? Or was it that the defensive schemes didn't work?
Why was the secondary playing back so far? Was that by design or out of fear?
Patterson had to be scratching his head at halftime, losing 34-23.
But Art Briles wasn't doing much better.
Both teams accounted for 570 total yards and 57 points just by halftime.
Greg McCoy: The One Thing Gary Patterson Doesn't Need to Worry About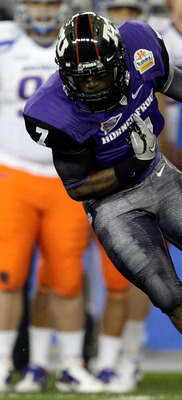 Jamie Squire/Getty Images
When it comes to kick returners, Gary Patterson doesn't have to worry.
Greg McCoy could be among the top returners in college football.
That is one thing Gary Patterson doesn't have to worry about. His kick returner, No. 7, Greg McCoy, raced down the sidelines not once but twice to set up two Horned Frogs' scores in the first half.
The first one answered Baylor's opening scoring drive, as McCoy took the kick 73 yards down the right sideline. Quarterback Casey Pachall finished the drive with a hard nine-yard run off the right side.
After TCU and Baylor exchanged touchdowns, McCoy raced 68 yards down the left side to set up a 44-yard Ross Evans field goal that gave TCU a 16-14 edge at the end of the first quarter.


No Defense; Both Offenses Go Back and Forth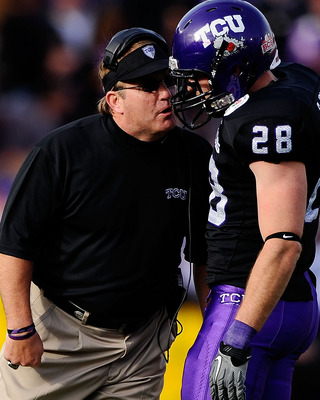 Kevork Djansezian/Getty Images
What happened to the defenses? Aren't they supposed to be ahead of their respective offenses early in the season. But not tonight! These two high-powered offenses look like they are in mid-season form.
Gary Patterson's defense is in shambles after just two periods. I wonder if Gary Patterson ever imagined that the Bears would put up 34 points on his Frogs...before halftime.
Hmm, so this is what TCU's No. 1 defense looks like? Not this year. Patterson and the Frogs can kiss that No. 14 ranking goodbye unless their defense figures out a way to deal with Griffin and Wright..
RJ3 Has Just Put Himself in the Running for the Heisman Trophy
Ronald Martinez/Getty Images
There was only one way for TCU to stop Baylor, and that was to to keep Griffin and Wright off the field as much as possible?
But I'm not sure anyone in the Big 12 can deal with RJ3 and Wright.
In the first half alone, Griffin was 13 for 16 for 209 yards and three TDs.
In the third quarter, he really excelled and set himself up to be a potential Heisman Trophy candidate.
He finished with 27 of 39 for 359 yards and five TDs.
Gary Patterson, Poor Game Management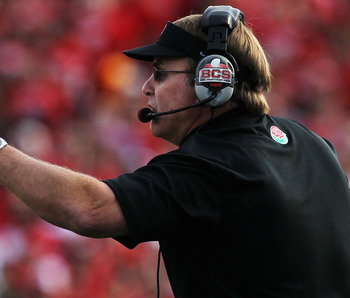 Stephen Dunn/Getty Images
TCU needed to score and score in a hurry. But the Frogs were being way too deliberate. Instead of putting the game in Pachall's hands and letting him throw for a score, they were running the ball and not getting into the end zone even though they were within the red zone.
Did Gary Patterson come to rely too much on Andy Dalton in those red-zone conversions? For some reason Patterson lacks confidence in Pachall. It's probably Pachall's inexperience. But they must have worked on these red-zone situations during Spring Practice and Fall Camp.
As the fourth-quarter began, Patterson, on fourth-and-one, finally let Pachall throw it for the score. But it seemed too little, too late.
Skye Dawson Races Down the Sideline Against Time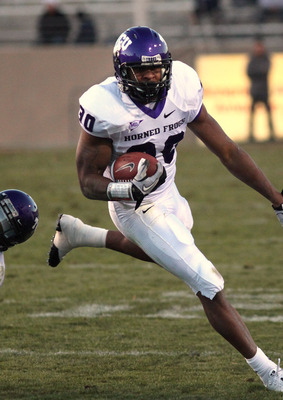 Eric Draper/Getty Images
Patterson had let the entire third quarter slip away without a score. He finally took the leash off of Casey Pachall, who threw for a TD to start the fourth quarter.
Fortunately, Patterson is all set in the return department. He has Greg McCoy returning kickoffs, and Skye Dawson returning punts.
Here, Skye Dawson races down the left side with the punt. But it was called back due to off-setting penalties.
So, they punted again and Dawson repeated the run. This time down the right side for 32 yards and had 15 yards tacked on for a personal foul.
Casey Pachall's One-Night Journey into Manhood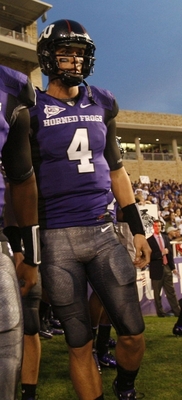 Ronald Martinez/Getty Images
He began the game as Andy Dalton's replacement. By the fourth quarter, Andy Pachall became his own man. He began the game as inexperienced. By the fourth quarter, Pachall had matured into a veteran quarterback.
Patterson took the leash off his young quarterback, and Pachall obliged, despite cramps in both legs, with four completions in a row, the last one a 19-yard TD toss to David Porter III.
Pachall just missed a two-point conversion as the Frogs cut the Bears' lead to 47-45.
After his Bears' counterpart, Robert Griffin, fumbled for the only turnover of the game, Pachall brought the Frogs down to the Baylor 10. But he could not convert on a third down, and Ross Evans kicked a 23-yard field goal.
That put TCU ahead 48-47 with 25 unanswered points, mostly on the arm and two cramped legs of Casey Pachall.
Robert Griffin and Kendall Wright Switch Roles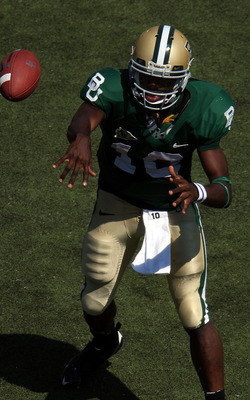 Ronald Martinez/Getty Images
When nothing else works, trick them. Count on Art Briles to pull one out of his back pocket. After two incompletes, Griffin passed into the flat to Kendall Wright. Then Kendall Wright threw downfield to who? To Robert Griffin, who else? And a crucial first down.
Then they switched roles again, and Griffin hit Wright for another first down. Griffin went to Terrance Williams next to set up an Aaron Jones 37-yard field goal for the lead. And fans held their breath with just 64 seconds left.
The Mistake That Finished It All Off: The Final 64 Seconds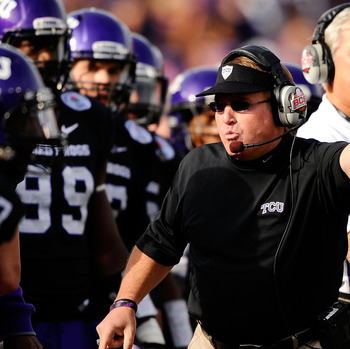 Kevork Djansezian/Getty Images
Casey Pachall will never forget it. Neither will TCU fans.
Pachall will not be remembered for bringing his Frogs back from a 24-point deficit. He will not be remember for completing a 30-yard pass when the Frogs were deep in their own end with just 64 seconds to go.
He won't be remembered for passing his team into Baylor territory. He will only be remembered for throwing into coverage on a third-and-10.
Mike Hicks picked off that pass to end the game, to end TCU's regular season winning streak at 25, to end their No. 14 ranking, and to end any chance for a perfect season for TCU. But most of all, it ended Pachall's bid for an historical comeback.
If Patterson had not wasted the third quarter running the ball when they needed a quick score, he could have saved precious minutes and a timeout.
Pachall might not be an Andy Dalton just yet, but he is well on his way. But he needed those extra seconds and that lost timeout in the final minute.
If he had them, I don't think he would have hurried and thrown into coverage to end So, this loss should fall on Patterson's shoulders, not Pachall's.
Baylor Ends the TCU Winning Streak, 50-48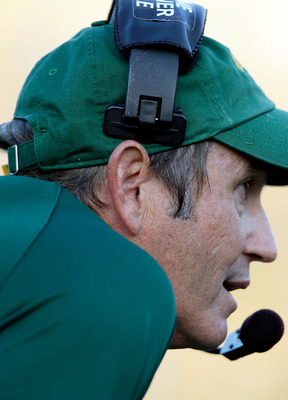 Jamie Squire/Getty Images
All in all, it was an exciting kickoff to the 2011 College Football season. Both teams amassed over a thousand yards combined and 98 points.
The scoring ended pretty much the way it began with one of Art Briles patented trick plays and Baylor avenged last year's 45-10 drubbing.
Congratulations, Art!
Keep Reading

Baylor Football: Like this team?