Tyler Wilson takes over as the starting quarterback for the Razorbacks
Mike Zarrilli/Getty Images
September 2, 2011
OFFENSE
WR
3 Joe Adams (Sr., 5-11, 190)
2 Julian Horton (So., 6-1, 194)
WR   
11 Cobi Hamilton (Jr., 6-3, 209)  or
85 Greg Childs (Sr., 6-3, 217)
83 Maudrecus Humphrey (So., 6-3, 185)
WR   
4 Jarius Wright (Sr., 5-10, 180)
1 Marquel Wade (Fr., 5-11, 185)
19 Javontee Herndon (So., 6-1, 200)
TE
6 Colton Miles-Nash (Jr., 6-6, 261)
80 Chris Gragg (Jr., 6-3, 236)
87 Austin Tate (So., 6-6, 253)
OT
65 Mitch Smothers (Fr., 6-4, 296) or
71 Jason Peacock (Jr., 6-4, 334)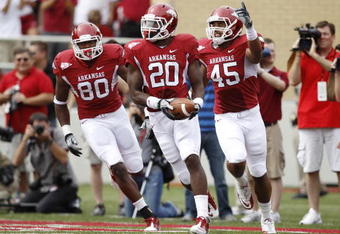 Ronnie Wingo Jr. is expected to carry the load for injured Knile Davis in 2011
Joe Robbins/Getty Images
OG
72 Grant Cook (Sr., 6-4, 318)
75 Luke Charpentier (Fr., 6-4, 305)
C
64 Travis Swanson (So., 6-5, 305)
76 Tyler Deacon (Jr., 6-4, 300)
OG
67 Alvin Bailey (So., 6-5, 319)
70 Chris Stringer (So., 6-7, 304)
OT
79 Grant Freeman (Sr., 6-7, 305)
74 Brey Cook (Fr., 6-7, 317)
QB 
8 Tyler Wilson (Jr., 6-3, 220)
17 Brandon Mitchell (So., 6-4, 230)
RB   
20 Ronnie Wingo Jr. (Jr., 6-3, 231)
23 De'Anthony Curtis (Sr., 5-9, 211)
33 Dennis Johnson (Jr., 5-9, 213)
40 Kody Walker (Fr., 6-2, 240)
22 Kelvin Fisher Jr. (Fr., 5-11, 180)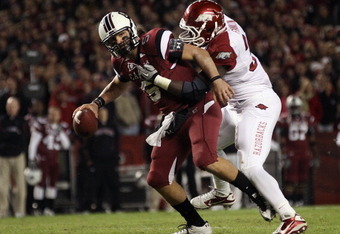 Jerry Franklin will lead the Razorback defense again in 2011
Streeter Lecka/Getty Images
FB
36 Kiero Small (Jr., 5-10, 255)
88 Garrett Uekman (Fr., 6-4, 254)

DEFENSE
DE 
91 Jake Bequette (Sr., 6-5, 271)
42 Chris Smith (So., 6-3, 251)
DT 
54 Byran Jones (So., 6-2, 312)
51 Alfred Davis (Jr., 6-1, 326)
61 Zach Stadther (Sr., 6-1, 295)
DT
98 Robert Thomas (So., 6-3, 308)
92 DeQuinta Jones (Jr., 6-5, 307)
99 Lavunce Askew (Sr., 6-3, 290)
DE
43 Tenarius Wright (Jr., 6-2, 252)
86 Trey Flowers (Fr., 6-4, 243)
OLB
45 Alonzo Highsmith (Jr., 6-1, 229)
32 Bret Harris (Sr., 6-0, 224)
39 Jarrett Lake (So., 6-3, 223)
MLB
34 Jerry Franklin (Sr., 6-1, 245)
25 Terrell Williams (Jr., 6-3, 232)
10 Braylon Mitchell (Fr., 6-3, 232)
OLB
31 Jerico Nelson (Sr., 5-10, 216)
35 Ross Rasner (Jr., 6-0, 209)
CB
21 Darius Winston (Jr., 6-0, 191)
38 Jerry Mitchell (So., 6-1, 214)
8 Tevin Mitchel (Fr., 6-0, 185)
CB   
6 Isaac Madison (Sr., 5-11, 185)
28 Greg Gatson (Sr., 5-11, 180)
Strong Safety
9 Elton Ford (Sr., 6-0, 220)
14 Eric Bennett (So., 6-0, 200)
27 Alan Turner (Fr., 6-0, 212)
Free Safety
5 Tramain Thomas (Sr., 6-0, 204)
16 Ryan Farr (Jr., 6-1, 195)
22 Darrell Smith (So., 6-3, 203)
Kicker
18 Zach Hocker (So., 6-0, 170)
Punter
14 Dylan Breeding (Jr., 6-1, 211)
Long Snapper
53 Alan D'Appollonio (Fr., 6-0, 201)
Holder
16 Brian Buehner (Fr., 5-11, 195)
Kick Off Returns
1 Marquel Wade (Fr., 5-11, 185)
22 Kelvin Fisher Jr. (Fr., 5-11, 180)
Punt Returns
3 Joe Adams (Sr., 5-11, 190) 
1 Marquel Wade (Fr., 5-11, 185
Notes of Interest
*Brey Cook was seemingly assured of a starting tackle position after graduating early from Springdale and enrolling in school to participate in spring practices. But the other freshman recruit, Mitch Smothers, has beat out—for now—Brey Cook for a starting position with the Razorbacks. This goes to show that Bobby Petrino will not play favorites and will push to get the best people on the field no matter what.
*Colton Miles-Nash, a junior, has made a successful move from defensive end, listed as the backup to Jake Bequette in the spring, to starting tight end in the fall. His physical presence and aggressive blocking style will be much needed as the Hogs add three new starters to their offensive line.
*Red shirt freshman Garret Ukeman has made a position change from tight end to fullback. Will Petrino and Garrick McGee use him as a passing option out of the backfield later in the year?  
*Alonzo Highsmith Jr. has won the starting strong side linebacker position after transferring from Phoenix College (Community College in Arizona).
* Freshman recruits expecting to see quality playing time against Missouri State include:
OT Brey Cook
OT Mitch Smothers
DE Trey Flowers
CB Tevin Mitchell
WR Marquel Wade
RB Kelvin Fisher Jr.
RB Kody Walker
*Community College Transfers expecting to see quality playing time against Missouri State include: 
LB Alonzo Highsmith Jr.
FB Kiero Small
OT Jason Peacock
DT Robert Thomas
Like the new article format? Send us feedback!