USC Football: Is 2011 Finally Lane Kiffin's Time To Shine?
September 2, 2011
Stephen Dunn/Getty Images
It just could be that Lane Kiffin is the most under-the-radar coach in college football.
Sure, everyone knows who Lane Kiffin is. They know him as the young, first-time head coach that Al Davis hired and then fired ignominiously in the middle of his second season.
He is the coach that went to the University of Tennessee and made an enemy out of the entire SEC with his boisterous challenges and accusations, while committing secondary violations of his own.
He is the coach that jumped from Tennessee after one year to his dream job at USC, taking half of his staff with him just a month before National Signing Day.
But does anyone know or respect him simply as a coach?
Not many.
How many respect him for building a high-powered coaching staff on the run while nailing down Pete Carroll's 2010 recruiting class and sweetening it in the face of the stiffest sanctions ever imposed for infractions by one player?
Again, not many. And even fewer respect him for raiding the NFL and scouring the college ranks to put the final touches on what might be the most dynamic coaching staff in college football.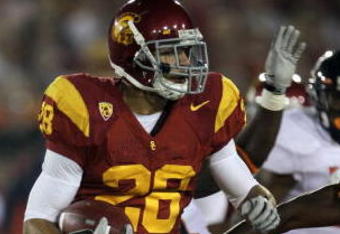 Stephen Dunn/Getty Images
The Tennessee Titan front office is still fuming over the fact that Kiffin stole running back coach Kennedy Pola from under their noses.
But the key factor is that Kiffin's staff can recruit like mad.
If the 2010 class was super, the 2011 class will be a masterpiece.
Upperclassmen were allowed to transfer without a penalty due to the sanctions. So, Kiffin used their lost scholarships to build his 2011 class.
Since the new athletic director, Pat Haden, was appealing the sanctions, Kiffin and his staff had another full year before the scholarship reductions would take effect.
Kiffin redshirted many of his players from that 2010 class. He gave up a chance for a really great season in order to save players for the lean years.
I don't think he realized what he was giving up. He could have had a remarkable season in 2010.
Undermanned all year long, Kiffin had to ban tackling in practice to save players for the game. He also had to keep tired players on the field longer than he would have liked.
USC lost five games. Three of them could have been won if the defense had enough left in the tank to finish the fourth quarter. They lost those three games in the final minutes by a total of seven points. 
While the losses plainly rested on a tired and inexperienced defense, Kiffin showed that he had the acumen to design and implement a high-powered pro set offense that kept defenses on their heels for most of the season. He even used true freshmen, like Robert Woods and Dillon Baxter, to do it.
But he made sure that he had solid prospects for 2011 and beyond by redshirting the likes of Hayes Pullard, Jesse Scroggins, Anthony Brown, Dion Bailey, Kyle Prater, D.J. Morgan, Randall Telfer and Xavier Grimble.
If healthy, all of these young players will see considerable action this season, as will several true freshmen. Some, like Marquise Lee from the 2011 class, will even start.
While even experienced coaches across the country try to latch on to the latest fad offense, like the spread or pistol, Kiffin remains steadfast in his philosophy. 
Asked if he would expand the offense to include the spread or continue with his traditional offense, Kiffin made it quite clear that the Trojans run a traditional offense and don't really get into anything else.
With an abundant 2011 recruiting class joining the holdovers from 2010, Kiffin can now afford to hold more physical practices and use a lot more players in games. He doesn't feel he needs any gimmicks to have a successful season.
Per Pedro Moura of ESPN, Kiffin said at Tuesday's practice, "The way we look at it, if we just would have improved on two-minute defense a year ago, we're 11-2, even with all the other things that went on. Hopefully playing more players and more physical practices are going to help that."
Most college football fans and especially scribes know Lane Kiffin for his notoriety, not his coaching. But with his plan for USC now gaining momentum, this 2011 season could change all that.