ACC Football Team Power Rankings Week 1: Some Impress While Others Disappoint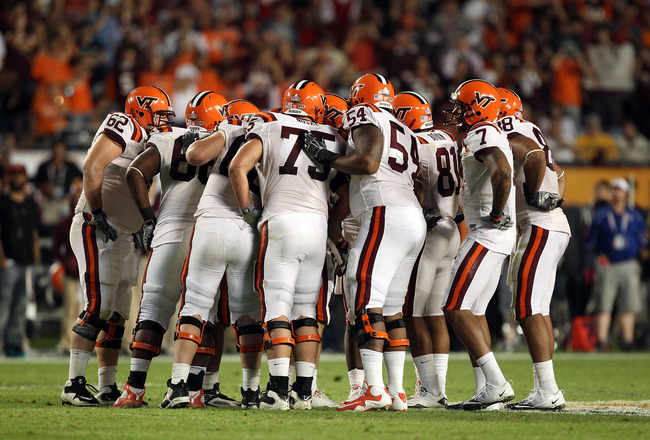 Streeter Lecka/Getty Images
It wasn't the most exciting opening week for the ACC, but we did get to see a little bit of this and that from most teams.
Some gave us hope, while others burned and crashed. Duke lost to a lowly Richmond squad and Boston College had a gift wrapped victory with Northwestern's starting quarterback out, but they blew that one.
There were seven new faces behind center that took over the helm at starting quarterback after the departure of their former starters. Those names consist of E.J. Manuel (FSU), Tahj Boyd (Clemson), Mike Glennon ( NC State), Tevin Washington (Ga. Tech), Michael Rocco (Virginia), Logan Thomas (Va. Tech) and Bryn Renner (North Carolina).
The most impressive player of the week had to be North Carolina's Bryn Renner who set an ACC-record with a 95.7 completion percentage. He completed 22 of 23 pass attempts for 277 yards and two touchdowns. It can't get much better than that to start off a college career.
There aren't many big games this upcoming week, except maybe for the conference battle between N.C. State and Wake Forest.
I don't expect the rankings to jump around too much until after week three when some of the big games take place. For instance, FSU vs. Oklahoma, Miami vs. Ohio State, and Clemson vs. Auburn.
So lets take a look at my rankings now that week one is complete.
12. Wake Forest 0-1 (0-0)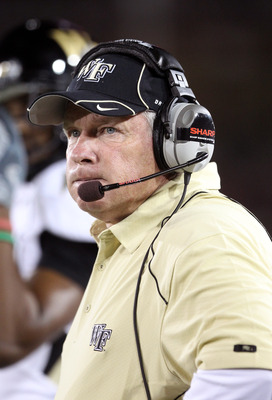 Ezra Shaw/Getty Images
Not the way Head Coach Jim Grobe and company wanted to start their season. Having a 15 point lead on the road is nice, but to blow it and lose in overtime is a different story.
It didn't help that they lost their starting quarterback Tanner Price early in the fourth quarter. The offense was pretty much non existent while in the hands of backup Ted Stachitas.
Price looked like a new an improved quarterback after his rocky freshman season last year. His knee injury isn't considered to be serious. That's about the only good news the Demon Deacons left the game with.
They welcome N.C. State next week for their home opener. If Price doesn't return then I look for it to be another losing effort for the Demon Deacons.
Next Game: vs. N.C. State 9/10
11. Duke 0-1 (0-0)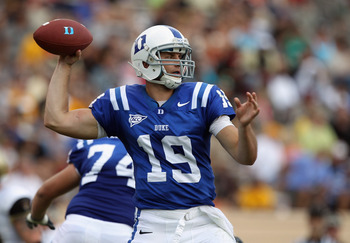 Streeter Lecka/Getty Images
The kicker Will Snyderwine missed a 28-yard field-goal that would have given Duke the lead with 1:43 remaining and more than likely the win. Instead they suffered a 23-21 defeat at the hands of Richmond.
Come on, really. Losing to Richmond again for the third time in the last six seasons is pathetic.
I understand that Duke is a basketball school, but I really thought they could at least beat Richmond at home.
It doesn't get any easier for them next week as Stanford makes a little road trip to Durham. Just another chance for their Heisman hopeful quarterback Andrew Luck to pad his stats.
This is going to be another long season for Duke, one that may end up without a single victory.
Next Game: vs. Stanford 9/10
10. Boston College 0-1 (0-0)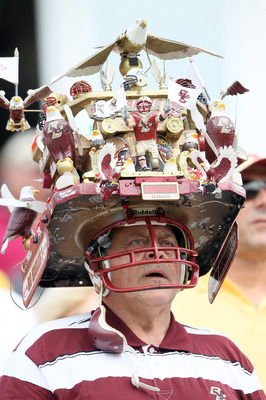 Elsa/Getty Images
Come on Boston College, you have to be kidding me. Northwestern gave you a gift by sitting starting quarterback Dan Persa and you still blew it.
Losing games like these are the exact reason why the ACC has been given the rep as a conference that can't compete anymore.
Sorry I am being so harsh toward BC, but I really had faith in them for this game and season. That however has gone completely out of the window. Looking at their schedule to start the season I felt that the first five games were all winnable. Guess they proved me wrong.
Chase Rettig and back up running back Andre Williams both had solid performances in their 24-17 loss. Rettig finished with 375 passing yards and one interception. While Williams carried the ball 22 times for 114 yards and two touchdowns.
They still have a four game stretch where at least three games are winnable, but I don't see them beating a strong UCF team on the road next week. Hate to break it to you BC, but you'll have to wait until week three to get your first win.
Next Game: at UCF 9/10
9. Virginia 1-0 (0-0)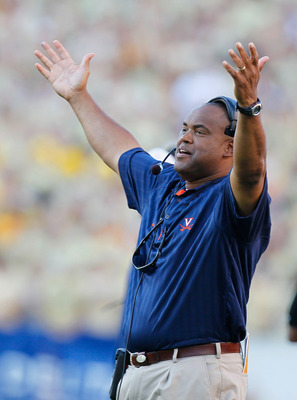 Kevin C. Cox/Getty Images
William & Mary wasn't much of an opponent for Virginia as their defense only gave up a total of 169 yards.
Kevin Parks was the offensive weapon as he rushed for 114 yards with three touchdowns on 16 carries.
Their much-maligned defense looked better than it did last season, albeit they were playing William & Mary. You always have to start somewhere and this was a good way for the Cavaliers to start their season.
Going on the road next week, they face Indiana and their new coach Kevin Wilson as they are coming off of an upset loss against Ball State.
The Hoosiers will give them a better game, but it's a game that they are very capable of winning. A 2-0 start to the season would be a nice way to head into their battle against North Carolina the following week.
Next Game: at Indiana 9/10
8. Georgia Tech 1-0 (0-0)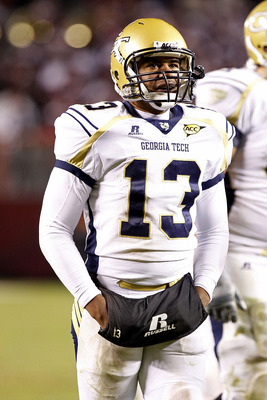 Geoff Burke/Getty Images
Though it may have been a 63-21 blowout against Western Carolina, there were still some major mishaps that need to be cleaned up.
My guess is they will be having one practice this week where all they do is work on hand drills after losing two of six fumbles in their opener.
Of course the offense put on another great display as they piled up 662 yards of total offense. Should we expect anything less from this style of offense, with these type of athletes? I think not.
They even did most of their damage through the air which is a bit uncharacteristic for them. Tevin Washington looked great in the passing game and controlling the offense. It doesn't look like the offense is going to miss much of a beat without Joshua Nesbitt.
The offensive numbers will look more or less the same next week when they play Middle Tennessee.
Next Game: at Middle Tennessee 9/10
7. N.C. State 1-0 (0-0)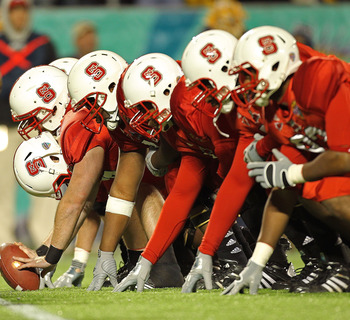 Mike Ehrmann/Getty Images
Don't let the score fool you because Liberty kept the game close until the fourth quarter began.
N.C. State had trouble pulling away from the four-time reigning champion of the Big South Conference, but managed a 43-21 victory. Mike Glennon made his first career start for the Wolfpack now that former all-league quarterback Russell Wilson is with Wisconsin.
It wasn't the kind of debut most fans were hoping for, but they will have to get use to the fact that he isn't Wilson.
Adding to their team efforts, the defense and special teams both scored a touchdown.
They will look to build on a decent season opener when they face off against Wake Forest next week. At best, this Wolfpack team should be a middle-tier team in the ACC this season.
Next Game: at Wake Forest 9/10
6. Miami 0-1 (0-1)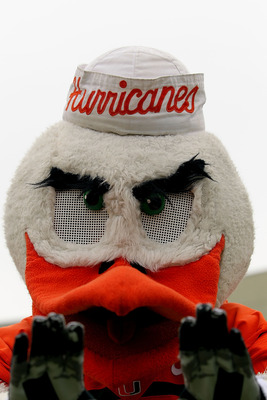 Ronald Martinez/Getty Images
Although Miami lost a tough one to Maryland 32-24 I was still actually pleasantly surprised in their performance.
Of course they had some costly turnovers and a few mental lapses (delay of games), they still played with some fire. It looked like it would be an ugly one after the Terrapins scored easily on their first drive, but they made a huge interception in the endzone they gave them some much needed momentum.
Stephen Morris wasn't terrible but he wasn't great either. He threw an interception on their second to last drive that proved to be the nail in the coffin.
Their redzone defense was solid, which forced the Terrapins to attempt five field goals. The highlight player was definitely tailback Lamar Miller. He was explosive and tough to bring down as he finished with 119 rushing yards and one touchdown.
With everything going on down in Miami it's hard to imagine this team playing with some fire and heart, but they did just that.
Now they must turn their focus on Ohio State, who will pay them a little visit in less than two weeks. Head coach Al Golden and the rest of his staff have some work cut out for them.
Next Game: vs. Ohio State 9/17
5. Clemson 1-0 (0-0)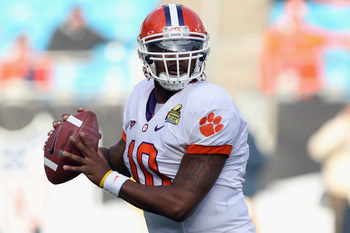 Streeter Lecka/Getty Images
Phew! Thank god the Tigers awoke in the second half or it was about to get ugly in Death Valley.
Down 16-13 at halftime against Troy isn't what the home fans were anticipating. Dabo Swinney must have given Tajh Boyd and company a swift kick in the pants during halftime because they came out with an attitude in the second half which was lacking in the first half.
Boyd led the Tigers by completing 20 of 30 passes for 264 yards and three touchdowns. He didn't disappoint the fans at all even if it did take a while for the offense to start clicking.
Now if he can lead them to a victory over Auburn in two weeks, they may completely forget about Kyle Parker. Let's not forget though, it's a different Auburn team than the one they choked against last season.
Sorry I am looking too far ahead, I forgot they play Wofford who beat Presbyterian by a whopping score of 35-28 in their opener. That'll be a tough one (more like a cakewalk).
Next Game: vs. Wofford 9/10
4. North Carolina 1-0 (0-0)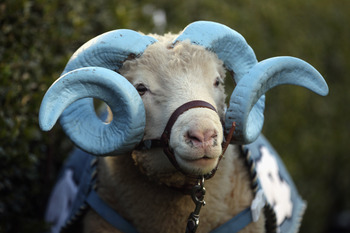 Streeter Lecka/Getty Images
North Carolina made sure they weren't a victim of James Madison like Virginia Tech was last season. Bryan Renner making his first start helped jump start the Tar Heels offense in throttling their opponent 42-10.
Renner completed all but one pass, the one incomplete was an interception on a deep ball. Other than that interim head coach Everett Withers couldn't have asked for a better performance out of his starting quarterback.
"It was a great win for us, considering all that this program has been through recently," Withers said after the game. "We still have a long way to go if we want to compete for a conference championship, but today was a step in the right direction."
I would have to agree with him to some extent. Special teams was definitely a weakness, as the coverage teams struggled for majority of the game.
Next they take on a Scarlet Knights team that is coming off of a drubbing they put on North Carolina Central 48-0. It should be an evenly matched game for the most part, but I am giving the edge to the Tar Heels.
Next Game: vs. Rutgers 9/10
3. Maryland 1-0 (1-0)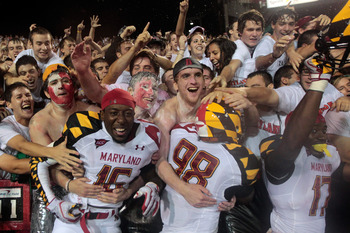 Rob Carr/Getty Images
Maryland kicked off its 2011 campaign with a bang by defeating Miami 32-24 at home.
They came out firing on all cylinders, scoring on their first drive of the game. It looked like they were going to be in the driver's seat all game, but the Hurricanes battled hard the entire game.
Quarterback Danny O'Brien (the best QB in the ACC) had a huge game with 348 yards passing and one touchdown. He did have one costly interception that was thrown in the endzone in the first quarter.
Let's not forget about the huge game by defensive back Cameron Chism who finished the game with six tackles, one forced fumble and a game sealing 54-yard interception return for touchdown. Although head coach Randy Edsall would have preferred he just take a knee after the interception. His forced fumble also led to a touchdown that gave them a 20-14 halftime lead.
The Terrapins look as though they will have a strong season. They are my dark-horse in the ACC this year. With a solid defense and Danny O'Brien anything is possible for them.
By the way, what was up with those hideous jerseys? YUCK!
Next Game: vs. West Virginia 9/17
2. Florida State 1-0 (0-0)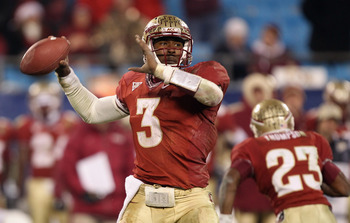 Streeter Lecka/Getty Images
Now I know most of you looking at this slide are going to have some discrepancies with FSU being No.2, but hear me out first.
You know that saying, "in order to be the best you have to beat the best?" Yeah, well they have yet to do that. Don't get me wrong I'm an FSU alum and even though they won their opener 35-0 against an underrated Louisana-Monroe team, they aren't the reigning ACC Champs.
Once someone knocks off VT or we upset Oklahoma, they will remain atop the conference. Until then, let's get down to business.
Defense looked great. Check. Special teams solid. Check. Offensive line and running game, not so much. The o-line is definitely the weakest link of the team and will need to improve in order to compete against Oklahoma in two weeks.
That's why our schedule works out perfectly. We play two teams that are lesser opponents, which allows us to work out our kinks against an actual opponent instead of beating each other up in practice.
If they can get the o-line in check it will open up the running game and allow some pressure to be taken off of E.J. Manuel. He was a bit inconsistent on his throws, even some of the ones he completed. Still he was 22 of 34 with 252 yards and two touchdowns.
I can't wait to see what they do to a Charleston Southern team that lost 62-0 to UCF in their opener.
Next Game: vs. Charleston Southern 9/10
1. Virginia Tech 1-0 (0-0)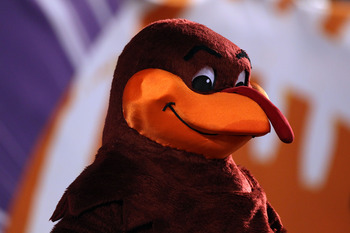 Streeter Lecka/Getty Images
The start of this season was completely different than last year as Va. Tech rolled all over App. St. 66-13.
Junior tailback David Wilson finished the day with three touchdowns and 162 yards on 16 carries. Logan Thomas also was effective in his first game as the Hokies quarterback, throwing two touchdown passes, while the defense shut the door on the Mountaineers.
The Hokies remain No.1 in the ACC because they won the ACC last season and were very impressive in their season opener. Of course it is hard to imagine Va. Tech being challenged much this season with their laughable schedule. That still doesn't mean they will remain atop the conference all year long.
There are other teams looming in the distance, one being FSU who could overtake their throne after week three is complete if they knock off Oklahoma.
They face off against a familiar foe in East Carolina next week who put up 37 points in their season opener but also gave up 56 in their 56-37 loss to South Carolina.
Can they pull off the upset? I don't think so.
Next Game: at East Carolina 9/10
Keep Reading

Florida State Football: Like this team?