Big 12: Aggies' Immaturity Will Lead to the Fall of the Big 12
September 2, 2011
Ronald Martinez/Getty Images
This is now the second consecutive year that collegiate athletes within the Big 12 Conference will be overshadowed by conference realignment nonsense.  Last year it was Nebraska and Colorado jumping ship.  This year the problem seems to center around the Longhorn Network, the University of Texas, and Texas A&M. 
Whether Texas, Texas A&M, or ESPN, creator of the Longhorn Network, is to blame is up for debate.  While I personally believe that all three are to blame for the current problem, I do know one thing for sure. Texas A&M is greedily looking out for themselves. In no way is Texas A&M taking into consideration the implications their actions will have on the rest of the Big 12 conference, and possibly the landscape of all college sports.  
The main beef Texas A&M has is with the new Longhorn Network that will allow ESPN to pay the University of Texas $10,980,000 per year, with an annual increase of three percent. Texas A&M Athletic Director Bill Byrne tried to explain that the thinking behind this beef is that the "landscape" of the league "was altered by the creation of the Longhorn Network."
However, there is a huge problem in this thinking by Texas A&M.  If you will recall, at the time that the agreement to keep the Big 12 together occurred last year, the fact that Texas was seeking its own network was not a secret.  It was only after ESPN forked over a truckload of cash to Texas that A&M became upset, and extremely jealous.  
Basically, ESPN paying Texas all that money further demonstrated to A&M that Texas is the true big dog not only in the state, or Big 12, but also among the national elite.  The sad part of it though is A&M had an opportunity to join with Texas and form a regional channel to broadcast but they turned it down.  AD Byrne says as much in his weekly column. 
"Some of you have asked me, 'Isn't it true you had a chance to join Texas in the ESPN venture and would have had a joint channel?'
Three or four years ago we talked about doing a joint flagship channel. I liked the idea, but our fans should know me better than to think I would pass on a $150 million deal for Texas A&M. That never happened."
What kind of answer is that to the question he posed?  Basically Byrne is saying, yeah Texas had the idea of a network for a long time and they even asked us to join them.  We thought it was a stupid idea and wouldn't make any money so we said no.  
You see A&M did not think it was possible for Texas to get a huge deal like they did with ESPN.  If they did, they probably would not have agreed to the new Big 12 deal last year.  Now that A&M's beliefs have been proven wrong and Texas has its huge network deal, A&M feels stupid for turning down a joint opportunity a few years ago.  A&M is now leaving the Big 12 as a final "we're going to show them!" 
But what A&M is really showing Texas, the Big 12, and the rest of the nation is that they are jealous, attention craving, whiners, that are tired of being in the shadow of the big dog of their current conference.  The problem for A&M is that the dogs are only going to get bigger in the SEC.
Assuming A&M is accepted as the 13th member of the SEC, which by the way is a big assumption considering they have already been turned down twice, they will then be in the shadows of LSU, Florida, Alabama, Ole Miss, and Auburn just to name a few.  A&M will be lucky to be in the top 10 of the SEC. 
I mean we are talking about a school that has won one Big 12 Championship in the 15 years of the conference's existence.  A&M has not won a significant Bowl game since the mid '90s, and that's only if you consider the Alamo Bowl significant; for the record I don't. 
Forget about all this talk about how the SEC will open up recruiting lanes for A&M.  That is a complete joke, ask Arkansas. Arkansas has yet to win a conference championship in the SEC, and it has been in the conference almost 20 years. Texas' shadow must be pretty big and dark if A&M would rather be a cellar dweller in the SEC than a semi-competitor in the Big 12.
If you can't beat them, leave them.  That seems to be the mentality of A&M and other ex-Big 12 teams.   While blame can also be placed on Texas and ESPN, the real bad guy in this whole thing is A&M.  A&M was in on the meetings last year when an agreement to keep the Big 12 together was made.  Now that A&M has got their butt hurt, it appears they will regress to acting like a child and take their ball and run, just like Nebraska.  
Having said all that, the Big 12 as a conference will not last long after A&M's departure.  A nine team conference decimated by teams realigning themselves for the inevitable shift to 16 team mega conferences will ultimately be the destruction of the Big 12.  Without A&M, the conference becomes an even more light weight conference.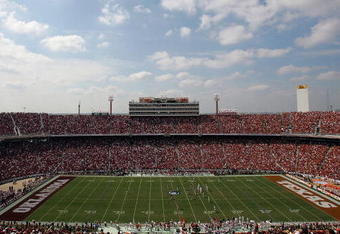 Ronald Martinez/Getty Images
On the football side, which everyone knows is the real moneymaker of college sports, A&M leaving is a really tough blow.  Not only will the perceived strength of competition, or lack thereof, in the Big 12 take a hit but the conference will also lose one of their most storied, as sad as that is to type, football programs.
Besides the two powerhouse football programs of Oklahoma and Texas, the best remaining teams in the Big 12 are Oklahoma St., Missouri, and TX Tech.  In the end the departure of A&M could cost the conference champion a shot at the National Championship due to such a weak schedule.  
It's the same argument that has been made against the Boise State and TCUs of the world when it comes to National Championship implications.  With the conference schedule taking a hit Texas and Oklahoma could become known as teams with great tradition who will be shunned due to a joke of a schedule.  Who knows, maybe that is A&M's goal in this whole charade. 
The departure of A&M, combined with the prior departures of Nebraska and Colorado, leaves a ton of uncertainty for the Big 12 conference and every team in it.   This may be the straw that brings about a tectonic shift in college sports.  That is what the real story here is.  
Who would have thought that a relatively insignificant program would be able to thrust themselves into being the catalyst for seismic change in the college football landscape.  Texas A&M's envy, pride, and jealousy of Texas is what really caused this outcome. It's ironic to think that a program that has done nothing, outside winning a National Championship in 1939, will end up being the lynchpin for college football realignment.  
This article is part of TheFanManifesto, the website for the Educated Sports Fan.  This article was written by B/R NFL Featured Columnist and FanMan NFL Guru Taylor Green. FanMan can be followed on Twitter @TheFanManifesto. Taylor Green can be followed on Twitter @taylorgreen21.