Oregon Football: Last Minute Thoughts & an LSU Prediction
September 2, 2011
Fall camp is finally over, and last night we college football fans finally got a little taste of real football.
I have to admit, after watching Wisconsin dismantle UNLV in frightening fashion over the first two quarters of football, I turned the channel and caught Mississippi State visit the atrocious Memphis Tigers, the mighty FCS' own UC-Davis visit Tempe and take on a fairly good-looking Arizona State team, and yes, (hold your breath) I finished the night watching Bowling Green beat up the Idaho Vandals in the Kibbie Dome. 
Going back and forth between all these games, and even finding time a little time to watch the "ESPNU College Football Preseason Awards Show" on my DVR, it was nice to turn away from the NFL Network and its laughable preseason games and get to where the passion and pageantry is: College Football.
Now, how about this 2011 Oregon football team? A few last minute thoughts:
Fall camp went relatively well for the Ducks, and aside from losing tight end Curtis White to an Achilles injury (possibly season ending) Oregon came out of fall camp unscathed. Josh Huff missed a lot of reps as he's battling some sort of a leg issue; however, all signs point towards him being on the field with the number ones.
Oregon had zero turnover on its staff this offseason, and actually go into a third consecutive season with the same staff in Chip Kelly's third year. That cannot be stressed enough; it's huge to have the same scheme aside from some tweaking here and there for guys to continue their overall understanding of the offensive, defensive, and special teams systems. College football is one big coaching carousel. Running back coaches like to jump to offensive coordinators, defensive line coaches may want to coach the secondary or be a coordinator themselves, so they move their family across the country to a former teammate's coaching staff—the point is that Chip Kelly is really doing something right to keep his whole staff together for a third consecutive year.
Oregon brought in arguably its most-touted recruiting class ever in February. Fall camp was all about taking all those talented pieces and trying see how they fit into the program's puzzle.  Guys who stuck out and will probably get some playing time Saturday night vs. LSU: Colt Lyerla, the five-star recruit from the Portland metropolitan area who is slotted in at the No. 2 spot at tight end and another five-star recruit De'Anthony Thomas who came in as an "athlete" out of Los Angeles and will see time at running back and probably a slot role as well. There are other freshmen who will make impacts in the secondary and on special teams, but look for these two freshman to have immediate impacts.
Finally, Oregon sits in uncharted waters. A preseason No. 3 ranking is the highest ever for this program. The Ducks have not arrived just yet to the penthouse of college football's elite, where Alabama, Michigan, Oklahoma, USC, Ohio State, and Florida reside. This Oregon program is darn close; they are sitting in the elevator outside the elite penthouse, and a win Saturday night against a highly-respected LSU program would push Oregon closer to "arriving" at the doorstep of who's who in college football. Oregon has a unique chance to showcase its program again to a vast national audience on a big stage, and they must deliver.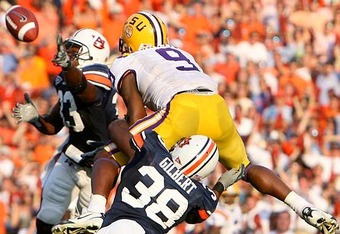 On to the LSU game. LSU is where Oregon wants to be. Two national titles in the last eight years. Quite impressive. The Tigers believe 2011 could be their year, and with the BCS National Championship game back in New Orleans, they feel like its their destiny to return to the Super Dome where they've won their previous two national titles.
This is even still in the face of multiple suspensions. Quarterback Jordan Jefferson and wide receiver Russell Shepard are ineligible. Another big blow was losing savvy offensive lineman  guard Josh Dworaczyk to injury. 
LSU still has that nasty defense that makes opponents shake in their boots. Their defensive ends run like safeties, their secondary can lock any passing attack down and is considered by many to be one of the best in the nation, and their linebackers make what is an incredibly talented front seven. Even with defensive tackle Drake Nevis and linebacker Kelvin Sheppard off to the NFL, LSU's front seven is an example of the reason the SEC has won five consecutive BCS titles: suffocating defensive fronts.
Most of the attention for this game has been paid to Oregon's running game and Darron Thomas' ability to mix and match LaMichael James and his running mates with a dose of a vertical passing game. Rightfully so. However, what about when LSU's offense takes to the field? Jefferson's suspension thrusts Jarrett Lee onto the field. Some say, "Hey that's not a bad thing, because Lee can actually put some zip on the ball and throw it accurately."  Lee is a fifth-year senior who had chances to leave the program and go get some playing time elsewhere, but he stuck around in Baton Rouge. He has thrown for a ton of interceptions (see 18 with eight returned for touchdowns) over his career, but 16 of those were in his redshirt freshman year.
The Tigers have a downfield bruising running attack that they'll lean on, and even with a new offensive coordinator it's likely LSU will try to out-muscle Oregon at the point of attack. The whole world knows Oregon is light in the trenches, and LSU will dare the Ducks to stop their running attack. To force LSU into obvious long second and third downs would be big advantage for the Ducks. This is keeping in mind that the Ducks themselves are without Cliff Harris, who's indefinitely suspended,and are quite possibly without their hardest-hitting linebacker Kiko Alonso.
Oregon returns both safeties in rover John Boyett who's an absolute ball hawk and the speedy strong safety Eddie Pleasant who in his own right, if he can hold onto some balls and add interceptions to his tool belt, could emerge as a first-team all Pac-12 strong safety. 


What will happen?
I've gone back and forth on this one all summer. The tipping point was the shocking news out of Baton Rouge that a gaggle of LSU football players had broken curfew, snuck out of the football housing complex where they're housed over fall camp, hit the bars, and beat the living snot out of a few guys. Who was one of the leading boxers? Their starting quarterback, Jordan Jefferson. I'm still shocked. We've all done dumb things when we were in college, I get that. This is an event that is program-altering because Jefferson looked like he was ready to have a Dennis Dixon-like senior year where all those inconsistencies are left behind and the raw athletic talent added with seasoned experience and great coaching come together to create an all conference quarterback.
LSU's team took this hard. During the first few days of practice last week and into this week, a somber mood hung over like a dark, ominous cloud. There is a renewed sense of confidence in quarterback Jarrett Lee, who will attempt to redeem past ghosts. He played well last year in brief spots, but it's a lot different playing four quarters when you know the guy who has never taken a college snap is there to back you up and not Jefferson. 
Oregon will seize the moment and finally seems to break through and get over the hump. The steady-handed Darron Thomas will rush for a lot more yards than LSU's defensive staff anticipates, and this will keep that deep and talented LSU secondary on their back heels.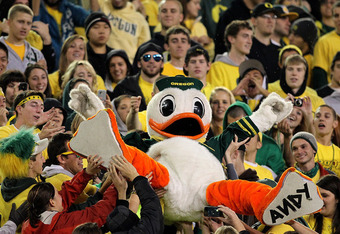 LaMichael James will be frustrated for much of the evening, but he'll break a few big runs and will get his 100 yards. A name on the Oregon defense that has flown under the radar will be a hero in Oregon come Sunday morning. I'm banking on sophomore defensive tackle Ricky Heimuli to wreak havoc. He will have plenty of chances between the tackles, and I think he'll come up with a few memorable plays and goaline stands.
Finally, special teams is big in early season games. LSU is breaking in a new kicker and must replace NFL first-round pick Patrick Peterson. Look for a big special teams play early in the game to really swing momentum.
Oregon 34 - LSU 20   The Ducks defense gets the game ball, as aside from one very long explosive running play by the Tigers they keep LSU's offense in check for four quarters.  Oregon's defense will score, and one special teams play will go a long way in cementing the Duck's victory.
The dog days of summer are over. Let the games begin...