College Football Preview: Week 1
September 1, 2011
Dilip Vishwanat/Getty Images
The Pac-10 is now the Pac-12 and has embraced change with a new name, new logo and new conference championship game. How very left coast—I mean, progressive of them. 
The Big 11 now has 12 teams and are named the Big 10 (how are those Big 10 school framed sheepskins looking now?).  Not to be outdone, the Big 12 has 10 teams—well, two—with Texas A&M running for the SEC (read: Big East), making them the Big 9, all while remaining the Big 12.
God forbid mathematical accuracy get in the way of tradition. 
But it gets better.  Boise State, tired of being overlooked because of its residence in the WAC (Worst Athletic Conference), makes the big move to the Mountain West (arguably the second or third best conference last year, even though a non-automatic qualifier). Good move, Boise.
Well, except that Utah left for the Pac-12, BYU went independent and TCU is in the Big East as of next year. Oops!
All that being said, until the games are played, it's just hot air, so let's get to it.
(NOTE: Preseason rankings are worth less than the vice presidency, so I hesitate to include them at all in this article, but they're included just the same.)
Week 1 has the usual games people everywhere will turn into great background noise while taking naps: Michigan State vs. Youngstown State, Ohio State vs. Akron, Utah State vs. Auburn, Alabama vs. Kent State. You get the idea.  But there's a game or two out there definitely worth watching—beyond that fact it's Week 1 and the drought (at least of the football variety) is finally over.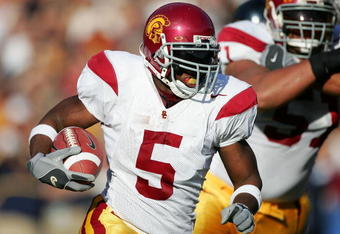 Jed Jacobsohn/Getty Images
Unranked, but fun to watch Minnesota takes on preseason (but on suspension) No. 25 USC to kick off the 2011 season.  The Golden Gophers have always hung in the shadows of the big boys of the Big 11—er, 12—er, 10—but what a great way to start the season with a W against "Reggie Bush never played for us" USC.  And I'd love to pick the men of Paul Bunyan land, but I can't. USC by 19.
Sleeper South Florida takes on No. 16 Notre Dame in South Bend.  With a scheduled chalked full of good teams—including No. 17 Michigan State, Air Force, No. 25 USC and No. 7 Stanford—the good Catholic boys might be overlooking the Bulls of South Florida, and that could be a huge mistake. Nothing derails BCS dreams like going into Week 2 at 0-1.  Right now I have South Florida to win, but mostly because of my support of Boston College to have Notre Dame excommunicated.
Virginia Tech hosts Appalachian State, and I am praying for this.
Rice vs. Texas: That'll be $39.99 to watch a 4–8 team play a 5–7 team from 2011.  You'll have better success getting a return on that money from the all-night shopping channel.
No. 1 Oklahoma warms up at home against Tulsa—unfortunately Tulsa might actually be pretty decent this year and that big ole single digit number next to OU typically doesn't last long. If Tulsa were TCU, it would be upset pick of the week, but it isn't, so it's not. Oklahoma by 21.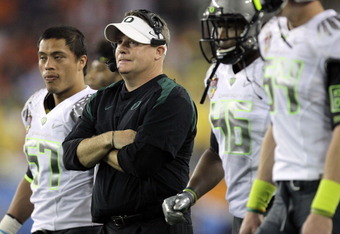 Ronald Martinez/Getty Images
No. 11 Wisconsin hosts UNLV in something slightly better than a warm-up game as the .260 Hitters picks to win the Big 11 kick off the season on a Thursday night. 
No. 5 Boise State takes it between the hedges against No. 19 Georgia.  Mark Richt seems to be superglued to the proverbial hot seat—whether deservedly so or not—and hosting and losing to Boise State in Week 1 will not help him get off it.  And lose the Bulldogs will.  Boise State by 9.
Unranked Game to Watch
UCLA vs. Houston.  Rick Neuheisal (newly dubbed "The Vest") is in his make-or-break season with the Bruins, took down Texas last year (sadly in a season where beating Texas was in style), but sadly the Bruins wrapped up the 2010-2011 season 4–8 and Houston is no push over.  I'm taking UCLA just because I'm "California Dreamin'" right now and Houston—well, nothing appealing about Houston.  Bruins by 3.
Upset of the Week
Miami vs. Maryland.  Oh yes, I'm taking Maryland, assuming two-thirds of the Canes will be on probation, in jail or hung over. Sorry, Gary.
Game of the Week
Easily LSU vs. Oregon at Jerry World. Talk about the weirdest mix of personalities on this planet.  Quiet intensity, incredible play calling and a charisma that went all the way to the national championship last year vs. the Hat.  Les Miles, as regular .260 Hitters know, is easily one of my favorite coaches on the planet because—quite simply—he provides me with an endless arsenal of material to write about.  The man who apparently doesn't understand how a clock works, thinks a snap and spike takes 0.00 seconds to occur and will kick a field goal on the last play of the game when down by four.  All of this under the watchful eye encased by surgically altered face of Jerry Jones. 
Do I want to go to this game?  Ohhhhhhhh yes.  Do I have moral issues paying Jerry a dime for anything at all? Yep.  Have you seen the face price for those tickets?  Wow.
Oregon wins by 14.  Why?  Because only Oregon—and specifically cornerback Cliff Harris—has the panache when a state trooper asks "who has the marijuana?" to respond with, "We smoked it all already."  Well played, sir.  Well played.
Besides, he was stopped for driving 118 mph with QB Darron Thomas in the passenger seat—nobody is stopping that!