WVU Football's Jeff Casteel One of the Most Underrated Coaches in the Country
September 1, 2011
Over the course of the last decade, West Virginia football has been known for its high-powered, high-scoring offensive attack.
Though most of the credit was given to Rich Rodriguez and his run-option spread offense, WVU defensive coordinator Jeff Casteel has consistently improved his squad each year, even breaking into the top five nationally in many important defensive categories.
Casteel began his journey through the college coaching ranks in the late 80's when he became an assistant coach at Shepherd University.
He was quickly promoted to defensive coordinator after just two years on the job and began to implement his 3-3-5 defense which became so successful for him.
Eventually he was hired by the University of Texas - El Paso as defensive coordinator in 2000. He finished one season in El Paso before being hired by Rich Rodriguez to come back to West Virginia in 2001.
Casteel was given the defensive coordinator position for the Mountaineers in 2003 and became very comfortable at the position.
After being given a couple years to get things the way he wanted, his defense really took off in 2005, holding opponents to an average of just 13 points per game which ranked 13th in the nation.
In 2006, his defense suffered from the great offensive play of Big East opponents, the No. 5 Louisville Cardinals and the No. 13 Rutgers Scarlet Knights. The defense also returned only one defensive back in a defensive scheme that requires the rotation of four or five.
The play of his run defense kept West Virginia ranked in the top 10 by the end of the season after a Sugar Bowl win over the then No. 8 Georgia Bulldogs.
Starting in 2007, the West Virginia Mountaineers were in the hunt for a championship.
They began the season on a four-game win streak before being upset by No. 18 South Florida Bulls. The Mountaineers rebounded after the loss by winning another six straight games and headed into the 100th annual Backyard Brawl in prime-time in front of a national audience.
Ranked No. 1 in the Coaches' Poll and No. 2 in the BCS standings, the West Virginia Mountaineers were just one hour of play away from their first chance at a National Championship in school history.
After Mountaineers quarterback legend Pat White dislocated his thumb in the first half of the game, the team was never the same.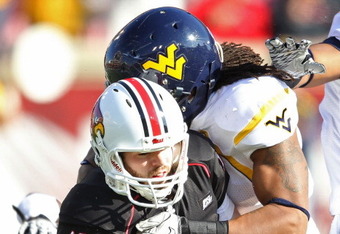 Andy Lyons/Getty Images
West Virginia brought in backup quarterback Jarrett Brown who had extremely limited success.  Pat White re-entered the game in the fourth quarter but was unable to accomplish much with the injury to his thumb.
The Mountaineers went on to lose the game and any shot at a national title.
That was when former head coach Rich Rodriguez decided he would rather coach at the University of Michigan than come back for another season; what a disaster that turned out being.
Initially, Jeff Casteel had decided to join him, but after a convincing 48-28 underdog victory over the Oklahoma Sooners in the 2008 Fiesta Bowl, and perhaps some sort of psychic ability, he decided against it and stuck with his West Virginia roots, staying planted as a Mountaineer.
After two decent years coaching the Mountaineers defense, a defense that spent a lot of time on the field because of a sluggish offense, Casteel put up his best numbers by the end of the 2010 season.
His squad gave up only 171 points over the course of the entire year, which ranked them fourth best nationally in points scored against vs FBS opponents, for a grand total of 15 points per game.
If you were to include all games played last season, they would have ranked third in the nation in the same category.
Casteel is poised to have even more success this year as West Virginia has brought in Dana Holgorsen, author of the Incredibly Successful and Efficient Passing Offense, otherwise known as one of the most prolific offenses in the nation of this decade. His stops in Houston, Texas Tech and Oklahoma State have only expanded his resume as he's successfully implemented his offensive strategies immediately after joining each program.
Success of Holgorsen's offenses will lead to less time the Mountaineers defense will have to spend on the field, very likely leading to even better defensive statistics.
But many Mountaineers fans are biting their lip in anxiety at the thought of losing Casteel to talent that Holgorsen might want to bring in, because after all, Dana is the head coach and he didn't get a chance to hire his own guy to run the defense.
If you've ever witnessed a West Virginia football practice or spoken to Jeff Casteel, you would realize he is a very smart football coach; he could easily be head coach for many teams across the nation.
He is a very valuable asset to the Mountaineer community, and West Virginia fans know that; they know they don't want to lose him.  That all depends on whether Dana Holgorsen is willing to work with him or whether he's already promised someone else the job.
Regardless of what does happen after the conclusion of this season, Jeff Casteel will still have a top 10 defense. If Dana Holgorsen doesn't want to acknowledge that at year's end, there's no doubt another nationally-recognized college football program will.