Michigan Wolverines: Brady Hoke and Fan Expectations
September 1, 2011
Leon Halip/Getty Images
Brady Hoke-A-Mania is running wild through the streets of Ann Arbor and the Wolverine faithful seem to be fully on board with the new coach.  While this is a good thing, especially considering the previous disaster with Rich Rodriguez, fans seem to have outlandish expectations for the coming season.  Heck even collegefootballnews.com has picked them to win the Legends division in the Big Ten this year.
With the preseason rankings out many fans were stunned that Michigan was not ranked.  Surely with Hoke, new defensive coach Greg Mattison and of course Denard Robinson this team should be ranked, or so many fans thought.  In addition to that, there are stories surfacing every couple of days about how another big recruit has signed with the team.  Many recruiting outlets are ranking Michigan as having one of the best classes this year and next.
Now don't get me wrong, these recruits are a good sign.  But this is Michigan, even Rich Rodriguez was able to land recruits.  The question becomes can these recruits play at a high enough level to be successful in the Big Ten? 
Part of that will be seen though the coaching of Hoke and Mattison.  They will bring a completely different style to the team.  For starters, Mattison will actually play a defensive scheme that people have seen.  I have seen kids on the playground design a better defense then what was used the last three seasons.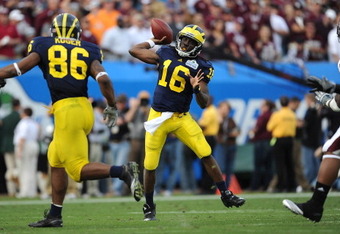 Rick Dole/Getty Images
Still, even with a better system on both sides of the ball, some of the players left over may not be as good as Rich Rodriguez thought.   Now hopefully the new and improved system is all they need to shine.  But fans need to realize that the team is not going to become the Baltimore Ravens of college football all of a sudden on defense.
On offense the team will look to Denard Robinson to become an all around quarterback.  Now there is no doubting that he is a special, one of a kind talent.  He won many games last year with his legs.  The concern with Robinson is that he spends too much time banged up on the sidelines.  Hoke's main change will be to transition Robinson from what was basically a running back who happened to pass once in a while, into a quarterback who can also run.
There are several concerns with Robinson.  There is no doubting his running ability, the concern is if he can make accurate passes. Can he run a pro style offense?  Can he stay healthy?   Will he be able to mix in different passes that are needed to succeed? Can he not only throw the long ball but show the touch that is needed on a short out and will he be able to read through his progressions?  These are major questions and areas that he has spent the offseason working on.  We will not have answers until the season is under way but the success of the season will be determined by his play.
The other concern with Robinson is his health.  Now if he can run Hoke's system then he should be alright.  Having a quarterback rush for the amount of attempts (256) that he did last season is insane, especially when most of them were designed plays.  If they can limit his run attempts to 5-10 a game then he should be able to last the season.  The threat of him running will always be in the mind of the defense and hopefully that opens up passing lanes for him.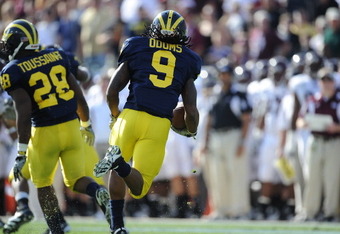 Rick Dole/Getty Images
The team will have players who were injured last season make a return, that along with improved play by so many of the freshman who played last season should help this team.  Several incoming players will also be given the chance to play this year as well.  Even with all of that the team is not very deep with talent yet.  A key injury at the wrong position could derail the season. 
The schedule is not a friendly one this year.  Games against Western Michigan, Eastern Michigan and Minnesota should be easy wins. Purdue and Illinois will be closer battles but Michigan should prevail in those.  San Diego State  could be trickier than people realize.  The last thing Hoke wants is a loss to a smaller conference school, especially the one he just left but San Diego State is a good school and could provide an upset.
Then they play Notre Dame and like Michigan they are trying to rise from the ashes.  Michigan won last season simply because Notre Dame's QB went down injured during the game, they will not forget that.  Iowa and Northwestern are also tough opponents and both are on the road.
Nobody really knows what Ohio State will be this year, but the team still has loads of talent so if there is a drop in play this year, it shouldn't be too much.  While it is rare that Michigan State puts together back to back great seasons, this is not your father's Spartans anymore.  Nebraska is the new Big Ten entry this season and while not perfect they are better than Michigan right now.
So what does all this mean?  Simply put, Michigan will not be winning the BCS this year.  While a Rich Rodriguez first year explosion is not likely either, all the needed parts are still not here.  Hoke is smart enough to not fully make his system the only way and then try to force players into it.  He will still use their strengths within the system, which is why Robinson will still be able to run some.  It may not quite be a rebuilding year but there will still be some painful losses ahead.
The Wolverines are looking at an eight win season.  Beyond that they should compete in every game.  Next year will see another strong class but it will not be until year three under Hoke that Michigan will fully regain its former usual place among the top ten in the country.
While this does not mean that fans should not be excited about this season after all, the dreadful fog of the last three years has finally been lifted, but placing expectations too high will only lead to a bigger fall.  Good things are on the way for this program and who knows with a lucky bounce here or there it could arrive quicker than we think.