Oklahoma Sooner Football: 10 Players Who Are Key to the 2011 Season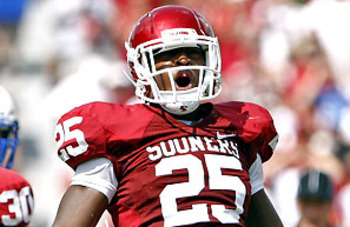 The No. 1 ranked Oklahoma Sooners kick-off their season Saturday night at 8 p.m. EST against the Tulsa Golden Hurricanes.
The Sooners have high hopes and a bevy of talent to back up their preseason ranking. The official depth chart was released on August 29th to Soonersports.com, and for the most part, there are no surprises.
The Sooners are athletic, deep, and experienced. Here are five offensive and five defensive guys that are going to be the keys to the team's success this season.
Dejuan Miller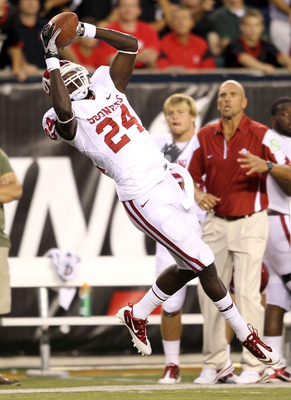 Andy Lyons/Getty Images
Let's start with a player on the offensive side.
Meet senior wide receiver Dejuan Miller. If you haven't heard much about him, it's because his career at OU has been riddled with injuries and underwhelming performances. Miller was off to a good start last season and was proving his worth to the offense, but then he suffered a season-ending knee injury.
He has returned this season healthy as ever and will try to make a name for himself again on offense. Miller is 6'4" and 217 pounds. He has the body of a typical NFL wide receiver, and if he displays good talent this season, he may have a chance to be drafted.
Even though the Sooners are already loaded at receiver, including consensus All-American Ryan Broyles, Miller is quarterback Landry Jones' perfect red-zone target.
If he stays healthy, Miller could contribute a lot of touchdowns this season.
Jamell Fleming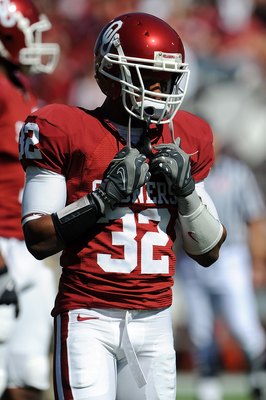 Ronald Martinez/Getty Images
Now let's look at a player on the opposite side of the ball.
Corner back Jamell Fleming is one of two seniors that start on Oklahoma's defense. He is the leader of the defensive backs and was an All-Big 12 player last season.
Fleming had toyed with the idea of leaving early for the NFL draft, but luckily for the Sooners, he decided to stick around for his senior season with the hope of winning a National Championship. He may very well get that chance, and he will be a big reason for it.
Fleming is a lock-down defender. He will be defending every team's best receiver this season, so he will be under a lot of pressure to get the job done. His biggest tasks will be defending Texas A&M wide receiver Jeff Fuller and Oklahoma State wide receiver Justin Blackmon. Both Fuller and Blackmon are likely to be first-round draft picks next April.
Fleming definitely has his work cut out for him and he is one of the biggest keys to the Sooners' potential success.
Brennan Clay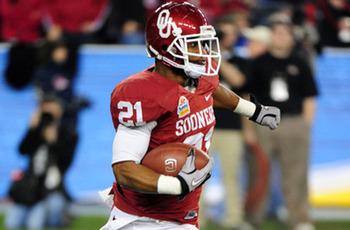 Sophomore running back Brennan Clay is probably the most surprising name on the OU depth chart.
Clay, who is currently sitting as Oklahoma's first-string running back, apparently showed enough in the spring to edge out junior Dominique Whaley and sophomores Roy Finch and Jonathan Miller.
The title of "first-string running back" might need to be taken with a grain of salt, as Bob Stoops has every intention of getting carries for each of OU's running backs.
The depth of OU's backfield is both a blessing and a curse. While OU will have many options to throw at defenses, somebody is eventually going to be left out. This tends to happen when a team runs five deep at a position. With all that talent, Clay will have to prove he is deserving of the most time on the field.
As a freshman, Clay played backup to DeMarco Murray and Mossis Madu. Clay had 36 carries for 127 yards. His production is going to have to go way up this season if he wants to hold off more electric backs like Finch and Miller.
Regardless of whether or not he retains the title of "first string," Clay is going to play a huge role in Oklahoma's offense.
JaMarkus McFarland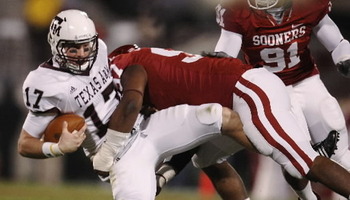 JaMarkus McFarland came to OU as the second highest rated defensive tackle in the nation. After two years of playing backup, McFarland has yet to live up to his hype. That has a chance to change this season as McFarland is set to become a full-time starter for the first time.
McFarland played in all 14 games for the Sooners last season and even started three of them. He finished the season with 23 tackles (five for loss) and 1.5 sacks.
This season, he will have to be a leader in the middle of the defensive line, because defensive tackle is considered the biggest "weakness" of Oklahoma's defense. In fact, they are the least experienced players on the line, but that doesn't necessarily make them weak.
McFarland has a chance to show himself, the critics, and the scouts that he is the same player that most believed he was coming out of high school.
He and fellow starting junior defensive tackle Casey Walker will surely rotate their time with junior Stacy McGee and redshirt freshman Torrea Peterson, but McFarland has the most potential. On a defensive line anchored by senior defensive end Frank Alexander, McFarland will have to step up and prove that he's better than a backup.
Roy Finch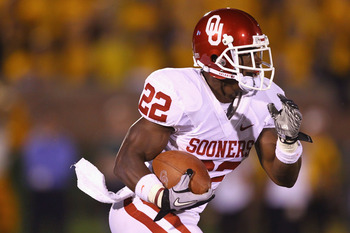 Dilip Vishwanat/Getty Images
Remember when I said Brennan Clay was likely the biggest surprise on the depth chart? Roy Finch is the reason why.
As a freshman last season, Finch saw the most playing time outside of seniors Murray and Madu. The dynamic running back finished the season with 85 rushes for 398 yards and two touchdowns. That's an average of 4.7 yards per carry, which was good enough for the best average of any OU running back last season.
At 5'7 and 186 pounds, Finch is the most elusive running back on the roster. He doesn't have elite speed, but his shifty moves and powerful running style make him a hard guy to tackle. He's basically a more powerful Quentin Griffin, the former OU star running from the early 2000s.
Finch will surely get a lot of chances this year to prove, yet again, what he's capable of doing. He will likely be the starting running back before the year is over, and will prove to be one of the most exciting players in the Big 12.
Tom Wort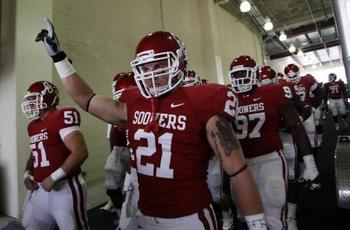 Linebacker Tom Wort likely didn't expect to be offered a full-time starting job until next season. That spot was already filled by senior Austin Box.
However, tragedy struck in May when Box was found unresponsive at a friend's home in El Reno, OK. He was rushed to the hospital where he was pronounced dead due to "mixed drug toxicity."
While I'm sure Wort will graciously accept more responsibility and playing time, the circumstances of his promotion couldn't be more upsetting. Wort will have some big shoes to fill, as Box, who had been riddled with injuries, was poised to have a stand out senior season.
As a freshman, Wort saw playing time when Box went down with a back injury. He started nine games for the Sooners and finished with 33 tackles (7.5 for loss) and 4.5 sacks. His experience will surely elevate his game this season. He will be a major contributor to a loaded Oklahoma defense.
Donald Stephenson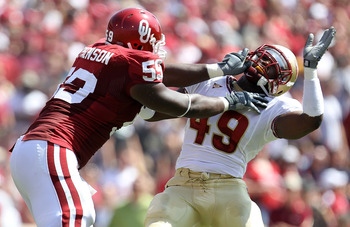 Ronald Martinez/Getty Images
Senior left tackle Donald Stephenson may have the most important job on the entire Sooners' roster: protecting quarterback Landry Jones' blind side.
Last season, Stephenson earned a spot as a full-time starter and did not disappoint. He finished the season with 103 knockdown blocks, which was good enough for second on the team. With a full season of experience under his belt, Stephenson is prepared and ready to improve.
At 6'6 and 307 pounds, Stephenson has great size for a tackle. He is almost definitely going to be drafted in April, and a great season could make him a first- or second-round draft pick.
Stephenson is currently the lone senior on the offensive line, so he will have to step up and be a leader. Fellow senior tackle Jarvis Jones will be ready to play in time for the Red River Rivalry. If Jones can stay healthy, he should be able to win a starting spot as the other tackle, and the 6'8 Jones would compliment Stephenson rather nicely. Jones was only sacked 19 times last season, which is an average of 1.4 times per game. Stephenson and the rest of the offensive line will try to improve on that stat this year.
Keeping Landry Jones healthy is the biggest concern for an Oklahoma team that witnessed their National Championship hopes crumble a few seasons ago when star QB Sam Bradford went down with injury.
Stephenson won't let that happen again.
Ronnell Lewis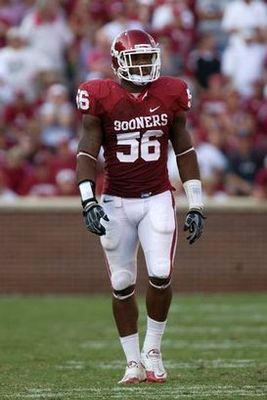 Junior Ronnell Lewis, or "The Hammer" as he is known at OU, is an absolute man-child.
He is 6'2, 244 pounds and runs a 4.5 forty. In high school, Lewis was a monster running back, but upon his arrival at OU, it was clear that he would be best on the defensive side of the ball.
During his freshman season, Lewis was mainly a special teams star. He tied for a team-high 11 special teams tackles and actually got to start one game, in which he recorded six tackles and one forced fumble.
Last season, Lewis and the coaching staff tried to find a position that best fit his ability. He ended up starting the last four games as a defensive end/linebacker hybrid. He finished with 37 tackles (5 for loss) and 3.5 sacks.
This year, Lewis is going to be a full-time starter with the potential to do some great things. He will be playing a hybrid position again, which will likely be tough to contain for opposing offenses. He will have to step up and be a leader on the defense this season with All-American senior linebacker Travis Lewis out for the first five games.
Ronnell Lewis has had an interesting offseason, though, and his availability for the season opener against Tulsa is still up in the air, even with the game only a few days away. Coach Bob Stoops said that "it's not fair" to discuss his eligibility because he is still a college student. I'm sure a lot of OU fans will be nervously checking the status of Lewis up until kickoff on Saturday.
Hopefully he'll get everything in order, because he's going to be a huge part of their defense.
Landry Jones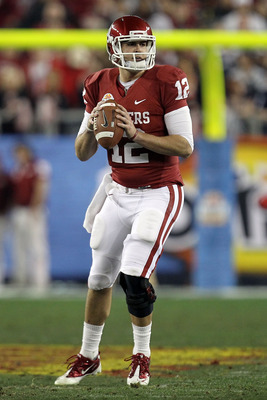 Ronald Martinez/Getty Images
Obviously, the most important key to the OU offense is junior QB Landry Jones.
Jones has matured as a quarterback over the past two seasons, but he still has some room to grow. Even though Jones was very impressive statistically last season, throwing for 4,718 yards and 38 touchdowns, he still made silly mistakes. That's to be expected from a sophomore quarterback, though.
Jones is going to have to turn in a near flawless season if OU wants to get to New Orleans in January. I have all the faith in the world in Jones. He has the experience, he has the arm, and he has the proper coaching.
Josh Heupel, who is now co-offensive coordinator, has taught Jones well, just like he taught Sam Bradford and Paul Thompson. With Heupel calling the plays this year, Jones is sure to be in good hands.
Last season, Jones threw 617 passes, which is roughly 44 attempts per game. If that's the case again this season, Jones is going to post huge numbers and lead the race for the Heisman Trophy.
Corey Nelson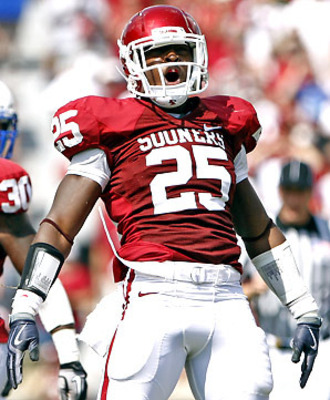 This brings us to our last player.
Sophomore linebacker Corey Nelson is potentially the biggest key to Oklahoma's season. He earned a starting job in the spring after Travis Lewis went down with injury. When Lewis returns for the Texas game, Nelson is likely to give up his spot at weakside linebacker, but that doesn't mean he won't be starting elsewhere on the defense.
There has been nothing but high praise surrounding Nelson. Coach Bob Stoops believes that Nelson has the ability to step in and take over, and he raved about his performance this spring. Last season, Nelson was a starter on the special teams and was awarded playtime as backup to Lewis. He finished the season with 21 tackles (2.5 for loss).
It's always going to be hard to replace a guy like Lewis, who posted 109 tackles last season and was the consensus preseason All-Big 12 Defensive Player of the Year, but Nelson is about the best replacement you can get.
Coming out of high school, Nelson was a five-star recruit by Scout.com. He also earned All-American honors after he posted 133 tackles, nine sacks and five blocked field goals during his senior season.
Defensive coordinator Brent Venables has already stated that he thinks Lewis and Nelson are the best weakside linebacker tandem in the nation.
Sooner fans hope he's right.
Keep Reading

Oklahoma Sooners Football: Like this team?