Georgia Football: Will an Aaron Murray Breakout Season Save Mark Richt's Job?
August 30, 2011
Sam Greenwood/Getty Images
As the University of Georgia and Boise State matchup inches closer, all eyes are set on the most wanted head coach in the college football "hot seat" competition: Georgia Coach Mark Richt.
Starting his 11th year at the University of Georgia, Richt will no doubt catch the camera's zoom lens more than once in Saturday's showdown against the Broncos in the Georgia Dome.
Will he be caught anxiously fiddling with his mouthpiece or applauding the dominance of his team? 
This week, he's showing the signs of a marked man. 
In an interview on Monday regarding rumors of suspension (against Boise) for returning tackle Baccari Rambo, Richt's pregame jitters, according to The Macon Telegraph, took the form of gibberish:
"Is that right?  No, I'm not going to address that.  At the appropriate time if anybody has anything like that, I'll let you know though?"
Come again, Coach?  When might that time be?
"I don't know.  I gotta figure that out.  I'm still working on that."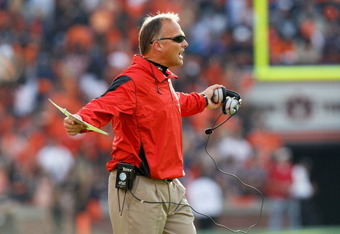 Kevin C. Cox/Getty Images
Can Richt "take a licking and keep on ticking," as the old Timex commercials declared in the '60s, or could Dawgs quarterback Aaron Murray hold his ticket to the promised land of job security?
After a slow, and painful descent from SEC stardom in 2005, Richt's 6-7 record last year opened the door to speculation for change in Dawg-land.  
When the Bulldogs closed the season with a stinging bowl game defeat by the University of Central Florida, Richt began to feel the pressure internally, as well as from his fan base.  He knows that this season he must win or turn to the U-Haul page in a phone book he flagged this summer. 
Can he look to Murray to rescue him from the dredges of college football coaching doom.  Is the Georgia standout quarterback his man? 
Who is Aaron Murray and can he lead the Dawgs to a winning season?
According to Murray's former coach, Robert Weiner, "Aaron Murray is probably the best player in the country, and you don't want to lose the best player in the country anytime, and he's probably my best friend and you don't want to lose your best friend."
Weiner's poignant words came on October 16, 2008, after his 2008 Tampa, FL Plant High School football team defeated rival Hillsborough High School 44-24.  In the third quarter, Murray was carted off the field with a broken fibula for what many thought would be his final play in high school.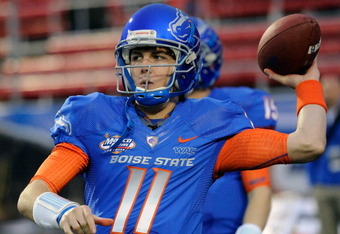 Ethan Miller/Getty Images
Murray had already thrown for 28 touchdowns in six games before breaking his leg, and with colleges from all over the country knocking on his door, his determination and tenacity—along with the encouragement from his coaches and physicians—allowed him to recover quickly.  The amazing recovery was so quick that he led his team to a 4A state championship played in the Florida Citrus Bowl. 
It was that game that brought him his first taste of fame to come.
Murray's final senior-year stats were astounding.  Even with only playing in eight games, he threw for 2,163 yards and 33 touchdowns with only three interceptions. 
But what was it about Georgia that led Murray to commit in 2008?  On the day of his official signing, he said, "It was just that gut feeling…my heart telling me where to go."  He attributed his decision to the recruiting efforts of Coach Richt and Offensive Coordinator Mike Bobo.  "You can just sit around and talk about football and talk about life.  Coach Richt is a really religious guy that I really like," he said, sending visions of the Urban Meyer and Tim Tebow relationship out into TV-land.
Murray's first start came in the opening game of 2010, and, since then, he's thrown for 2,851 yards, 24 touchdowns and eight interceptions in the regular season. 
For the season (including the bowl game), his final stats earned him first place in UGA history for a freshman and second in the SEC history for passing as a freshman.  His passing efficiency is ranked 14th in the country and fourth in the SEC.
This year, along with the Mark Richt watch, the Bulldog nation is focused on Murray. 
Is he the man to bring the Dawgs out of the junkyard?  All indications are that he could be just the man to help them win and keep their tenured coach around.  Already this year he's been selected to watch-lists for the Walter Camp Player of the Year Award, the Maxwell Award and the Manning Award.  He's even been penned in the Birmingham News as the best quarterback in the SEC. 
Most followers of the sport will agree that one man doth not make a team.   That said, Georgia's offensive line is stacked with beefy talent to help Murray get the job done. 
Those include starters like left tackle Cordy Glenn, a 6'5", 348-pound senior, left guard Kenarious Gates (6'5", 328 pounds), Ben Jones, a 6'3", 316-pounder and newcomers Kolton Houston, Dallas Lee and Austin Long.  First-year offensive line coach Will Friend, who was Mark Richt's graduate assistant in 2003-2004, left Neil Calloway's UAB Blazers to come to Athens, so he'll certainly be put to the test along with a quarterback who has already mastered some amazing comebacks.