2011 NCAA Football Week 1: What I'm Watching This Weekend
August 30, 2011
Christian Petersen/Getty Images
For some, the end of August can be a depressing time in which the beauty of summer is coming to an end, school/work are starting back up and the misery of winter weather looms just around the corner.
But, for most of us, this time is the most exciting time of year. It's football season, specifically college football season, and it is the only time of the year in which every one of our teams and alma maters have a mathematically equal chance of winning the national title. Since one loss in a college football season can cost that team a shot at the championship, Week One is perhaps the most exciting and important week of the season.
This is especially true for the teams that put it all on the line and play a challenging game to start the season Week One. My respect goes out to LSU, Georgia and Oregon, who have challenged themselves Week One despite playing challenging schedules in conference as well. A win for these three teams this week could push them way up into the rankings, but a loss will seriously tarnish their chances of getting to a BCS bowl game.
Anyways, these are the games I'll be paying the closest attention to this weekend.
Thursday: UNLV at #11 Wisconsin (8:00, ESPN3)
This is probably the most relevant of a fairly mediocre opening Thursday night, not because UNLV has any chance to contend with the Badgers, but rather because it will be our first chance to see just how good Wisconsin can be with Russell Wilson replacing Scott Tolzein under center. Wilson was a star for three years at N.C. State and should continue that up in Madison, especially with play makers Nick Toon, Montee Ball and James White to play around with.
UNLV is not very good and will be nothing more than an irrelevant team that TCU pummels in the MWC. Wisconsin will win, it's just a matter of how impressive they look

Prediction: UNLV: 3, Wisconsin: 45
Friday: #14 Texas Christian at Baylor (8:00, ESPN)
This will be the first really good game of the year, as the Baylor Bears will have a very good shot at upsetting #14 TCU on their home field Friday night. TCU is still very good and should be dominant in MWC play this season especially with the loss of Utah to the Pac-12. But, they will be very vulnerable to a solid Baylor team, especially due to Casey Pachall getting his first career start, replacing Cincinnati Bengal Andy Dalton.
Robert Griffin is the key player for the Baylor Bears, a dual threat quarterback who gained experience with a 7-6 finish and a bowl berth as a starter last season, and will prove to be one of the best QBs in the QB heavy Big 12. Part of his success will rely on WR Kendall Wright, who will be among the Big 12 elite at that position.
All in all, TCU will probably still win this game but it will not be the smackdown that Andy Dalton led last season when the Horned Frogs won 45-10. But, this will be a close game in which the experienced Bears will give Pachall and TC a run for their money.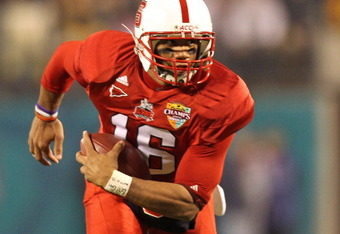 Mike Ehrmann/Getty Images
Prediction: Texas Christian: 28  Baylor: 25
Saturday: Akron at #18 Ohio State (12:00, ESPN)
The Buckeyes had quite a tumultuous offseason, leaving Luke Fickell to try and patch together a team that has been bruised and battered by NCAA violations. This game against Akron will be the first step in showing us viewers how good they will be, because frankly right now that's an unknown.
Veteran back-up Joe Bauserman, and true freshman recruit Braxton Miller are still in a battle for the starting QB role and will likely both get snaps in the game this weekend. If either of them could come close to the production that Terrelle Pryor gave, the Buckeyes could be okay.
There's nothing really to report on the Akron side. The Zips are one of the weaker teams in the MAC this season. This will be an easy win for Ohio State but will say a lot about their recovery this offseason.
Prediction: Akron: 7  Ohio State: 35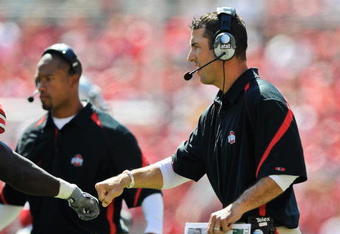 Jamie Sabau/Getty Images
South Florida at #16 Notre Dame (3:30, NBC)
The game I will be waiting for all week is this one. It's always such a great feeling waiting for your team's first game of the season when they have such a promising and talented roster as the Irish do. And they scheduled a perfect first opponent, a South Florida team who is solid, but should not really cause problems for Notre Dame in Week One.
Dayne Crist will be the quarterback despite a very impressive end of the season for sophomore Tommy Rees last season. The competition between the two will only be positive in their development this season. Cierre Wood is a lightning fast back and Michael Floyd is clearly one of the most talented receivers in the country. Mant'i Teo and Kapron Lewis Moore lead an experienced and talented defense that should improve immensely from last year.
South Florida QB B.J. Daniels is a good one, but they look to be no better than a middle of the pack team in the Big East. Irish take this one home and give the fans something to be excited about going into the Michigan game.
#3 Oregon at #4 Louisiana State (8:00, ABC) (in Arlington, TX)
First of all, I'd like to give props to both of these elite programs for scheduling each other on Week One and risking an 0-1 start to the season which would jeopardize their top five rating and National Championship hopes. While they could have gotten an easy win against Akron, Kent State or UL Monroe, they go for the game in which they have a very hard challenge up ahead. I really respect that.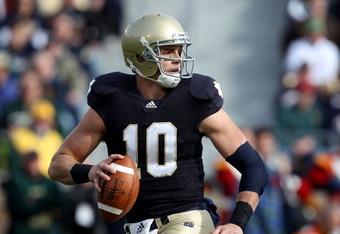 Jonathan Daniel/Getty Images
That being said, LSU is probably deeply regretting scheduling this game due to the bar fight that recently put star quarterback Jordan Jefferson on suspension. With him out, their chances to beat a dynamic Oregon team that returns many key pieces from last year's national runners-up, are greatly diminished. Jarrett Lee will take over the duties and is a very solid player, but nowhere near the elite athlete that Jefferson is. He will still have one of the best receivers in the country to throw to in Reuben Randle, as well as former top rated QB recruit Russell Shepard.
Oregon's offense is still so dynamic, returning Heisman hopeful LaMichael James and athletic QB Darren Thomas. DB Cliff Harris is one of the best defensive players in the Pac-12 and will help contain the talent that the Tigers have at WR.
Prediction: Oregon: 42  Louisiana State: 28
Colorado at Hawaii (10:15, ESPN2)
Nothing much to report from this game. I probably won't end up watching much of it but it is the only game on TV after the big ones during prime time. Colorado could struggle in their new Pac-12 conference, despite having running back Rodney Stewart. This will be a close one with the always gun slinging Hawaii Warriors, consistently one of the better teams in the WAC.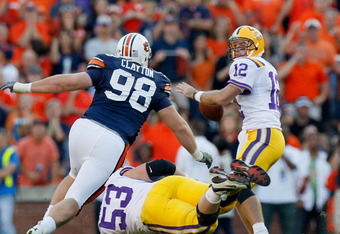 Kevin C. Cox/Getty Images
Prediction: Colorado: 21   Hawaii: 24
Sunday: Marshall at #24 West Virginia (3:30, ESPN)
I love how ESPN tries to capitalize on the only Sunday of the year that has college football but no pro football by putting this game on.
True, it's a rivalry game, but I don't see Randy Moss or Byron Leftwich suiting up for the Thundering Herd anymore. West Virginia is arguably the best team in the Big East. Geno Davis is one of the best players in the Big East and should have no trouble with Marshall.
Prediction: Marshall: 10  West Virginia: 34
Monday: Miami (FL) at Maryland (8:00, ESPN)
Miami's offseason was probably just as damaging as Ohio State's and to make it even worse they were not nearly as good of a team in the first place. The downfall of Miami football has been so tragic, yet unsurprising, and they now find themselves in the middle to bottom of the pack in the ACC. Jacory Harris is a mediocre at best quarterback who has the potential to be very good, but will never acquire the discipline to be good. Assuming he's eligible, Harris will seriously need to limit the interceptions that he tends to throw to have a chance of beating Maryland.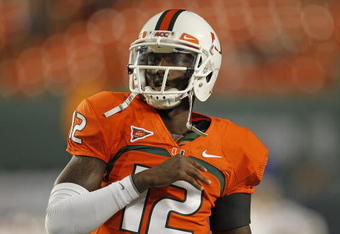 Joel Auerbach/Getty Images
Maryland,on the other hand, could be a sleeper in the ACC. Danny O'Brien is a very good quarterback and the Terps bring back a lot of players from last year.
Prediction: Miami: 21, Maryland: 31

So, that's what I'll be tuning into this week.
Here are some of the other games I'll be keeping an eye on:
Tulsa at #1 Oklahoma (8:00, FX)
#5 Boise State vs. #19 Georgia (8:00, ESPN) (in Atlanta)
East Carolina at #12 South Carolina (7:00, ESPN Game Plan)
Miami (OH) at #21 Missouri (12:00, Local)
Minnesota at #25 Southern Cal (3:30, ABC)
Northwestern at Boston College (12:00, ESPNU)
Brigham Young at Mississippi (4:45, ESPN)
Appalachian State at #13 Virginia Tech (12:30, Game Plan)