Tennessee Football 2011: Previewing the Montana Game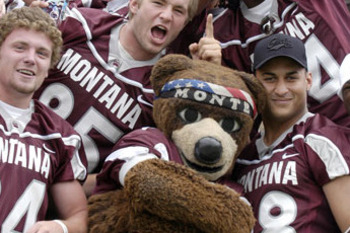 September 3, at 6:00 PM the Vols will play host to the Montana Grizzlies. Last year Tennessee struggled early against their warm-up, C-USA opponent UAB in an unexpected 32-29 OT win. That same team went on to finish 4-8 losing to the likes of Rice, Marshall and Florida Atlantic.
As much as that humbled the Vols, they also aren't the same team that allowed the Blazers to put up 429 yards in the air and 115 yards on the ground. Even HC Derek Dooley as much as said that the entire season was a warm-up, so with 2010 in the rear-view mirror, what can Vol fans expect in the season opener against the Grizzlies?
Grizzlies' Three Returning Linemen Won't Be Enough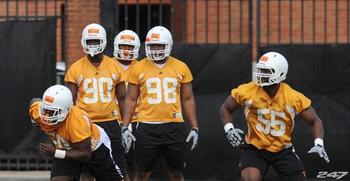 The O-line is not completely gone for Montana, but still only three veterans will shore up the wall to fend off the Tennessee defensive front, two OTs and a G.
Though the verdict is still out on Vol DE Ben Martin and whether or not his matched pair of Achilles tendon injuries have fully healed, the fact that he is No.1 on the depth chart has to account for something.
Then the sophomores arrive. NT Daniel Hood, and DE Jacques Smith have stood out all spring and legitimately earned their starting roles. Then there is DT Malik Jackson who sprained the medial ligament in his right knee during the first week of August. Jackson says he is back to 100 percent and feels ready, but was glad for the other guys to get the extra reps while he rested his knee and took mental reps studying D-line mistakes.
All in all, you might say Montana's three returning starters could give the D-line some trouble, but the bad news for the Grizzlies is if that does happen all of the Vol D-line depth is shovel-ready to take the field due to the rigorous scrimmages and practice regimens that DL coach Lance Thompson has instilled since the first day of spring.
Add in the Strength and Conditioning coach Ron McKeefery's unyielding workouts and it's a no-brainer. Midway through the third quarter the Grizzly line will be inundated by the strength and stamina of the Vol defensive front and that's when things will really start to get ugly.
Montana Hasn't Named a Starting QB
This doesn't bode well for the Grizzlies.
Only junior QB Gerald Kemp saw any respectable action last year as he was utilized as more of a wildcat runner and was later moved to RB. Still, with only 224 yards and no TDs to call his own, his production was severely limited.
Then there is sophomore QB Jordan Johnson who saw time last season as a true freshman, but only managed 20 pass attempts the entire season. Needless to say there is no definitive decision as to who will start. And, no there has been no indication that HOF QB Joe Montana's son Nate Montana will see any action.
Janzen Jackson's Absence Won't Hurt Tennessee This Time
Even though nickelback Janzen Jackson is now warming a bed at McNeese state, the Grizzlies will still be in for a rude awakening.
Despite Montana having two dependable returning WRs, their combined efforts will be easily outmatched by the Vol secondary. Even though HC Derek Dooley isn't happy about the loss of Jackson there are still players that could emerge as significant replacements.
CBs Justin Coleman and Marsalis Teague are pretty decent players in their own right. Teague played in all but two games last season and had nine tackles against Kentucky, and DC Justin Wilcox can't say enough when referring to Coleman's athleticism and talent. Wilcox has lined him against five-star WR and Tennessee freshman DeAnthony Arnett and saw the potential for handling the starting job.
And don't forget Art Evans. He didn't exactly help the Vols against Alabama WR Julio Jones, and then he fell behind in car payments and Coach Dooley put him on the shelf. Since then he has worked hard and reestablished himself as part of the Vol defense. Sitting behind Teague should teach a little humility and a want to take advantage of every snap Wilcox gives him.
Then the freshmen LBs AJ Johnson and Kurt Maggitt will go to great lengths to keep their starting roles and prove that they are worthy of the trust that LB coach Peter Sirmon has placed in them.
Above is an assessment of DC Justin Wilcox's view on the Vol defensive progression up to Aug.23 and again this pre-dismissal of J. Jackson.
OC Jim Chaney Won't Do Anything Crazy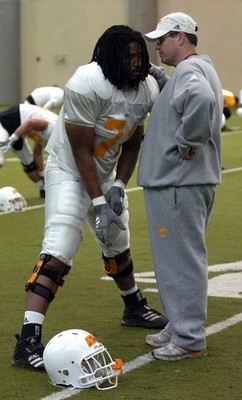 This Saturday will be the perfect opportunity for OC Jim Chaney to start mixing up some of those plays that he was afraid to use last season.
Look for more shotgun; it puts a little more pressure on Tauren Poole as a blocker, but in the end QB Tyler Bray will need this opportunity to get synchronized with the receivers and whichever TE happens to line up. After that I would not be surprised to see the Flexbone make an appearance in a few trick plays, so that FB Channing Fugate can set up a few run plays. I'm sure Chaney's spread in some form will also make it to Doolley's ear.
There should be a few variances where streak routes are utilized, providing the line is holding their own. But, it should provide ample space to break in WRs Matt Milton, Vincent Dallas, DeAnthony Arnett and TEs Brendan Downs and Cameron Clear. This should set the stage for who will get the most reps the following week against Cincinnati.
RB Tauren Poole Will Set the Stage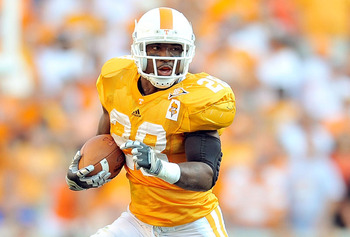 It's rather easy to come out and say a RB will have a stellar performance against another team that isn't exactly swelled-up with talent, but you know that he will.
HC Derek Dooley will take advantage of Montana's light defensive line. The D-line which is made up of three returning starters and a freshman are still pound-for-pound outweighed by the Tennessee offensive front anywhere from 30-65 lb.
The LBs however are another story. 222-pound All-American candidate junior Jordan Tripp had 99 solo tackles last season with nine for a loss. His senior teammate 240-pound Caleb McSurdy had a team high last season with 112 solo tackles. Unfortunately for the Grizzlies, they are the defenses' last line of well....defense. That is with the exception of All-American CB Trumaine Johnson who will be busy teaching an inexperienced secondary.
This could call for one of those situations where OC Jim Chaney has been threatening to use two TEs. I wouldn't expect any less than 150 yards on the day for Poole.
Plenty To Smile About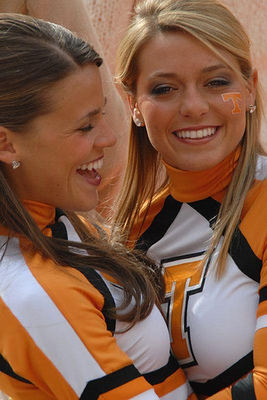 This will be the first ever meeting between the two schools, but it's not a big deal so sit back and enjoy the scenery.
I wouldn't get too worked up about this game at all. For every one good thing the Grizzlies have going for them, there are at least 10 bad things waiting for an opening.
I will in fact be sitting back, with my feet propped up enjoying every concession that comes my way. The beginning of the first quarter will be a little chaotic then Tyler Bray will calm down and start surgery. DC Justin Wilcox will use the first half to fine tune the secondary and make sure Austin Johnson is in full command of the LBs.
The Vols will win convincingly and let the Grizzlies get a single score. Vols 42 Grizzlies 7
Keep Reading

Tennessee Volunteers Football: Like this team?