Navy Midshipmen 2011 Season Preview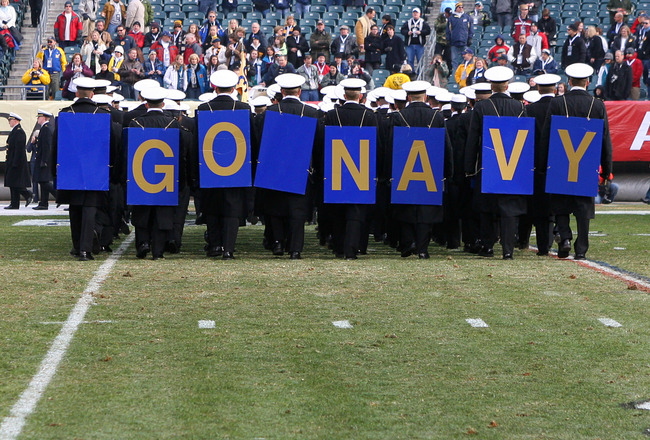 Hunter Martin/Getty Images
Ken Niumatalolo, the first Samoan coach in FBS history, is entering his fourth season at Annapolis. His Midshipmen went 8-5 in '08, but improved to 10-4 in '09, and are now coming off a 9-4 season where they were thumped by San Diego State 35-14 in the Poinsettia Bowl.
Even so, Navy is coming off their greatest two-year stretch in program history, with 19 wins the past two seasons, revealing how consistent Niumatalolo's program has become.
Losing One of the Best Ever
Hunter Martin/Getty Images
Under former Navy head coach Paul Johnson, Niumatalolo was the offensive coordinator from '97-'98 where he learned how to truly run the option.
His quarterback, Ricky Dobbs, had 40 rushing TDs the past two seasons, which set the NCAA record for most in consecutive seasons. The new guy running the option this season will be 6'1", 200-pound senior, Kriss Proctor. Proctor had 4 rushing TDs in mop-up duty last season.
Star fullback Alexander Teich is back and he is a stud at 6'0", 217 pounds. Gee Gee Greene will continue to be the star tailback/SB and is quite the scant back. He ran for 492 yards and had 5 TDs.
Returning the Big Boys Up Front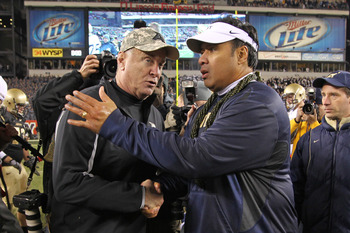 Hunter Martin/Getty Images
The offense has four starters back and they are led by right guard John Dowd. He was a Second Team All-Independent selection last year. He has started the past 15 games for Navy. Brady DeMell is another solid lineman who is the starting center.
Those two paved the way for the sixth-rated rushing offense that averaged 282 yards per game. The total offense was 38th, averaging 404 yards per game, and they were 45th in scoring offense, averaging 29 points per game.
Defensive Prowess
Hunter Martin/Getty Images
The defense only has three starters back, but Niumatalolo has only averaged 11 returning starters thus far in his tenure. There is a starter returning at each level of the defense.
Up front, defensive end Jabaree Tuani returns after a 5.5 sacks and 10 tackles for loss in 2010. He has solid speed for a big guy (not a rarity at Navy).
At linebacker, Max Blue returns and he was sixth on the team in tackles a year ago. He should rank among the top three tacklers on the team if Tuani doesn't get most of them.
Secondary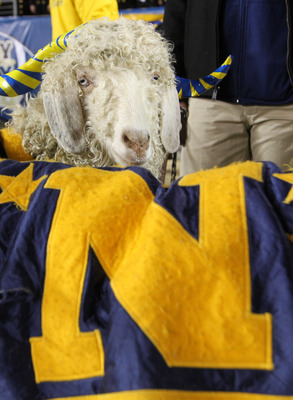 Hunter Martin/Getty Images
In the secondary, they are a bit undersized as usual. However, there is solid speed with Kwesi Mitchell, who had three pass break-ups and an interception last year.
Most opponents do not thread the needle much, as they usually pound the rock against Navy. Their rushing defense ranked 75th, allowing 165 yards per game.
Meanwhile, the pass coverage was not much better, ranking 70th, and allowing 224 yards per game. All in all, the Midshipmen defense should be improved talent-wise, but the numbers will drop a bit.
Drama's Forecast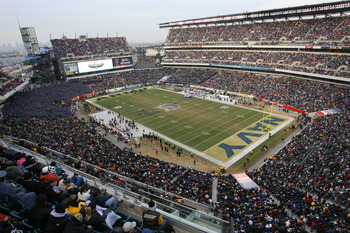 Hunter Martin/Getty Images
In week two, the Midshipmen must travel to Columbia to play South Carolina, and later in the season they head to South Bend for Notre Dame. Both are ranked in the Top 25 in all preseason polls.
They also play SMU on the road and Air Force at home. Those could be four tough losses, but luckily, the rest of the schedule is fairly easy outside of a home contest against Southern Miss.
Predicted Finish: 7-6
Predicted Bowl: Military Bowl
Keep Reading