College Football 2011: Northwestern, Washington and Others Restoring Honor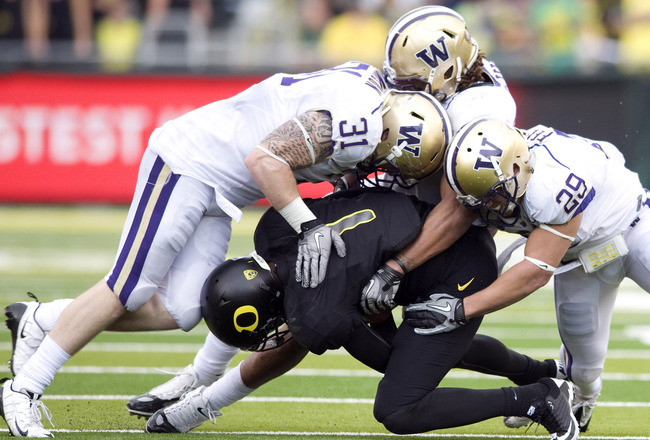 Steve Dykes/Getty Images
Recruiting scandals, booster-paid players and under-handed conference realignments—it is all for the good of the student-athletes. Ahem.
The likes of Miami, USC, Ohio State and, yes, the whole of the SEC are giving college football a bad rap. Is all hope lost for restoring an innocent college-athlete centered environment to the sport?
A few programs around the nation are maintaining high standards amid the ruins of NCAA regulation infractions and dirty deals. We can look to the likes of Notre Dame, Air Force, Brigham Young, Navy and Northwestern as model programs of standard.
Here is a list of front-running programs setting an example of honor for the rest of college football to follow, using a criteria based on winning traditions, coaching staff role-models, classy fan bases and high academic standards.
Pac-12: University of Washington Huskies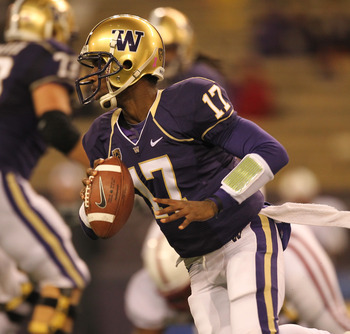 Otto Greule Jr/Getty Images
First, we head to the oldest public university on the West Coast where 85% of the student body graduated in the top ten percent of their high school graduating class.
From 1977 through 2003, Washington had 27 consecutive non-losing seasons—the most of any team in the Pac-12. National Champions in 1960, 1984, 1990 and 1991, the program has appeared in the Rose Bowl 14 times, dating back to 1924.
Huskies Stadium is one of the most picturesque places for a college football game, and fans are loud in support of the home team. ESPN measured the noise level at 130 decibels in a 1992 night game against Nebraska, the highest noise level ever recorded at a college football game.
It wasn't long ago the football program was caught up in the biggest scandal in school history.
Athletic director Barbara Hedges turned her head to players' arrests, and Coach Rick Neuheisel essentially fielded a team of thugs to reach the Rose Bowl in 2001.
"When a star player made headlines for crashing his pickup into a retirement home and fleeing, Neuheisel suspended him—for half a game. Legal authorities weren't much tougher on Husky outlaws. When one player was sentenced to 30 days in jail, the judge wrote in her order: 'To be served after football season.'"
The negative attention that turned towards the program led Hedges to fire Neuheisel and eventually to resign from her own post.
Times have changed in Seattle!
Coach Steve Sarkisian has taken over a cleaned up squad and is showing promise to have the Huskies competing at a high level again.
Setting a prime example to his players in valuing a quality education, Sarkisian and his wife just donated $100,000 to the UW College of Education.
"Stephanie and I believe strongly that every bright future must have at its core a solid educational foundation. We both attended public schools so we understand the value of public education," says Sarkisian.
"We created the Sarkisian Endowment Fellowship in Education as a tribute to every educator who commits their life's work to bringing out the best in the students of the state of Washington. Our hope is that this endowment will provide both assistance and enthusiastic encouragement to aspiring public school teachers who believe that all children should have a chance at success in school and life."
Classy, Coach—we are impressed.
Big 12: University of Oklahoma Sooners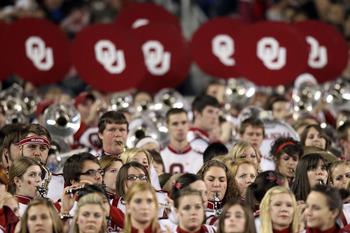 Christian Petersen/Getty Images
Sorry Texas, Oklahoma is the class of the Big 12.
Why? Well, having Bob Stoops as coach doesn't hurt its case. He is a class act. In regards to USC's National Championship in 2005, Stoops recently said on the record that he wants no part in the vacated title.
Considerate of the morale among his assistant coaches, Stoops schedules the first meeting of the day for 8:45 a.m. so they can spend time with their children. He also holds a dinner for staff members and their families every other week.
Sooner fans are also making large contributions to the class of the program.
Two seasons ago Oklahoma's season started off on a bad foot when star QB Sam Bradford was sacked on a play rhat took him out for several weeks.
Interviewed about the critical sack that took Bradford out of the game and handed Oklahoma a loss in the first week of the season, BYU defender Corby Clawson commended Oklahoma fans.
"OU's fans were really great. They treated my family and my wife good. They were some of the most classy fans I've ever met," Clawson said. "[OU fans] even came up and congratulated us."
The program has produced four Heisman Trophy winners in 10 years, seven national championships and 43 conference championships. Its current home winning streak is the longest in the nation at 36 straight games, and the home crowd averages 2,500 over stadium capacity.
The Official Athletic Site of the Oklahoma Sooners puts it all in perspective:
"The pride in our program goes beyond the trophies and victories to the very things for which we stand. Throughout the department, OU's student-athletes, coaches and staff members are committed to our core values, a set of beliefs we use in making every decision.

Those values include respect, accountability for self and others, passion for comprehensive excellence, celebration of diversity and integrity in all our affairs."
Respect and accountability for self and others—taking notes, Miami?
Mountain West Conference: Air Force Academy Falcons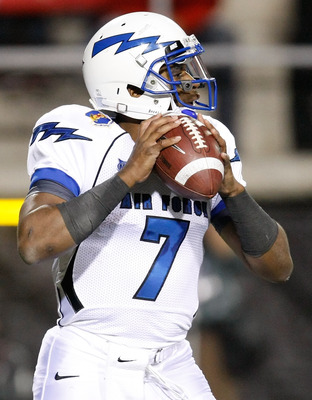 Ethan Miller/Getty Images
Air Force football is on the rise.
Considered a favorite in this year's Mountain West Conference race, preseason polls place the Falcons just behind Boise State and TCU. The undersized Air Force teams have established a tradition of surprising the bigger boys.
The school holds 17 Commander-in-Chief trophies, five more than second-place Navy.
Since Fisher DeBerry took over as Falcons head coach in 1984, they have ranked among the nation's top 10 in rushing 19 times.
At Air Force, success off the field is equally stressed as winning football games. The school has produced 39 Academic All-Americans.
Other schools around the country may want to follow the academy's example of awarding players at an annual football banquet.
The Brian Bullard Memorial award is voted on by players and goes to whomever demonstrates 110-percent effort, total team commitment, pride in his role and unselfishness typified by the late Brian Bullard. The award is considered the most prestigious honor a player can possibly earn as a Falcon.
Air Force football player Brian Bullard and fellow-cadet girlfriend were tragically killed by carbon monoxide poisoning in 1983.
Big Ten: Northwestern University Wildcats
Jonathan Daniel/Getty Images
Want to play football at Northwestern? How are your grades?
Only 23-percent of the 27,615 applicants to the school were accepted a year ago.
Northwestern has received the AFCA Academic Achievement Award four times since 2002, consistently leading the nation in graduation rate for football players. (Northwestern recorded a 100% graduation rate for the freshman football class of 2003-2004.)
Recent years have been good to the Wildcats on the field. They have been bowl eligible seven out of the last eight seasons and are named a dark horse in the Big Ten title race this season.
Being a Northwestern fan means participating in some of the richest traditions in all of college football. For 25 years Wildcat fans have gathered for Mayfest, a large festival culminated in Armadillo Day with marching bands, vendors and games.
The lower clock on campus turns a perfect shade of purple in celebration of athletic wins. At times opponent school's accomplishments are rewarded the same honor, as the clock goes the shade of that program.
Classy!
Coach Pat Fitzgerald's golden rule for playing as a Wildcat: Do it well and do it right, on and off field.
"Kids have to accept the academic challenge of being at an elite university while competing for the Big Ten championship and abiding by the values of our football program," Fitzgerald said. "It's not for everybody."
Thank you for setting an example, Coach.
Southeastern Conference: University of Florida Gators

Al Messerschmidt/Getty Images
The SEC personifies everything that is wrong with college football.
Sorry, fans.
Picking a program to represent the SEC in exemplifying class and honor was a difficult task.
I had to measure the candidates based on who would do the least amount of damage in this slot, and Florida Gators, the nod goes to you.
The Gators have won three national championships in 1996, 2006 and 2008 and eight SEC titles (1991, 1993, 1994, 1995, 2000, 2006 and 2008).
Like Air Force, the Gators give a prestigious award to the player who displays leadership, character, and courage.
At the end of the season coaches vote on who is most deserving of the Fergie Ferguson Award.
Fergie Ferguson was a great athlete at the University of Florida from 1938-1942. After playing at Florida, Ferguson fought in WWII.
He received the US Army's Distinguished Service Cross for his bravery in leading his D-Day infantry platoon in a direct frontal assault against German troops.
He would die 10 years later from wounds sustained on that day.
ACC: Boston College Eagles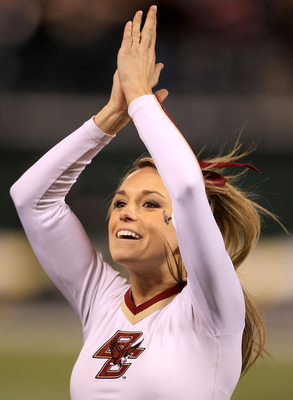 Ezra Shaw/Getty Images
Since 2000, Catholic-owned Boston College holds a 71-30 record in football. Impressive!
Known for its academics, Boston College received Public Recognition Awards with fourteen of its sports in the top 10% of the nation academically in 2006.
In 2005, 2006 and 2007, the football team's Academic Progress Rate was the best of any school that finished ranked in the AP or Coaches' polls. (The NCAA's APR calculates points for players staying at the institution who remain academically eligible.)
Loud-mouthed Bostonians are not generally known as the classiest city-dwellers. Football, though, is not a quiet sport. Boston fans have found a way to play to their strengths.
Loud and proud, the Eagles Superfans were born in 1998.
Boston College was hosting Virginia Tech for ESPN's Thursday night game of the week.
Students bought cheap gold t-shirts at the bookstore and the student section was a whole wave of gold. Instructions from superfan leaders were as follows: go to game, wear something gold, go crazy and have fun.
"The Superfans are now a huge part of Boston College Athletics. Not only do you find huge sections of Superfans at home games, but you also see a multitude of Superfans at many away games."
Big East: University of Connecticut Huskies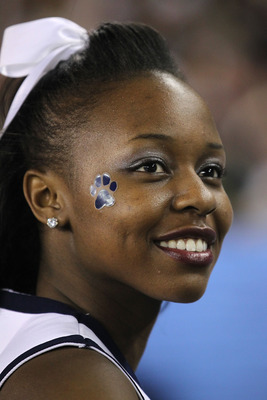 Ronald Martinez/Getty Images
We looked at the huskies on the West Coast, now we'll take a look at the huskies on the East Coast.
What?
You don't think of UConn as a football power?
Well, that's because it only moved up to Division I-A status in 2000, joining the Big East in 2004.
The program is on a fast rise, already competing in five bowl games since joining the Big East and going to the Fiesta Bowl last year as conference champions.
UConn football also is competing on a high academic standard. 70-percent of all student-athletes graduate from the university, and almost 50-percent maintain a 3.0 GPA.
In 2003, the football team was honored for being one of seven schools to graduate 80% or more of its players.
UConn students admitted in 2010 were ranked in the top 15 percent of their high school classes, and school officials have created new policies to raise the bar for the athletic program.
Star coach Ryan Edsall had a beef with these new school policies and left the program to coach at Maryland..
"Edsall had issues with something known as the 'Admissions-Athletic Review Procedures—Fall 2011.' The document outlines how a student is admitted and basically explains how a top athlete can get in if he or she doesn't quite measure up on SAT scores or class rank.
It means that UConn won't admit a kid just because he'd make a good quarterback, much as we could use one. It's also a reminder that we're not the University of Alabama."
In an interview with Rick Green, State Senator and co-chair of the General Assembly's higher education committee Beth Bye said: "College athletics have gotten a little bit out of control. I'm proud that Connecticut is holding to its standards."
Can we spell academic standards, SEC?
No?
Surprise, surprise.
Keep Reading

Washington Huskies Football: Like this team?