Upset Alert (Week 2): Big 12 Powers Missouri, Oklahoma State Need to Be Careful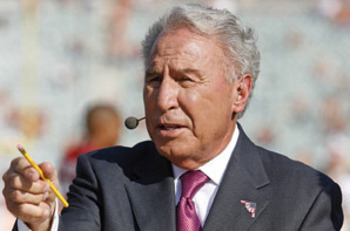 ESPN's Lee Corso
Firstly, let me be clear: I do not like predictions. Not for Division I college athletics and certainly not for professional sports.
Although several of the matchups I featured in last week's "Upset Alert" went the way I projected, there is no reason for you to trust that I or any other writer (or ESPN's Lee Corso) knows what will happen.
I contribute analysis and unbiased information that will affect the upcoming games, but not necessarily decide them. In this slideshow, I have selected four games on the Week 2 schedule featuring ranked teams that may not go as expected.
Utah (1-0) @ USC (1-0) on September 10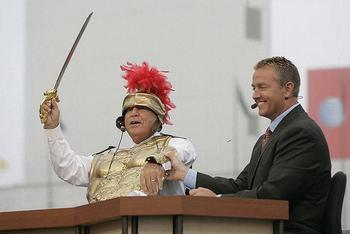 USC hasn't lost a September home game since 2001!
The 2011 USC Trojans aren't comparable to the juggernaut teams of the last decade. NCAA violations under former head coach Pete Carroll have resulted in scholarship reductions and postseason ineligibility for Lane Kiffin's squad. However, they are ranked in the AP Top 25 for a reason.
Quarterback Matt Barkley took huge strides in 2010 and became an accurate passer. Then, he began his 3rd season as starter with a 19-17 victory over Minnesota in Week 1. With the running game ineffective, Barkley completed 34 passes--a new record for a Trojans' season opener--for 3 TDs and no interceptions.
No. 1 receiver Robert Woods was equally excellent on September 3, hooking up with Barkley on all three scores while totaling 17 receptions!
Aside from these two gems, however, the rest of the offense is questionable. The remaining receivers are inexperienced, as is the offensive line. Coordinator Kennedy Pola didn't rotate his running backs against Minnesota, instead sticking with D.J. Morgan who failed to break off any long runs.
The defense is more stable. USC has depth and athleticism at most positions. In Week 1, the Trojans didn't allow a single play of more than 25 yards with a lot of credit going to the secondary. Still, an 81-yard touchdown drive surrendered during the 4th quarter was unacceptable.
Meanwhile, the Utah Utes (hey, don't laugh!) are only beginning their first season in the Pac-12 conference. There isn't much for them to take away from a Week 1 win against under-sized Montana State. But if anybody left the field with confidence, it was junior college transfer and starting running back Alex White IV.
He bruised his way to 150 yards on the ground while QB Jordan Wynn played up to his name by completing 15 of 23 passes for two touchdowns. Wynn didn't take many shots down field-—he compiled 4.4 yards per attempt—-and likely will play conservatively again on Saturday against the Trojan's talented defensive backs.
If Utah hopes to succeed in the upcoming "Trojan War," it will be because of their dominance in the trenches. I feel that the most important battle will be USC's blockers versus Star Lotulelei, James Aiono and the Utes' D-line. In such a scenario where rushing is futile, Matt Barkley has shown the ability to carry the offense. Can he do it for a second consecutive week?
#25 TCU (0-1) @ Air Force (1-0) on September 10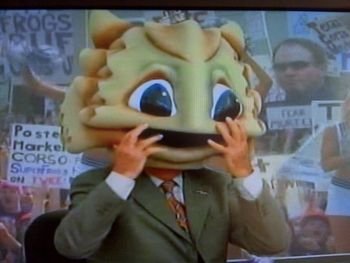 The Horned Frogs are coming off their first season-opening loss since 2002!
I pointed out some of the holes on the Horned Frogs last time, and what happened? They went DOWN!!!
Texas Christian surrendered 50 points to the high-powered Baylor Bears after allowing only 166 in 13 games last season. The young secondary was torn apart for six TDs and over 400 yards in the air. Still, TCU deserves some credit for thriving in the return game and coming back to within two points in the fourth quarter.
The Horned Frogs lost a lot of starters from 2010's undefeated team, most notably their starting quarterback, Andy Dalton. However, Casey Pachall filled those large shoes immediately, accounting for five scores in the season opener. There's no doubting Pachall's strong throwing arm, but he'll need to be accurate as well.
TCU will be on the road once again this week for a Mountain West conference clash with Air Force's triple option offense.
The Falcons wreak havoc on the ground. The scoring unit averaged over 300 YPG rushing in 2010 on their way to a bowl victory over Georgia Tech. It appears that little has changed this season as Air Force carried the ball for nearly 400 yards in Week 1 against South Dakota!
Overall, head coach Troy Calhoun has served the academy well over his first four seasons, but last October was certainly a low-light. TCU limited Air Force to "only" 184 rushing yards and one touchdown in a 38-7 rout.
Just like last year, the Falcons are small at quarterback, running back and along the offensive line. If--despite this--their ball carriers can break into Texas Christian's secondary, you can expect some very long runs and a potential upset. Then again, TCU's superstar linebackers Tank Carder and Tanner Brock are tough to get past. Count on that duo to be busy all afternoon.
#21 Missouri (1-0) @ Arizona State (1-0) on September 9
The Tigers haven't lost to a non-conference opponent in the regular season since 2005!
Missouri is the only team in a "Power Six" conference to return every player who caught a ball in 2010. Unfortunately, offense originates with the center and quarterback, and both Travis Ruth and James Franklin are first-time starters.
Franklin was underwhelming in his debut, a 17-6 win over Miami University (that's the one in Ohio). To be fair, the Tigers' running backs didn't impress anybody either, combining for just 90 yards on 23 attempts, while Franklin scrambled for 72 and a touchdown.
Accuracy isn't all that important for Franklin, who will benefit from large targets like tight end Michael Egnew (6'6") and deep threat Wes Kemp (6'4").
Missouri looked strong on the defensive line and at linebacker entering 2011, but they'll be without Jacquies Smith and Will Ebner on Friday night. Also, the Tigers had to replace most of their secondary this summer. The jury is still out on them, as the Redhawks short-and-safe attack rarely challenged the newbies in Week 1.
Arizona State is governed by head coach Dennis Erickson, who two decades ago, won with and subsequently screwed over my dear Miami Hurricanes (click here for more). He looks to be on his way to achieving the former with the Sun Devils this season.
Their best facet is special teams, and that was obvious in their Week 1 obliteration of UC Davis. Returner Jamal Miles brought a kickoff all the way back for the second consecutive season while accumulating 54 yards on three punt returns. Also, redshirt freshman kicker Alex Garoutte--replacing four-year starter Thomas Weber--was a perfect two-for-two on field goals and six-for-six on PATs.
ASU is incredibly deep at the skill positions. Including quarterback Brock Osweiler, eight Sun Devils had at least one carry. Cameron Marshall was their leading back last year, and he scored two TDs on seven carries while catching four balls for 86 yards. 12 different players had at least one reception.
Linebacker Vontaze Burfict is arguably the team's most talented player. I'd be shocked to see Franklin challenge him on the ground.
On Friday, both teams will be a bit short-handed because of injuries, but Arizona State is better suited to take advantage.
Arizona (1-0) @ #9 Oklahoma St. (1-0) on September 8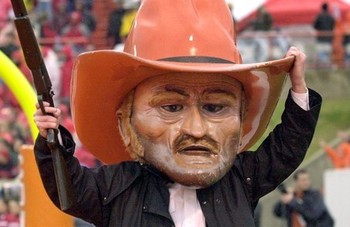 Oklahoma State won a school-record 11 games in 2010!
Oklahoma State is coming off a historically-great campaign. They came within a touchdown of winning the Big 12 and getting to a BCS Bowl! The Cowboys are built to contender in 2011, too.
It all starts with their soon-to-be-28-year-old quarterback Brandon Weeden (if he wins the Heisman, he can tell his grandkids about it . . . when he gets home that night). As a first-year starter, he set several single-season records at OSU, and that was with a torn tendon in his throwing hand. Imagine what he could do if 100% healthy!
Running backs Joseph Randle and Jeremy Smith are splitting touches now that 2010 All-American Kendall Hunter is gone to the NFL. In Week 1, Randle was the go-to guy with 138 total yards and two TDs.
Of course, the kind of offensive success that the Cowboys achieved in 2010 is only possible with contributions from all positions. At wide receiver, Justin Blackmon is the nation's finest. He's speedy, sure-handed and athletic, and he extended a year-long string of 100-yard games with a dominant performance against Louisiana-Lafayette. Most importantly for Oklahoma State, the entire starting offensive line came back. With their protection, Weeden went down only 10 times in 13 contests last season.
On top of everything, they have Quinn Sharp. He shined earlier in his career when handling punts and kickoffs, but he has now added placekicking to his duties. He excelled in all three roles in the season opener, but one man cannot carry a special teams unit. OSU needs to work on coverage.
Why should Arizona be intimidated? Well, aside from the contents of the previous five paragraphs and the unfortunate fact that they'll be on the road, the Wildcats are less than a year removed from their last miserable meeting with Oklahoma State, a 36-10 defeat in the Valero Alamo Bowl.
QB Nick Foles made 50 frustrating throws that night--one touchdown, three interceptions--but came out strong on Saturday with a career-best 202.5 passer rating.
Wide receiver Juron Criner is likewise playing his best as the team rolls into Boone Pickens Stadium. He was Foles' favorite target in 2010 and accumulated 151 yards versus Northern Arizona.
I'm identifying Criner and fellow ginormous receiver Dan Buckner as the key players for AU. They'll have trouble making plays over the middle of the field with OSU safeties Markelle Martin and Johnny Thomas lurking. However, if they can stick to the sidelines and do work against the corners, then maybe, just maybe the Wildcats can keep up in this shoot-out.
Keep Reading