USC Trojans: Will USC Be the Most Improved Defense in College Football?
August 29, 2011
The fact that USC may very well turn out to be the most improved defense this year in Division I isn't saying much. That's how terrible they were in 2010.
They could go from complete shambles to mediocre, and that would be a tremendous improvement.
Two years ago, in Pete Carroll's final season at USC, fans could not believe how the defense completely broke down in the second half of the season
After Carroll left, fans took heart when Lane Kiffin came to USC as head coach and brought with him defensive line coach Ed Orgeron and Lane's father, Monte Kiffin, the legendary designer of the Tampa 2 defense.
If there were any doubts, they centered on Lane Kiffin's offense, not Monte Kiffin's defense. But that quickly changed once 2010 got underway.
The offense was the shining star of last season and had to bail out the defense time and time again just to maintain a winning record (8-5).
How bad was the 2010 defense?
USC ranked 84th in overall defense and 109th in passing defense, giving up nearly 260 yards per game through the air.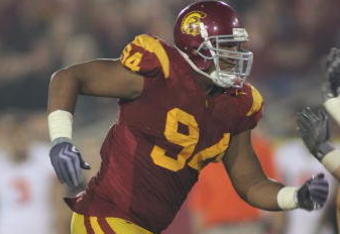 Fans asked one another if Lane Kiffin would ever fire his father.  They believed that the Tampa 2 defense was too difficult for young college players to grasp.
"I know we're young, I know we're learning, but it's my job to coach them up and I'm not doing it," Monte Kiffin said at the time. "To have this happen when you're trying to help your kid? Are you kidding me?"
No doubt it put double the stress on Lane Kiffin.
"Can you imagine leaving something you love to take care of your child, and then to feel like you've let him down?" the younger Kiffin remarked as things went from bad to worse. "I keep telling my father that it's about all of us, but he's not hearing that."
But in all honesty, it was hardly the fault of either Kiffin. Carroll had left the cupboard somewhat dry when it came to recruits at key defensive positions.
Then the NCAA hit USC with sanctions and probation, which allowed both upperclassmen and new recruits to transfer. This left the team with dwindling numbers and inexperienced backups on both defense and offense.
For example, at the Arizona game in Tucson, USC dressed only 48 players. When was the last time you saw a FBS team on the sidelines with that low a number?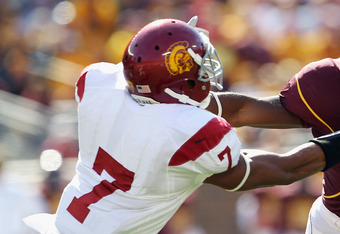 In order to save players for the game, Lane Kiffin instituted a ban on tackling right after the start of fall camp.
But football is a contact sport.  Practicing the game without tackling is like a concert guitarist only practicing on an air guitar.  We saw the results.
A lot of the 260 passing yards per game that USC gave up was amassed from runs after the catch, as the Trojans simply could not tackle in the open field.
The very fact that the Kiffins and staff recruited the maximum number of incoming players this season and put off the NCAA scholarship ban until next year has allowed full contact throughout spring practice and fall camp.
That alone should make USC the most improved defense in college football
While Lane Kiffin feels the defense has improved at hitting, he warned that "until a real game happens…where they get people out in the open field, that's when we'll really know."
Despite Kiffin's warning, I feel the defense will rank much higher due to the quality of the recruits that USC brought in. 
Defensive end Greg Townsend, Jr. and defensive tackles Antwaun Woods and J.R. Tavai join a front four that may just be the very best in college football, anchored by returning senior Christian Tupou at nose tackle.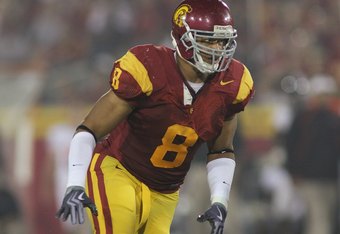 Tupou is joined at defensive tackle by DaJohn Harris. Flanking them on the outside are defensive ends Wes Horton and Nick Perry, both excellent pass rushers.  Devon Kennard moves over from linebacker to back them up, along with Kevin Green and 300-pound tackle George Uko.
But perhaps the Trojans' greatest asset will be the return of Armond Armstead if he is cleared to play after a battery of tests to determine the mysterious ailment that caused him to be hospitalized last winter.
Daily News blogger Scott Wolf reported that Lane Kiffin said Sunday he would not rule out playing defensive tackle Armond Armstead even if he barely practiced next week while awaiting official clearance.
Speaking of Armstead at practice on Friday, Kiffin said, "It gives us a guy that can play inside and outside.  He would put us over the top in depth."
If there is a weak spot on the defense, it could be at linebacker. Returning middle linebacker Chris Galippo expects to open the season, but he has been nagged by a sprained shoulder and has missed much of fall camp.
However, Galippo did practice on Sunday and tipped a pass in 9-on-7 drills to show that his shoulder is 100 percent. Let's hope so.
If Galippo cannot start or reinjures the shoulder, a true freshman, Lamar Dawson, would replace him.  The coaching staff has been quite impressed with Dawson's work all during camp.
"There's a lot that goes into playing middle linebacker at any age," Kiffin said. "As a true freshman that wasn't a midyear (enrollee); that's a lot on him. But we feel very confident."
Leading up to the final week of fall camp, there were still a few open spots on defense.
The two outside linebacker spots had not been determined, and again, freshmen were in the mix. Redshirt freshman Dion Bailey and true freshman Hayes Pullard were battling with senior Shane Horton and sophomore Marquis Simmons for the two spots.
The defensive backs are led by All-American candidate Nikell Robey at one corner, a starter as a freshman last year.  Robey is on the shorter side but can out jump most receivers.  He led USC with four interceptions in 2010.
Junior Tony Burnett was getting stiff competition from another sophomore, Demetrius Wright, and last year's starter, Torin Harris, at the other corner. Wright had also alternated at strong safety with Jawanza Starling. 
Another All-American candidate, junior T.J. McDonald, pretty much has a lock on free safety, with another junior, Drew McAllister, as a backup and possible nickel back.
These final few spots should be solidified when practice for the Minnesota Gophers begins on Tuesday.
If there is one thing beside personnel that could hamper the defense's improvement, it is the spread offense. And that has Lane Kiffin worried.
Friday, Kiffin said the defense "suffers" because it "wastes a lot of camp time" stopping plays that are run out of formations the unit might not see (in actual games).
"And then everybody else comes in here and spreads you out," he said. "So we've got to move in that direction."
But if the defensive front four can play like I know they can, moving north and south rather than laterally, then I am looking for a very much improved overall defense, perhaps the most improved in Division I.
We shall see!