Notre Dame Football: 5 Reasons the World Is Underestimating Dayne Crist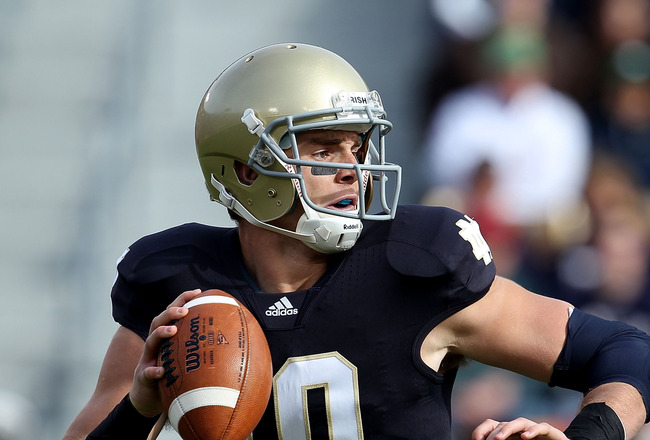 Jonathan Daniel/Getty Images
In the most heated quarterback battle at Notre Dame in some time, Dayne Crist was named the starter over Tommy Rees amidst some animosity from fans.
The former 5-star prospect from Canoga Park, Calif. has not lived up to the high expectations placed on him when Jimmy Clausen left town for the NFL which is the main reason for the fans' displeasure.
However, those fans needn't worry for Crist is the answer at quarterback.
Follow along as we count down the five reasons why he's underestimated.
5. He Has Only Started 8 Games in His Career
Nick Laham/Getty Images
It's hard to judge a quarterback who has only started a limited number of games in his career.
The same goes for Crist.
Since arriving on campus in 2008, he has only been the starter in nine games, despite going down early in the matchup versus Tulsa last season.
Now that he has gained that valuable experience, Crist will surely be better prepared to manage the offense.
Even Crist himself stated that he feels much more comfortable being the starter right now than he was at this time last year.
If you're still doubting him, just look back at where Brady Quinn was through his first nine starts in an Irish uniform.
I think it's safe to say he had a very successful career after that, as will Crist.
4. He's a Big, Slow Pocket Passer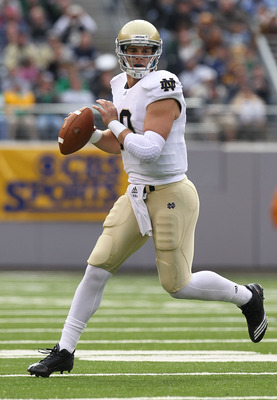 Nick Laham/Getty Images
Crist was recruited to eventually take the reigns in former head coach Charlie Weis' pro-style offense.
Weis desired to have a true pocket-passer to direct the offense, and Crist fit that description perfectly.
Now that Weis is gone and Brian Kelly has arrived, the offense is now of the spread version which typically requires a mobile quarterback.
Crist is not mobile, but he has what Kelly likes to call "escapability."
Crist may not be the quarterback Kelly desires, but he has enough physical tools to get the job done.
3. The Accuracy of His Throws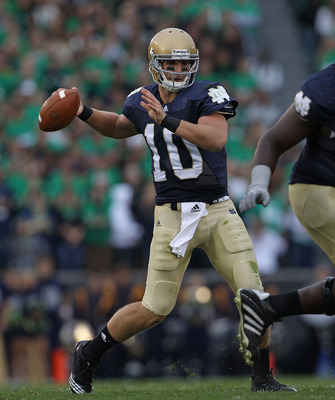 Jonathan Daniel/Getty Images
In 2010, Crist completed 59.2 percent of his pass attempts. It's not exactly a number to hang your hat on.
However, I challenge you to name a quarterback who was very accurate from his first snap to his last.
Current Oklahoma quarterback Landry Jones completed only 58.1 percent of his pass attempts in 10 games during the 2009 season after taking over for the injured Sam Bradford.
He increased that percentage to 65 last season, which goes to show that experience plays a large role in accuracy.
There's no question that Crist will have a similar turnaround this season.
2. Two Serious Knee Injuries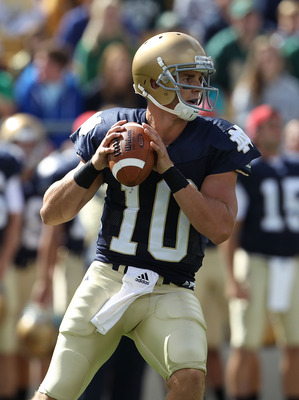 Jonathan Daniel/Getty Images
Many believe that Crist will never be the same after suffering a torn ACL in 2009 and a torn pateller tendon last season.
Each injury required major surgery and months of rehab.
Despite the misfortune, Crist says he feels comfortable and that his knees aren't bothering him.
Head coach Kelly stated that Crist looked fluid and comfortable in practices and noticed that neither knee seemed to be a nuisance.
Only time will tell.
1. He Was a First Year Starter in a New System Last Season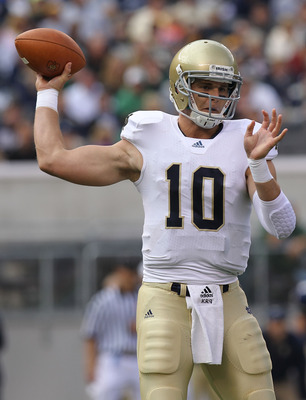 Nick Laham/Getty Images
Crist struggled last season in Kelly's offense. That's an apparent fact.
However, fans must realize that not only was Crist charged with the duty of running a brand new offense, but he was also only in his first year as a starting quarterback.
Those two circumstances paired together will never yield successful results.
Crist's experience leading to big numbers in 2011 has been a recurring theme in my articles, and I continue to believe in that notion.
Get ready for an explosive season from Crist.
Keep Reading

Notre Dame Football: Like this team?