College Football Predictions and Stone-Cold Guarantees
August 29, 2011
It's generally not wise to make a habit of over-promising and under-delivering (or under-promising and over-delivering), but with college football mere days away, I'm feeling saucy about some guarantees for the season. Also, I promise to never use the word "saucy" ever again in any column ever.
(Crap, that may have been over-promising.)
Anyway, since Conan doesn't do old segments anymore, it should feel all sorts of nostalgic if you quietly sing, "In the Year Two Thouuuussaaannndd!" in a high-pitched voice after each guarantee. Let's get rolling with 2011's sure things:
• After years of Mack Brown losing sleep over not having a running game (but still winning!), Texas will run the ball with reasonable success, but it'll come at the expense of any sort of air attack. Mack Brown has already started identifying possible blame targets.
• The first 73 times Ronnie Wingo or any other Arkansas RB gets stopped in the backfield or fails to convert a short first-down attempt, CBS's Gary Danielson will respond with, "You have to wonder if a healthy Knile Davis is the difference there."
• Oklahoma will lose a night game in front of a national audience. More and more anthropologists now believe some rural tribes actually set their calendars to this annual rite of college football passage.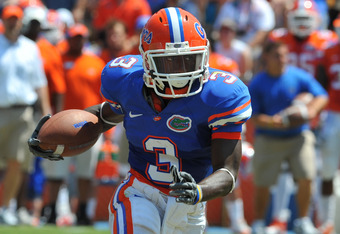 • As a slot-type tweener, Chris Rainey will have a tough time adjusting to Charlie Weis' pro-style offense. The emoticons Weis will receive on his phone from Rainey halfway through the season will be less than complimentary.
• Keep "Gary Danielson," replace "Knile Davis" and "Arkansas" with "A.J. Green" and "Georgia."
• Nebraska's offense will improve drastically. This will directly correlate to Taylor Martinez throwing the ball between zero and seven times per game.
• College football fans will slowly realize Pac-12 commissioner Larry Scott is a foreign operative with instructions to infiltrate and undermine America's second favorite sport. At first, he seemed ambitious and proactive, but when rumors of a Pac-12 Network Network (coverage of the coverage) swirl, people will grow suspicious.
• After starting the season 3-3 and yelling, "We're Michigan!" for the 739th time, Brady Hoke will only respond to the name "Michigan Hoke." This is to be immediately followed with Michigan Hoke getting a rushed Michigan "M" tattoo that covers most of his face.
• "If you watch the X-Mo replay, you can actually pinpoint the moment in which ASU LB Vontaze Burfict attempts to brutally eat Kevin Prince's spleen."—Petros Papadakis, November 5, 2011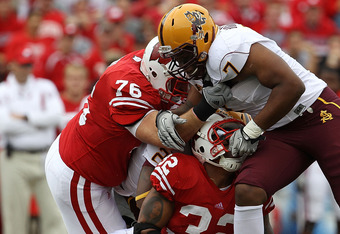 • LSU DE Barkevious Mingo will become better known for his pass-rushing talent than for his name. Okay, fine, equally known.
• Alabama will lose to Mississippi State on November 12 in an epic battle between two teams that will forever be bitter about the existence of Cam and Cecil Newton.
• Four more college football Ponzi schemes will be uncovered by December. It will come out that Houston Nutt was partially behind two of them, but also a significant victim of three.
• David Shaw will be the toast of Palo Alto. This will have little to do with wins and losses, but rather with the fact that tailgating in northern California involves toasting and drinking beverages with "notes." They're soft up there.
• Joe Paterno will reveal that he's been much more involved and cognizant than he's let on these past few years. It's all been a top-secret ploy to get Eastern Michigan "right where he wants 'em!"
• Dayne Crist will stay healthy and become an incredibly productive quarterback for a 9-3 Notre Dame team. Upon the Irish receiving a BCS bowl berth, Beano Cook will wait four hours to see if his excitement tempers before seeking medical attention.
• West Virginia will start 6-0, with wins over LSU and Maryland, before losing at Syracuse. It's the most West Virginia thing that could possibly happen this fall.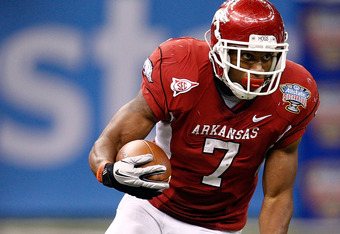 • After going 10-2 (including road wins at Texas and Ole Miss), BYU will aggressively flirt with Big 12 membership. The aggressive flirtation will lead to the school disciplining itself for various honor code violations.
• The Longhorn Network will be a huge success for the University of Texas and college football as a whole. We'll all read as much in a press release.
• Even with the success an experienced line and a number of returning skill players will bring to Iowa City, Iowa's offense will collectively love America a little less without Ricky Stanzi.
• An upcoming NASCAR race will be promoted during a college football game, and we'll all briefly wonder what Bob Griese is up to.
• College football fans will eventually forget about the Cam Newton/Auburn pay-for-play allegations around Week 7. TMZ will then unearth video of Cecil Newton swimming in a room full of gold coins, Scrooge McDuck-style. Auburn fans will deny everything and blame ESPN.
• Alabama will beat Oregon 21-17 to win the BCS national title in New Orleans. SEC fans will finally concede that their conference may be superior to others.
There you have it, your 2011 guarantees!*
*In no way do I or Bleacher Report stand behind any one of these guarantees.**
**Except for the one about Beano.
Dan Rubenstein co-hosts The Solid Verbal college football podcast and can be followed on Twitter here.