Pac-12 Football Predictions 2011: Predicting Top 7 Running Backs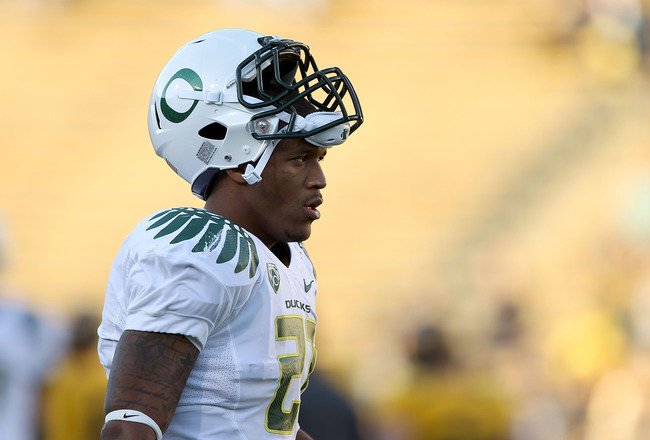 Ezra Shaw/Getty Images
It's close as to which conference, the Pac-12 or SEC, is more loaded with running backs.
With tradition-rich programs like USC, who always have a stable of strong runners, plus Oregon, Cal and Oregon State who have over the past decade produced loads of NFL caliber backs, I'd give the slight edge to the Pac-12.
The 2011 season will be no different as years past.
The conference is loaded from top to bottom and here's a look at the top-seven.
Honorable Mentions: Cameron Marshall, ASU and Keola Antolin, Arizona
Jonathan Daniel/Getty Images
It was tough deciding who would get the last spot on the top-seven, and these guys just missed out.
Marshall will be a main part of one the nation's and Pac-12's best offenses that has nine returning starters. The Sun Devils will have loads of offensive talent and therefor might cut into Marshall's production in 2011.
As for Antolin, he will be behind one of the worst offensive lines in the Pac-12. The Wildcats lose all five of their starting linemen and are incredibily inexperienced.
Arizona are lead by their quarterback Nick Foles and one of the best wide receivers (Juron Criner) in the conference. Arizona will be a pass first, run second team once again.
7. Marc Tyler, USC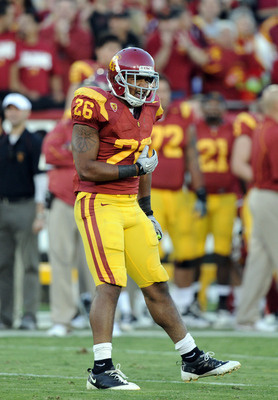 Harry How/Getty Images
As I eluded to in the introduction slide, USC is a tradition-rich school with historically the best collection of running backs in the NCAA.
From the great backs of the past (Marcus Allen, O.J. Simpson, Charles White) to the backs of recent (Reggie Bush, Lendell White, Allen Bradford) the Trojans have always had great running baks. Mark Tyler heads a stable of 5-star running backs with pro potential.
In 2010, Tyler rushed for 913 yards and 9 TDs. I easily see those numbers being around 1,200 yards and 12 TDs. That depends, of course, on whether Tyler keeps away from TMZ cameras for a little while.
Tyler has NFL type speed and a bruising power that will knock over wimpy corners.
6. Jonathan Franklin, UCLA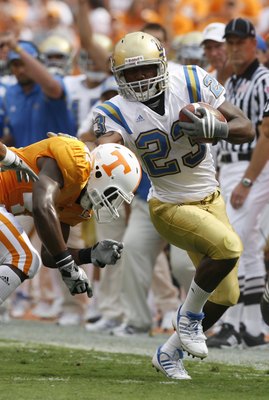 Joe Murphy/Getty Images
Everyone knows that head coach Rick Neuheisel loves quarterbacks, but for some reason, he hasn't been able to find a reliable starter since returning to his alma matter.
With that said, offensive coordinator Norm Chow is out and in comes a new offensive system for these Bruins to learn.
I expect UCLA to run the ball even more in 2011 behind a solid offensive line.
In 2011, Franklin rushed for 1,127 yards and 8 TDs en route to a solid sophomore season. Now a junior, Franklin will again increase his production (barring injury) to around 1,350 yards and 11 TDs.
5. Rodney Stewart, Colorado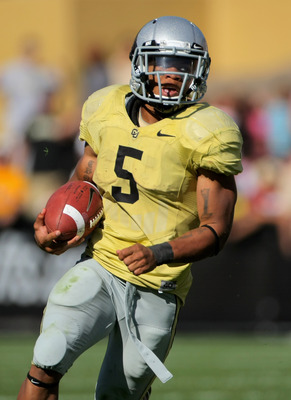 Doug Pensinger/Getty Images
It will be a rough transition from the Big 12 to the Pac-12. Stewart (1,318 yards 10 TDs) will learn quickly that we actually play defense in this league.
The Buffaloes return four of their five starting offensive linemen and the rushing production should take another step forward.
Besides a solid run game, this offense and team is going to struggle in 2011.
Stewart is Colorado's one weapon on offense, and the Buffaloes will go to him a lot in 2011. Expect Stewart to rush for 1,500 yards and 14 TDs.
4. Kenjon Barner, Oregon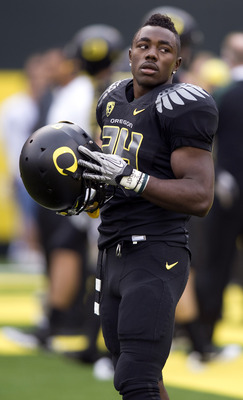 Steve Dykes/Getty Images
I've been a strong believer in Kenjon Barner for a long time.
When Barner (551 yards 6 TDs) is in the game, the Ducks don't miss a beat.
In fact, Barner started for the Ducks in last season's opening game (LaMichael James serving a one game suspension) and Barner put up 227 total yards and 5 total TDs in a half of football.
Granted it was against New Mexico, but it was impressive nonetheless.
Barner will again share carries as the No. 2 back for the Ducks and I expect him to produce 1,200 total yards on offense and 10 total TDs. Without Lache Seastrunk in the mix at RB, Barner should get some more touches on the ball.
3. Stephan Taylor, Stanford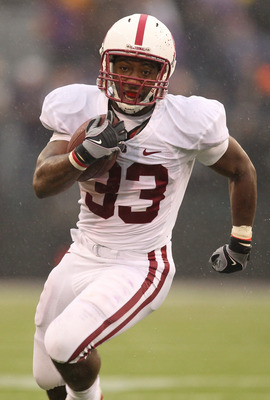 Otto Greule Jr/Getty Images
When most people think of Stanford football, quarterback Andrew Luck is the first player that comes to mind.
That's probably because ESPN has a crush on the guy and mentions him in just about every college football conversation. Well incase you were wondering, the Cardinal do happen to have a great back by the name of Stephan Taylor who produced 1,403 total yards on offense and 16 total TDs.
I see Taylor's offensive production dipping a bit in 2011 because of Andrew Luck's throwing abilities, but I see his touchdowns going up. Luck will be able to move the ball deep, dissecting the offense and allowing Taylor to apply the finishing blow. Look for Taylor to rush for just over 1,000 yards but put up 20 total TDs.
2. Chris Polk, Washington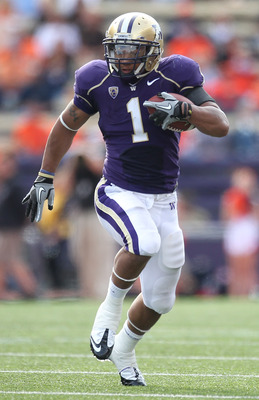 Otto Greule Jr/Getty Images
I firmly believe that Polk (1,415 yards 9 TDs) is one of the most undervalued players in the entire country.
I hardly ever hear Polk's name mentioned in Heisman talks or even contention for the Doak Walker (nation's best running back) award.
With quarterback Jake Locker gone to the NFL, Polk will carry (literally) the Huskies offense in 2011.
Polk will run for 1,700 yards and 15 TDs in 2011 and will be in the hunt for the Doak Walker award.
1. LaMichael James, Oregon
Jonathan Ferrey/Getty Images
Anyone who follows college football knows the kind of production and game changing skill that James has every time he touches the football.
The guy is a human highlight reel!
Head coach Chip Kelly loves to run the football, and LaMichael is the perfect fit for the Ducks' "blur offense".
Going into his junior season, I do expect James to take a small step back from his 1,939 total yard 23 TD performance in 2011.
He'll dip for two reasons.
First and most importantly, the Ducks are likely to go the air more in 2011 with the emergence of Darron Thomas as a proven passer. Second, the Ducks are loaded at running back and will do a running back by committee approach.
Nevertheless, I expect James to rush for 1,500 yards, catch another 150 and score 18-20 TDs during the year. Another good season from a Heisman favorite in 2011.
Keep Reading