Washington Football: Sarkisian and Woodward Have Proven Criticisms Wrong
August 26, 2011
Last fall I interviewed former Husky and current football analyst Hugh Millen for my book Bow Down to Willingham. I asked Hugh what the miserable Tyrone Willingham years at Washington meant to him.
"I'm a Seattle native," Millen said. "I have been a fan of the Mariners since their inception. Same with the Seahawks. I slept on the street to get tickets for the Sonics when they played the Bullets for the 1979 NBA Championship.
"But if you take all the local teams combined they don't equal how I feel about the Huskies. It's something beyond a sports team. When they suffer I suffer, like so many of us Huskies fans do. When they have suffer as they have suffered, to me it feels like a death in the family.
"Somebody can say I've got my priorities misplaced. And I would agree. I'm not equating the Huskies with losing a son or losing my wife. But it's like an extended member of the family and losing him. Perhaps like a cousin. That's what the Willingham years represented to me."
Millen's words echoed my innermost sentiments. And it really boiled over for me personally last October 30 when the unthinkable occurred in a game against Stanford. The final minute of the first half was running off the clock.
With the press boxes jammed with NFL scouts looking at Jake Locker, the Huskies were on their way to a 41-0 loss to the Cardinal. They would get shutout at home for the first time in 35 years. Washington would also manage only 107 yards of total offense for the entire game—a modern day school record for futility. The team looked like it had quit yet again.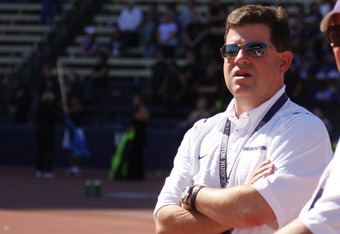 I turned to my Dad and suggested we leave at halftime. I fully expected him to decline. What you need to know about my dad is that he has only missed one home game since 1957. Never within that span has he left before the fourth quarter.
To my surprise, he turned, shrugged and conceded: "Okay, let's gather up our things."
We spent the rest of the evening over at the crowded Eastlake Bar and Grill watching the USC-Oregon game and wondering what the hell happened to our team.
As far as I was concerned, Willingham was gone but UW had handed over the keys to the kingdom to the young and totally unproven Steve Sarkisian. Why take such a wild gamble in a most desperate moment in our history? And here he was, in his second season, being toyed with by Jim Harbaugh's Stanford team.
At this same time period, I was feverishly at work on Bow Down to Willingham. Dozens of players were telling me their stories of Willingham's mean-spiritedness and colossal mismanagement. Some parents were in my ear too, wondering aloud why the Seattle media allowed those transgressions to occur with little reportage or inquiry.
Lord knows I had tried to write articles critical of Willingham back in 2007-2008, but they were mostly censored by Dawgman.com. It pained me greatly to see my work censored while articles by my colleague Dick Baird ran weekly, chock full of praise and support for Willingham when they knew much of what was really happening. The eight years I wrote for Dawgman.com were mostly wonderful and I grew fond of some of the people there. To see that relationship deteriorate stung me quite a bit. 
That pain spilled over that night against Stanford as I saw another Husky Football season going down the drain. Or to borrow Hugh Millen's analogy, I was watching my cousin die a slow and painful death by succumbing to some disease that was completely unnecessary.
In an effort that would make Don Quixote proud, I wrote some articles (mainly on the Seattle-PI blog) that decried the damage Sarksian and athletic director Scott Woodward were further inflicting upon the program. This program had hired and then retained Willingham,so I saw no reason to trust them to do the right thing.
I grew cynical of anything they said, including the perceived spin over the football stadium renovation. I envisioned the years required to remove Sarkisian and only by the grace of God see UW hire someone like Gary Patterson of TCU or Jim L. Mora to return UW to prominence.
I had been right in speaking out about Willingham, and I was certain I was right once again.
But I was dead wrong. That's because last November something wonderful happened. Like the seedlings that sprouted two years after the 1980 Mt. St Helens eruption, the barren terrain of Husky Football came back to life.
Not just from winning four games in a row against three lackluster opponents. But from seeing life and desire return to the players, like they were enjoying themselves and really wanted to compete.
When running back Chris Polk was unleashed to produce massive numbers against the Cougars and then the Huskies whipped Nebraska in the Holiday Bowl, it felt like the pain from the past decade had largely been washed away.
Now here we are, approaching the start of another football season. But things are different. Morale is high. People are genuinely optimistic. Former players once again feel welcome to come back to the program.
The linemen used to have beer guts and pipe cleaners for arms. Now they are chiseled and looking bigger and meaner than they have in years. The Dawgs are looking like a football team. Steve Sarkisian has taken a squad coming off an 0-12 season with a completely destroyed psyche, and has twice beaten USC and forged a winning season. He proved me wrong. In general, he deserves much credit.
Off the field, the announcement came recently that the UW athletic department has raised $42 million of the needed $50 million to get the planned renovation of Husky Stadium going. To do so in this increasingly desperate economy is most impressive, and Scott Woodward deserves kudos for leading the efforts. My prior criticisms were wrong.
Above all, I'm glad to have past decade behind us. I yearn to enjoy Husky football again. It's been a long time. Husky Nation deserves it.
Derek Johnson is the author of Husky Football in the Don James Era, The Dawgs of War, and his latest, Bow Down to Willingham: How White Guilt Enabled a Secretly Malicious Coach to Destroy the Once-Mighty Washington Huskies. You can read a free excerpt at derekjohnsonbooks.com.