Tennessee Football: 10 Former Starters Who Couldn't Play for Today's Vols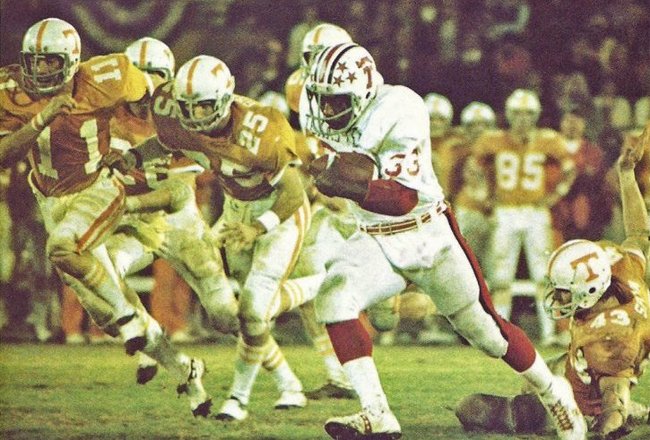 Is the game any harder?
If you ask a veteran player, they would probably shrug their shoulders and say maybe.
If it was a QB, they might say something like the defenses were pretty tough when he played, so it would be tossup either way.
But if you ask current players, I think the story would be much different.
On average, the fastest players are 2-3 tenths of a second faster than they were 20 years ago and up to a full half-second faster than they were 30 years ago.
So are the players evolving, if you believe in such things? Or are they merely training harder, and being pushed and molded into something better than years previous?
You be the judge, but here are 10 former Tennessee Vols who would have a hard time getting to No. 1 on the depth chart.
Shawn Bryson, RB (1995-1998)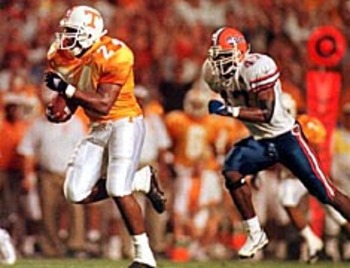 RB/FB Shawn Bryson was unofficially listed as a FB, but they plastered him with the RB label to throw everyone else off. The FB moniker was more accurate though, as he attempted to plow open holes for the likes of Jamal Lewis, Travis Henry and Travis Stephens.
When Bryson wasn't pulling FB duties, they would send him in for goal-line TD attempts. Although he was a decent FB, he appeared to be much more because of the talented runners for whom he blocked.
Today's prototypical FB needs to first be a blocker, but have the ability to lead like a TB. Stacking Bryson against a Channing Fugate is hard to do, but if you placed Channing Fugate in that same timeline, you could have been looking at either Travis Henry or Jamal Lewis winning the Heisman.
Jeff Cottam, TE (2007-2009)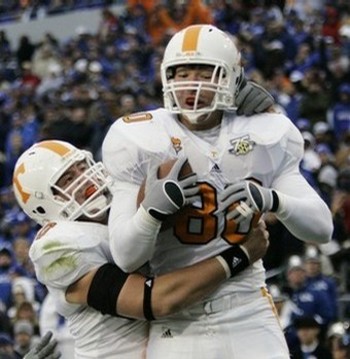 In Jeff Cottam's short-lived tenure at Tennessee, he managed to pull in seven receptions, 60 yards receiving and two TDs for his career stats.
Now, if you recall everything that came out of coach Fulmer's mouth, Cottam might as well have been Jason Witten by the way he received so much praise and popularity. Even Lane Kiffin was quick to dole out praise.
Was it because his bother Brad was better, and they felt sorry for him? To this day, I am still asking why.
Can anyone tell me why?
Andre Creamer, PR/DB (1984-1987)
The above video was the highlight of Andre Creamer's career, unfortunately. His excellent return would eventually lead to Tennessee beating Alabama.
Creamer sat out his sophomore year for multiple issues, but everyone waited anxiously for the next. Then the season rolled in, and sure enough, Johnny Majors stuck Creamer right back out there where he netted 80 yards on 11 punt returns.
There were more than a few fans, including my household, who began to wonder why Majors insisted on using Creamer since his production was so limited.
In the end, Creamer managed to pull down three interceptions in his senior year.
And, for whatever reasons I can only imagine, some of the fans started chanting, "CREAMER-SUGAR.....(clap-clap, clap-clap-clap)."
I was so embarrassed, even at 13 years old, that I could see something wasn't right.
Why couldn't Johnny M—why?
Bryce Brown, RB (2009)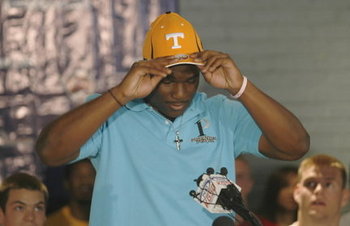 As Lane Kiffin departed for the Pacific Coast, he left one recruit behind he should have taken with him.
Bryce Brown was the icing on the recruiting cake Lane Kiffin baked. Vols fans thought he was the next Jamal Lewis and sat by patiently waiting for their first glimpse of the 5-star RB who promised to be one of the best players to ever cross the threshold of Neyland Stadium.
But that didn't turn out to be the case.
While a very able runner in Tauren Poole waited to be recognized, Kiffin turned to Matt Simms to win games and praised Brown for running 460 yards in his one season as a Vol.
And what happened when Poole started? 1,034 yards rushing, 11 TDs and 171 yards receiving.
Okay, let's all close our eyes now, click our heels together three times and say, "I hate you, Lane Kiffin...I hate you, Lane Kiffin...I hate you, Lane Kiffin."
Now, doesn't that feel better? I sure do.
Jonathan Crompton and Nick Stephens, QBs (2006-2009)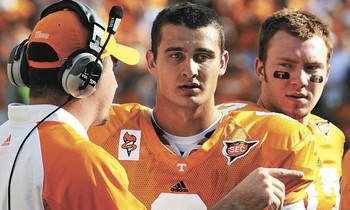 It was probably the head of the hammer that drove the very last nail in Phillip Fulmer's coffin—that, and adopting in new OC David Clawson's "Clawfense."
First off, every time Crompton took the field, I just automatically started scanning the sidelines. Sure enough, within a matter of seconds, his passes would start falling into opposing players' hands as they sat on their benches.
Then they thought Nick Stephens, the crimson-haired Texas scrambler, could come in and clean up the mess.
It never worked out.
In 2008, Crompton finished the season with a QB rating of 98.1 and 889 yards passing. Stephens finished with 840 yards passing and fared a little better with a QB rating of 108.3. Needless to say, the fact that Stephens continued to call audibles almost every play perched him a little higher.
By comparison, Matt Simms threw for 1,460 yards and Tyler Bray for 1,849 yards individually last season. Granted, Kiffin did good things with Crompton, but I still watched for the sidelines ever so often.
Soon enough, the passes would drop.
Daryl Dickey, QB (1982-1985)
He was in fact the MVP in the 1985 Sugar Bowl, so why am I listing him on this list?
It was Doug Dickey's son, that's why.
Yes, he was a great player, but ethics alone bench Dickey because of the players who got left behind.
Fans were always happy to win, and that's OK, but you don't stick the AD's kid in no matter what he did for the school.
There was a huge throng of supporters for Dickey, but a lot of people never felt right cheering for him, no matter how many games he won. Sit back and ask yourself this, "How many coaches have had a kid who played QB?"
More than not, right?
The kid they didn't start went on to graduate with an all-time completion record at graduation, and he also lead the Vols to a Peach Bowl victory the next season.
That kid was Jeff Francis.
C.J. Fayton, WR (2002-2005)
C.J. Fayton excelled against subpar teams and usually fell short against SEC rivals.
That's the biggest fact of the story.
Fayton's stats are padded due to cupcake teams like UNLV. I never understood why he received so much press when guys like Chris Hannon and Robert Meachem fought for every little bit of recognition they got.
Jabari Greer, DB/PR (2000-2003)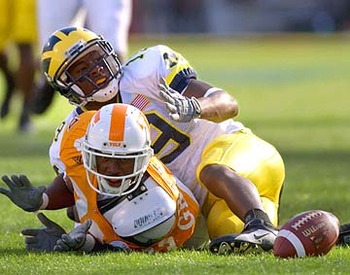 One return for 16 yards and one interception for 26 yards, then—nothing.
Greer might have done a good job for the Saints, but the Vols missed out on that performance.
This is one of those times you wonder what DC John Chavis was thinking. I don't know, maybe it was a cool first name, but could you imagine Greer lining up against Julio Jones or spying on Tim Tebow?
Cold chill up my spine...brrrrr.
Brent Schaeffer, QB (2004)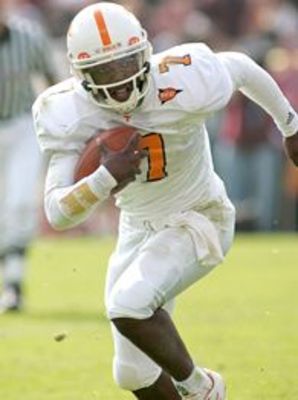 He came on strong and departed just as fast.
Brent Schaeffer was the first true freshman to start at Tennessee in more than five decades.
To be fair, he was injured in his third game and was replaced; his true ability was never realized at Tennessee.
However, he was constantly in trouble and fought with his teammates. So much so that it earned him a transfer away from the orange and white.
Schaeffer stood out at JUCO, then transferred to Ole Miss, played under Ed Orgeron and enjoyed modest success there.
Back to the Vols: When he took the practice field for the first time, Schaeffer was unable to memorize the necessary plays he needed to keep a full book on the field. Schaeffer inevitably became a dual-threat out of necessity and eventually broke his collarbone.
Enter stage right, Eric Ainge. A decent QB needs 20 good plays that he knows by heart, it was rumored that Schaeffer couldn't remember six.
Agree? Disagree? Let me know. Godspeed.
Keep Reading

Tennessee Volunteers Football: Like this team?