Nebraska Football's 10 Most Important People in 2011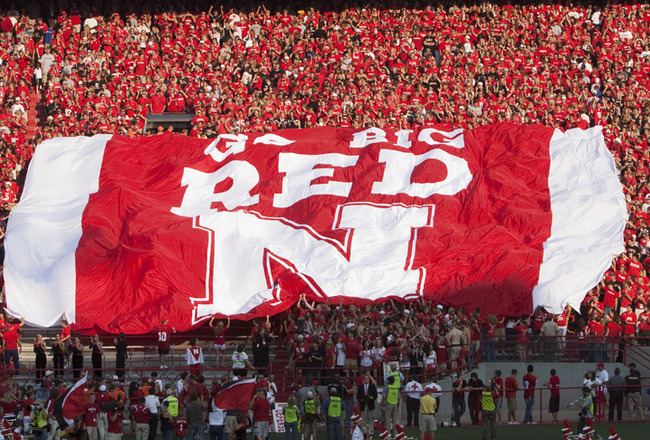 The Cornhuskers are ranked tenth in the AP preseason poll.

Nebraska is expected to compete for a national championship in 2011, but it will not be easy for a program in transition. In addition to a highly-scrutinized switch to a new conference, the Cornhuskers introduce new offensive coordinator Tim Beck to replace the fired Shawn Watson.
After losing out on the Bubba Starling sweepstakes, this list takes a slightly different shape, specifically in the quarterback department.
So here is my list of the 10 most important figures to Nebraska's success this season.
Brion Carnes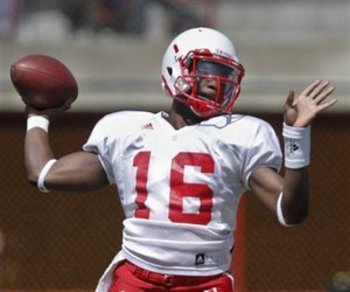 Cody Green's transfer, Kody Spano's retirement and Bubba Starling's MLB future has left Nebraska's quarterback depth in question.
Taylor Martinez gets most of the hype, but the reality is that we are one twisted ankle away from Brion Carnes stepping into the prestigious role of starting quarterback at Nebraska. Though inexperienced, Carnes may very well be thrust into action if Martinez goes down.
Lavonte David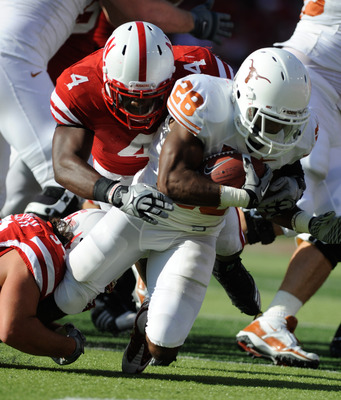 Eric Francis/Getty Images
Even though many would argue that defensive tackle Jared Crick is a better player, as the star linebacker, Lavonte David is the undisputed leader of the Blackshirts this year.
David was a junior college transfer who set a school record for tackles in his first FBS season. Although undersized at times last season, David has gained over 10 pounds this offseason to prepare for the physical style of Big Ten offenses. As a second-team All American last year, David is the key to the success of the Blackshirts, expected to be among the nation's best defensive units, this year.
Tim Beck

Beck, the mastermind behind last year's rushing attack that ranked ninth in the country, replaced the outgoing Shawn Watson as offensive coordinator this offseason.
After Watson overstayed his welcome in Lincoln, the offense is now in the hands of former running backs coach Tim Beck. Which is probably a good thing, considering the running backs were pretty much the only dependable unit in the offense last year. Beck has been fairly quiet about his new scheme, but has mentioned on several occasions that "you can't be afraid to start over," meaning we will likely see a very different, and hopefully more consistent, Nebraska offense this year.
Ciante Evans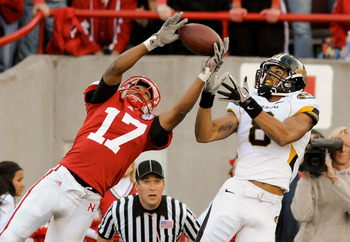 Eric Francis/Getty Images
Replacing Prince Amukamara and his island will be no easy task for the sophomore corner Ciante Evans. Although Alfonzo Dennard's leg injury appears to be less of an issue than originally thought, it's still added pressure for Evans if Dennard, one of the nation's elite corners, is forced to miss any time.
Nebraska lost quite a bit of secondary talent this year, and although Evans showed flashes of brilliance as a true freshman last year, only time will tell if he's ready to start on a weekly basis.
Bo Pelini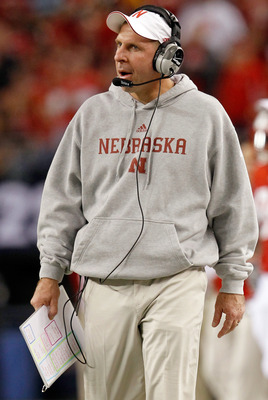 Tom Pennington/Getty Images
Any time you're making a list of a program's most important figures, it's hard to leave out the head coach. And this list is no exception.
Pelini is entering his fourth year at the helm of the Cornhuskers, with a solid, if not overly impressive, 30-12 mark as head coach which includes a 3-1 bowl record. Pelini made several changes to his coaching staff this season, most notably the firing of offensive coordinator Shawn Watson. Bo and his brother Carl, the Huskers' defensive coordinator, have turned the defense from one of the nation's worst to among its best in three seasons, and it must continue in 2011 if the Cornhuskers hope to compete for a Big Ten and national title.
Brandon Kinnie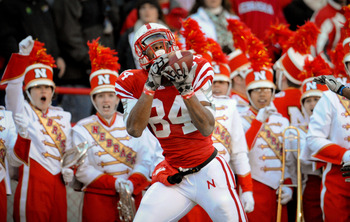 Eric Francis/Getty Images
Brandon Kinnie is the only returning Nebraska wide receiver that caught more than five passes last season. Normally a situation like that would bring an inordinate amount of pressure to a single player, but thankfully Kinnie has a solid tight end situation and he plays in an offense that runs the ball like there's no tomorrow.
However, any team (yes, that includes Nebraska) must be able to pass the ball somewhat consistently to open up the run game. Kinnie will be quarterback Taylor Martinez's main option on most passing plays, so he will play a pivotal role in the offense's success.
Aaron Green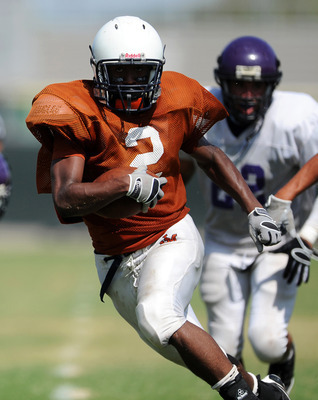 Although returning starter Rex Burkhead will get the majority of the carries early in the season, we pretty much know what we're getting out of Burkhead. Consistent, durable back who runs tough and can pick up a first down whenever necessary. But he's not overly explosive.
Enter: true freshman Aaron Green, the top running back in last year's recruiting class. He is fast, agile and above all, incredibly explosive. Along with fellow freshmen Braylon Heard and Ameer Abdullah, Green will likely begin seeing more playing as the calendar turns to October and the Huskers seek a spark against the tough defenses of the Big Ten.
Brett Maher and Mauro Bondi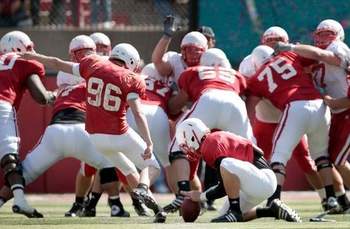 Brett Maher and Mauro Bondi have the not-so-enviable task of replacing fourth-round draft choice Alex Henery, who, in his four years punting and kicking at Nebraska, didn't do much other than becoming the most accurate kicker in the history of college football.
Maher and Bondi are currently competing for three jobs, the kicking and punting done by Henery and the kickoff specialist role left vacant by Adi Kunalic, who is now kicking for the Panthers (Yes, in one year Nebraska graduated two kickers now kicking in the NFL). Maher and Bondi get to do the jobs that were overlooked at Nebraska for so many years, but will now play a key role in the team's success.
Mike Caputo
Eric Francis/Getty Images
This slide could really apply to the whole offensive line, but I would like to focus mainly on senior center Mike Caputo. Caputo was a member of Nebraska's historic walk-on program and was the anchor of last year's offensive line.
While shaky and inconsistent in the later part of the season, there's no denying that the offensive line did its part, paving the way for the Big 12's most prolific ground game. This year, Caputo is one of only two returning O-line starters, along with tackle Jeremiah Sirles. Providing leadership to the inexperienced group will be essential, especially considering how much the guy in the next slide hates it when a pocket collapses.
Taylor Martinez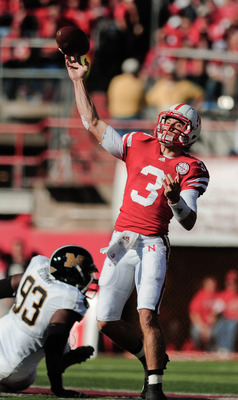 Eric Francis/Getty Images
Well, duh.
From T-Magic lighting up defenses, to the nagging injuries, to Bo Pelini's outburst, to the rumors of a possible transfer, to the new offensive scheme, Taylor Martinez has been through a lot of highs and lows in the past year. Now with a year of experience under his belt, hopefully Martinez can work on staying healthy and not looking so horribly confused when the pocket collapses. Nebraska's season is lying squarely in the hands of the redshirt sophomore.
Keep Reading

Nebraska Huskers Football: Like this team?