Oregon State Beavers' 2011 Predictions for Every Game
August 25, 2011
Oregon State Beavers
2011 Prediction: 4-8
Top 120* Preseason Ranking: No. 54

Strength of Schedule: No. 4

2010:
Overall Performance: 5-7
Conference performance: 4-5
Quick Look: A brand new defense is going to give up a ton of points. A good quarterback and offensive line but lacking at almost every skill positions. Injuries are taking a toll.
Offense: six returning starters but two of the returners are out (weakness: skill positions)
Defense: three returning starters, but one of those is out (weakness: the defense)
Coaching Carousel: 1. Wide Receivers Coach
Schedule: Oregon State has a tough schedule this year. Oregon St. plays three BCS bowl teams. They also play ranked BYU and just-outside-the-top-25 Arizona State, Utah, and Arizona.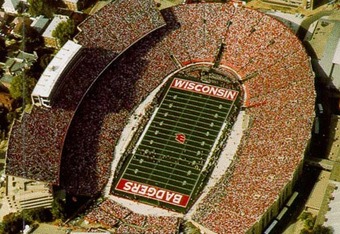 They will travel to Wisconsin, Arizona State, Utah, Cal and Oregon. They play Arizona, BYU and Stanford at home. Those games are likely losses for the Beavers. Fortunately they open with Sacramento State and play UCLA, Washington State and Washington. Those are likely wins.
Game-by-Game:
Sacramento State at Oregon State
Saturday, Sept. 3 
Game Prediction: Win 
Oregon St. 31 – Sacramento St. 3
Quarterback Ryan Katz continues to improve, but receiver James Rodgers' knee injury will limit his success this year. Jacquizz Rodgers' departure to the NFL will impact the Beaver's running game and the loss of defensive tackle Stephen Paea cannot be overstated.
The same can be said for linebacker Gabe Miller and center Alex Linnenkohl.  
For this game, the Beavers' second-string will be in by the third quarter. Coach Mike Riley won't hammer FCS Sacramento State. He has too much class for that.
Oregon State at Wisconsin
Saturday, Sept. 10
Game Prediction: Loss 
Wisconsin 38 - Oregon State 17 
Wisconsin went 11-2 last year while Oregon State struggled at 5-7. The Beavers' losses to the NFL will hurt them much more than Badgers' losses. Wisconsin, who may come into the season ranked number 11 in the AP Poll, wins by 21.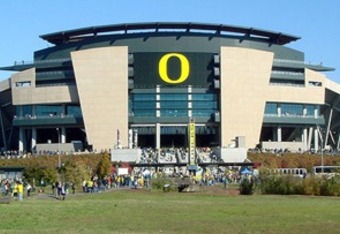 Week 3 Bye.
UCLA at Oregon State
Saturday, Sept. 24 
Game Prediction: Win
Oregon State 21 - UCLA 17 
Even though Reser stadium will give the Beavers an advantage, this game will come down to who plays a better game at quarterback. Oregon State's quarterback, Ryan Katz, is beginning to develop into being a top quarterback in the Pac-12.
UCLA's quarterbacks, Kevin Prince and/or Richard Brehaut couldn't warm the bench for Luck, Barkley, Foles, Thomas and even Katz.
UCLA might have slightly better talent than Oregon State at quite a few other positions, but again the Beavers have an edge in coaching. This game will be very close. Beavers win it at the wire. 
Oregon State at Arizona State
Saturday, Oct. 1 
Game Prediction: Loss
Arizona St. 24 - Oregon St. 17 
Oregon State only managed a 5-7 season last year, but the Beavers' 2010 schedule was one of the toughest in the country with matchups against six ranked teams (TCU, Boise State, Arizona, Stanford, USC and Oregon).
Although Arizona State had a 6-6 season last year, they are almost a Top-25 team this year. Oregon State will be ranked somewhere around 50th in the nation.
Oregon State returns eight offensive starters and five defensive starters while Arizona State lost only a few on both sides of the ball. The real battle will be about Beaver quarterback Ryan Katz versus Sun Devil quarterback Brock Osweiler.
Katz will have some success against the Sun Devil secondary, but ASU's defensive line and linebackers won't allow the Beavers to develop a decent running game. 
Arizona at Oregon State
Saturday, Oct. 8th 
Game Prediction: Loss
Arizona 28, Oregon State 17
Arizona finally gets a break with Oregon State. After playing at Oklahoma State, Stanford, Oregon, and at USC, the Wildcats travel to Reser stadium to play the Beavers. Arizona may be black and blue, but they will be looking forward to playing the black and orange.
The Beavers didn't get off Scot free—they played at Wisconsin and Arizona State but had a bye and UCLA in between. Oregon State has issues at running back, receiver (injuries), defensive line and linebacker.
Not even Mike Riley knows how to replace Jacquizz Rodgers. The Beavers will be trying to stop running back Keola Antolin while Nick Foles is finding Juron Criner (if he is playing).
Riley can always get the Beavers up for a game, and Oregon State will give Arizona a great game in the first half. Arizona wins by 10 or so.
BYU at Oregon State
Saturday, Oct. 15
Game Prediction: Loss
BYU 28, Oregon State 17
Oregon State's offense, ranked a mere 94th in the nation last year, is degraded this year with the loss of Jacquizz Rodgers. Quarterback Ryan Katz is developing into a very good quarterback but needs significant improvement in protection from the offensive line. That may not come this year.
The defense wasn't much better last year (86th in the nation), and defensive tackleStephen Paea's loss will be hard to replace. The linebackers and secondary might be a concern. The last time these two team met in the 2009 Las Vegas Bowl, BYU came away with a 44-20 victory.
BYU's defense was impressive last year, earning a national ranking of 24th. BYU may have one of its best defenses in over a decade this year.
The D-line is quick and strong and the linebackers may be exceptional this year. The 3-4 defense includes very good linebackers Kyle Van Noy and Brandon Ogletree.
Perhaps the most impressive in spring was USC transfer Uona Kaveinga. The secondary has only one returning starter, which could be a concern, considering Ryan Katz cannon for an arm.  
Oregon State will be hard pressed to improve on last year's 5-7 season. BYU could have 10 wins this year, despite their two toughest games at Texas and TCU. BYU wins on the road.
Oregon St. at Washington St.

Saturday, Oct. 22
Game Prediction: Win
Oregon St. 31, Washington St. 27 
These two teams, ranked fifth and sixth in the Pac-12 North, will meet at the CenturyLink Field in Seattle, Washington, to help decide who may finish last in the division.
Washington State may be 2-4 going into this game, while Oregon State will probably have the same record. Both teams have very difficult schedules remaining, so the winner should end up with at least three wins (overall) for the season. 
Both teams feature developing quarterbacks and, although the Cougars have home-field advantage, the Beavers might just have one or two more weapons than Washington State. Last year Washington State took it to Oregon State winning on the road 31-14 at Reser Stadium in an upset.
This is another hard game to predict. I'm calling for another upset (this time the Cougars may be favored), and Oregon State battles for this close win.
Oregon State at Utah

Saturday, Oct. 29  
Game Prediction: Loss
Utah 28, Oregon State 24
Now here is another tough game to predict. I'm calling it for Utah, but if Jordan Wynn has a bad game and Ryan Katz breaks out, I may end up looking silly. If Jacquizz Rodgers, Alex Linnenkohl and Stephen Paea were still playing for the Beavers, this prediction would go the other way, even at Rice-Eccles Stadium.
Both teams have some rebuilding to do in 2011. but as it is, this close game will be a win for Utah.
Stanford at Oregon State
Saturday, Nov. 5 
Game Prediction: Loss
Stanford 31, Oregon State 21

In 2009 Oregon State beat Stanford at home 38-28. Stanford, over-ranked in the Top 10 this year, travels back to Oregon State, probably over-ranked at 55th in the country, to show why Andrew Luck is much better than Ryan Katz.
The Beavers will battle, but Stanford succeeds. Stanford tight ends Coby Fleener, Zach Ertz and Levine Toilolo will put on a show. These are the three best tight ends in the Pac-12, without a doubt.
Oregon State at California

Saturday, Nov. 12  
Game Prediction: Loss
California 24, Oregon State 21
California's defense will shut down Oregon State's running game and limit the Katz-to-Rodgers connections. The Beavers will not be as fortunate, as the Berkeley Bears will be successful at both against Oregon State.
California is developing a better record in San Francisco than they had in Berkeley. Cal became bowl-eligible the week before against Washington State, and this win moves them up in stature for a possible Holiday Bowl invitation.
They do have a significant test ahead with games at Stanford and at Arizona State.
Washington at Oregon State
Saturday, Nov. 19  
Game Prediction: Win
Oregon State 21, Washington 20
This will be an upset victory for Oregon State.
Oregon State at Oregon
Saturday, Nov. 26 

Game Prediction: Loss
Oregon 42, Oregon State 17

The Beavers travel to Autzen stadium for their season finale.
Oregon State quarterback Ryan Katz has to rely on passing the ball to keep pace for the victory as Oregon runs up the score. 
*The Top 120 Ranking is an average of four top college football team rankings for all 120 teams from east-coast online sources. Rival and Athlon are located in Tennessee, Presnapread.com is located in New York and the Sporting News is located in North Carolina.