NCAA: Top 10 Fight Songs in the Nation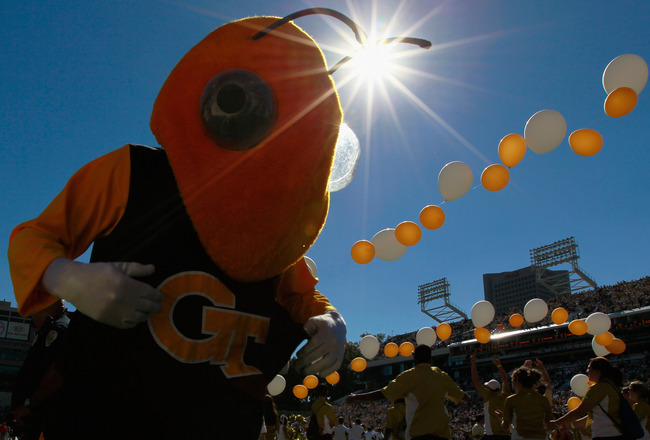 Kevin C. Cox/Getty Images
One of the things that make college football so enjoyable is the traditions. The atmosphere of being at a college football game is incomparable, with so much rich history surrounding the sport. One constant that's been with the game from the beginning are the fight songs.
All of the best programs have a fight song that leaves an impression, whether it's through the lyrics, the rhythm or even what instruments were used. Some songs stand out from the rest from having an impressive combination of all of the above. These are the best ten fight songs in the country.
Note: This is an opinion piece, so no (serious) bashing, please
Honorable Mentions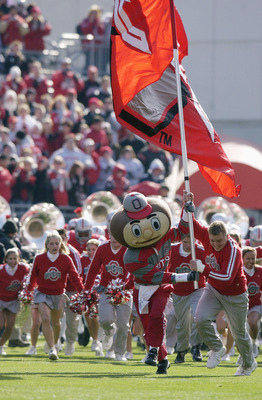 David Maxwell/Getty Images
Texas
They get points for a jab at one of their state rivals ("Goodbye to A&M"), but the music itself is simple, and it isn't as rousing as the others on this list. In addition, their song is basically a sped up version of Oregon's
Ohio State
As rich as their tradition is, the song itself is pretty forgettable, and like Texas's it doesn't truly get me in a fighting spirit when it plays. Still an overall good sounding tune though
Northwestern
At first it sounds just like any other fight song, but it really shines when the band starts dueling with each other at about the halfway point (Listen to it to see what I mean). The one thing that's really holding it back from making it onto the list is the lack of a great history of football at the school (No disrespect to Northwestern alums)
Alabama
This was really tough to leave off of the Top 10 list. I don't know why, but something just seems a little off on it. Maybe it's too short or something. I can't really put my finger on it. Otherwise, it's a pretty good fight song, but not a great one
Army
It's a shame no one really hears this song anymore since it seems there's so little to cheer for in Army football nowadays. It has a great melody, and has loads of tradition behind it. Consider this No. 11 on my list. A really good fight song.
10. Florida
Fast paced, loud, catchy tune. In addition, whenever you can include the word "droop" into your fight song and not sound ridiculous, that's impressive. Florida has only started to become a true college football powerhouse in the past couple of decades (which still seems like a long time), so the history behind the song is a little weak. Still, that doesn't retract from the impact of the song too much. An overall very impressive sounding song.
9. Wisconsin
One of the catchiest songs in the country, the gradual crescendo into a full on explosion of sound is beyond impressive. The song even matches how the team itself plays football in both its sound and the lyrics themselves ("On Wisconsin, on Wisconsin, plunge right through that line"). If Wisconsin had had a successful football history, this song would've garnered a top five rating easily. (I also feel obligated to put this song here, because it's my mom's high school's fight song as well. Love you Mom!)
8. Arkansas
Like the Razorbacks' football team itself, this theme is solid. It starts fast paced and doesn't let up until near the end, when there's a big slowdown culminating in a loud finale. It's just an overall fun song, even if it isn't quite as memorable as the others on this list are. One small complaint I'd have is that it's short, although that's a small complaint when dealing with fight songs since most barely reach the minute mark anyways.
7. Tennessee (Rocky Top)
According to Vols fans that I've chatted with over the years, Rocky Top isn't the actual fight song for Tennessee, but the real one is so bad that it's rarely used or heard. A good thing too, because the unofficial fight song of Tennessee blows the other out of the water.
It's an incredibly uplifting song that gets louder and louder as it goes on. With a pretty rich football tradition (although not as much as of late), Tennessee's Rocky Top has all the facets of a great college fight theme.
6. USC
As a Washington State Cougar fan, this song has gotten annoying to listen to over the past decade, but that's no fault of the song's composers. It has a unique rhythm, and it doesn't sound as much as a fight song promising to defeat the opponent than an anthem already claiming victory, if that makes any sense.
I'll admit, I'm not a big USC fan. I think most of the fanbase are a bunch of smug, cocky individuals, and I was happy to see sanctions levied against them to bring them back down to Earth. However, I can't deny that they have one of the best-composed fight songs in the nation.
5. Oklahoma
When it comes to football, Oklahoma has everything. They have championships, famous figures, consistently ranked in the Top 25 and they have one of the best fight songs in the country. Boomer Sooner is one of the most easily recognized and catchiest songs in the country, which works in both good ways and bad.
It only takes one Sooner touchdown for you to be humming the song along in your head, but like all songs, hear it enough times (especially if Oklahoma is playing a lower tier school like Iowa State) and it starts to drag on you. That's more because of the team than the music itself though, much like USC's fight song.
In addition, it also serves as the entrance theme for WWE Commentator Jim Ross, so they win some points for that too.
4. Michigan
If there ever were a fight song that epitomized the spirit of college football, "Hail to the Victors" would be it. It just carries so much tradition with it, one of the key traits of great fight songs. Another important aspect is that the song exudes confidence. I'm sure Michigan's song accomplished that by referring to themselves as the victors in the title itself. Sure, it may be a little slow at times, plus the lyrics are simplistic as well, but these are minor complaints towards what is a high quality theme.
3. Florida State (War Chant)
While the actual fight song for FSU is great in its own right (it could easily be part of the honorable mentions list), the 'Noles infamous War Chant earns the 3rd spot on the list. It's hard to find a song that pumps you up as much as this one.
It's the only one that sends shivers down my spine when I play it. It's that good. The Atlanta Braves even use this to pump up their own crowd, though there's no questioning that the effect is best felt at Doak Campbell Stadium.
2. (tied) Georgia Tech
Some might object to the Ramblin' Wreck's placement, but I don't give a damn. I love this song. It's so full of joy and merriment, and yet it somehow still sounds intimidating. Maybe it's the fact that they insult their biggest rival in the middle of the song ("To hell with Georgia!"). It's the perfect song for a good ole boy working as an engineer. It's also incredibly addictive. You just need to hear it once, and it's becomes stuck in your head all day.
2. (tied) Washington State
All right, if people are going to be angry that Georgia Tech was No. 2, then I can't imagine the backlash I'm going to get from putting Wazzu here. Still, hear me out before you judge too severely. Although this qualifies as homerism they are my favorite team so I can't rate them harshly.
However, although my judgment may be cloudy, putting the Cougar fight song this high isn't without reason. This song was immortalized in the movie Volunteers by John Candy, so already it garners high honors just for that. It also is a great song for arousing the crowd into a frenzy, giving them hope even in this day and age when the team has been playing terribly. It just sounds like a pure college song.
But what do I know? I'm a Cougar fan myself.
1. Notre Dame
There's no questioning what fight song is supreme in college football. Even though the pollsters consistently overrate the football team every year, the tradition and history surrounding the Notre Dame program is immense, and part of that is their fight song. It's the one college song that every sports fan knows the tune to. I wouldn't consider myself a Fighting Irish fan, but the Victory March is unequalled in terms of being recognizably, catchy and sound.
Keep Reading