USC Sanctions: The NCAA's Next Move on Lane Kiffin's Infractions?
August 23, 2011
A show of hands: How many of you have signed that circulating petition for the NCAA to cancel the remainder of USC's sanctions?
Nice gesture. It shows your support for the team. But that's all it is—a gesture. Mark Emmert and the NCAA have no intention of cancelling or even reducing USC's sanctions.
Emmert has come out with a hardline stance against violators, so he would simply lose face if he adjusted the penalties against USC, especially after the NCAA has already rejected the university's appeal.
So, have no fear. USC shall continue to hold the current record for the stiffest penalties ever handed down for a violation by only one player.
That being said, anyone who can tune into ESPN or read a sports page knows that Paul Dee headed the Committee on Infractions that sanctioned USC for the Reggie Bush infractions.
That same Paul Dee, who said USC should have known that Bush was receiving outside benefits and harshly penalized them for their lack of oversight, was at the very same time unable or unwilling to see that much worse violations were being committed right under his nose at the University of Miami, where he was the athletic director.
By now we all know the story uncovered by Yahoo Sports' Charles Robinson of how a wealthy Miami booster, Nevin Shapiro, was dolling out money and all sorts of other benefits to over 70 Hurricane athletes during Paul Dee's tenure.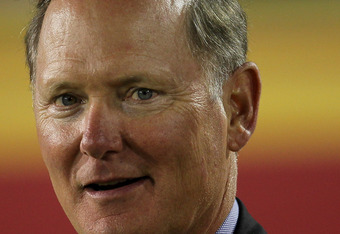 "Unfair! Unconscionable!" USC fans have proclaimed. 
Maybe so, but let me ask you a question. If a judge convicts a man of embezzlement and sentences him to 30 years in prison, then two years later the judge, himself, is found guilty of embezzlement, does the guy he sentenced go free?
No, not at all. At best, maybe his lawyers can argue for a re-trial. 
In USC's case, there will be no re-trial. What I suspect there will be is a private deal between USC athletic director, Pat Haden, and Mark Emmert.
In order not to lose face, Emmert will tell Haden that the NCAA cannot reduce the sanctions after they have already been appealed and reviewed. No precedent or process currently exists for such a situation.
However, Emmert will admit privately that the university was treated harshly if not unfairly by Paul Dee. To make amends, instead of slapping Lane Kiffin and Ed Orgeron with "show cause" penalties, he will only give them slaps on the wrists.
The word being leaked on ESPN before tomorrow's NCAA announcement of sanctions in the University of Tennessee case is that former UT basketball coach Bruce Pearl will receive a two-year "show cause" sanction while three of his coaches will receive a one-year "show cause."
I suspect that the sanctions against Kiffin and anyone else on his staff will not be nearly as stiff if a private deal has indeed been made between Emmert and Haden.
In return, Haden will agree not to take any action against the NCAA, allowing them to handle both the Ohio State and Miami infractions any way they so choose.
If I am right, we won't have long to wait. Word should come out tomorrow morning.
Red flags? 
Just one. Todd McNair's lawsuit against the NCAA. 
With all the negative publicity surrounding violations in college football, the NCAA, and, of course, Paul Dee, the man who hit him with a "show cause" penalty, McNair will have his day—or perhaps week—in court.
I don't expect him to settle out of court at this point, now that he and his lawyers have the NCAA right where they want them—on the hot seat. As for Paul Dee, I suspect McNair will see him in court.