Notre Dame Football: Why Dayne Crist is the Clear Choice for Irish QB
August 23, 2011
Brian Kelly has no flair for the dramatic. 
His announcement today to und.com that Dayne Crist will be the 2011 Irish starting quarterback, over 250 hours before kickoff, puts a severe crimp in the South Bend sports media supply of easy, speculative articles for the next 11 days. With all the hoopla and attention that accompanies an opening-game-day starting quarterback decision, he's not very good at playing hard to get.
Nevertheless, Kelly's decision should be both expected and reassuring to his team. For all of Tommy Rees' success at the end of 2010, Crist has two key advantages that make him a more natural choice as a starter: physical tools and experience.
At the most basic level of comparison, Crist fits the physical profile of a college quarterback better than Rees. He is bigger to avoid getting knocked down and he has a much stronger arm to fit throws into tight spaces. Even after two near-catastrophic knee injuries, Crist is still mobile enough to do more than just lumber around the pocket.
Rees is not going to intimidate anyone physically. He shows a lot of spunk to get back up after taking a hit, but it's unclear how he would manage that toll over the course of a full season. In terms of arm strength, he relies much more on finesse, touch and timing. 
Of course, sports history is littered with fables of the Joe Montanas and Doug Fluties who were less gifted athletes but simply knew how to win. Many argue that Tommy Rees has those same qualities.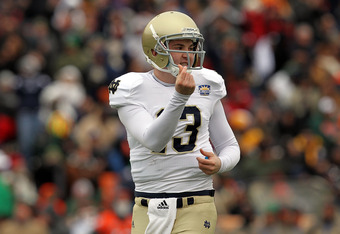 However, Crist still has one other key advantage that makes him the correct choice as the starting quarterback. He knows the firsthand the pressures and expectations as Notre Dame's go-to quarterback, and that is a subtle but important difference from Notre Dame's starting quarterback. He tutored under Charlie Weis and Jimmy Clausen for two years, who certainly knew a thing or two about the quarterback position.
Last season, Rees was never the go-to quarterback. He was the freshman filling in for the injured go-to quarterback (Crist), and he did an admirable job in that role.
But all of Rees' success was not expected of him. Had he lost any or all of his games as a starter, few would have blamed him, and most would have given him a pass as a true freshman. That is a very different role from the quarterback who shoulders the burden to bring the Irish to victory week in and week out. It is Crist who knows that role best.  
There are certainly concerns around Crist, not the least of which is the health of not one but both knees. The Irish return an experienced offensive line, but Crist is still going to take some shots. It's also unclear if Kelly will limit his playbook in an attempt to protect Crist.
Additionally, Crist has yet to show consistent accuracy in his throws. Kelly's offense keeps receivers moving vertically where accuracy is paramount. Crist's ability to put those throws on target will be an early indicator of his progress as a quarterback.
For all of the arguments, this job was Crist's at the start of 2010, and it should have been his to lose in 2011. The fact that he didn't lose it should indicate that he has continued to develop enough to outshine even Rees' gutsy performances. If that weren't the case, it would be greater cause for concern across the team.  
It's very possible that Crist will not end the 2011 season as Notre Dame's starting (or even go-to) quarterback. But he should be the one to start it as both.