Preseason College Football Rankings 2011: Ranking the SEC's Best Quarterbacks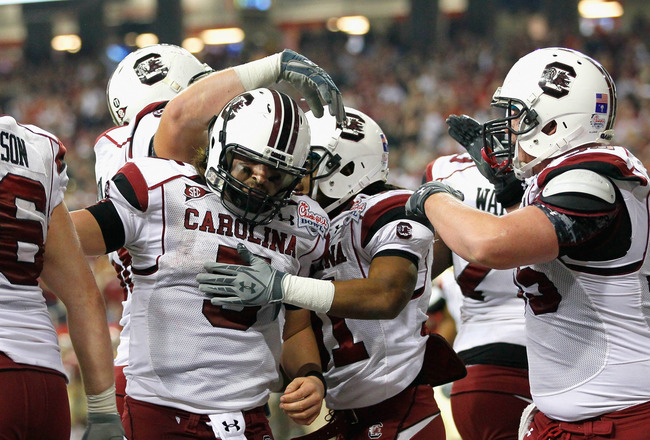 Kevin C. Cox/Getty Images
I'll admit it, the SEC generally has a bunch of pretty good quarterbacks. But this year, after 2011 saw Cameron Newton overappreciated and Ryan Mallett underappreciated in this year's draft, there's no one we see as being particularly special.
The SEC's quarterbacks are going to be seen as being on a bit of a down year, although there's some good noise coming out of Georgia (Aaron Murray), Arkansas (Tyler Wilson) and Tennessee (Tyler Bray). Some guys named Jefferson and Garcia are in the cocktail mix too...
Anyway, we give you our 12-1 rankings. Tell us what you think!
12. Larry Smith, Vanderbilt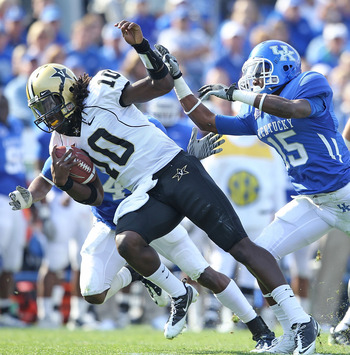 Andy Lyons/Getty Images
Smith was the country's worst quarterback amongst FBS schools in quarterback rating and completion percentage after going 117-of-247 for 1,262 yards, six touchdowns and five interceptions in 2010.
We still can't believe Vandy has named him as their starter for the 2011 season. I would have let him concentrate on his studies.
11. Barry Brunetti/Zack Stoudt/Randall Mackey, Ole Miss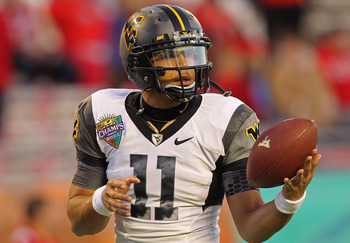 Mike Ehrmann/Getty Images
Ole Miss still hasn't made a decision.
Should it be the castoff from West Virginia (Brunetti), or should it be the freshman with the solid arm, but ugly throwing action (Stoudt)?
Or should it the incumbent post-Jeremiah Masoli who hasn't been strong enough to get the job (Mackey)?
We wait with bated breath. The rest of Ole Miss' 2011 schedule waits with rubbing hands.
(Since the last discussion, ESPN has reported that Mackey has been arrested for getting in a bar brawl in Oxford on Tuesday night, meaning that Brunetti will start -but it still doesn't change anything!)
And despite all that, they are probably better than Larry Smith.
10. Barrett Trotter, Auburn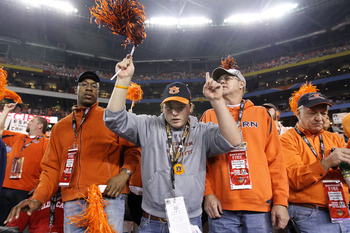 Christian Petersen/Getty Images
Barrett Trotter came on in games last year after Superman Cameron Newton finished the competition.
In fact, Trotter was pretty accurate in the throws he did take (6-of-9 with 64 yards completed). How he'll cope with SEC West football is going to be a whole other worry.
We don't have a photo of him yet - but here's some fans to keep you happy.
9. AJ McCarron, Alabama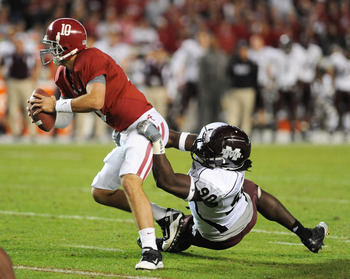 Al Messerschmidt/Getty Images
McCarron should be the No. 1 QB at Alabama this year, simply because he's more experienced than freshman Phillip Sims.
Last year, McCarron went 30-of-48 for 389 yards and three TDs—all of them in garbage time against garbage teams (sorry, Tennessee).
His reps at the Crimson/White game showed a QB with a great arm and the propensity to air it out a bit, but with Trent Richardson being given the chance to run most of the time, will Saban really need McCarron?
8. Morgan Newton, Kentucky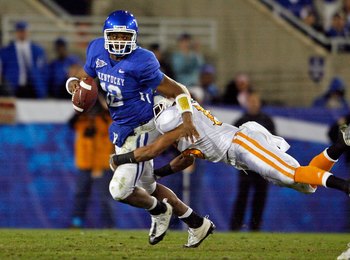 Andy Lyons/Getty Images
After saying goodbye to Brian Hartline and magic wide receiver Randall Cobb, we're not predicting the best year for the Wildcats.
Newton didn't throw very much in either his 2009 or 2010 seasons, but we'll wait with bated breath for this year—especially without one of the best receivers in the nation.
7. Jordan Jefferson, LSU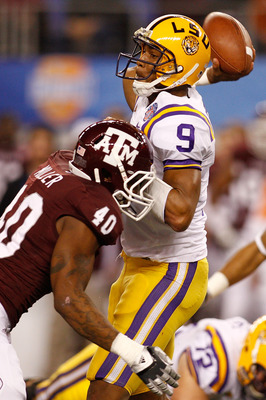 Chris Graythen/Getty Images
There's no irony on this writer that two out of LSU's three quarterbacks have been in trouble with the law.
Jefferson's in trouble for getting in a bar fight Friday night in Baton Rouge, while Mettenberger got kicked out of Georgia last year after being his own whirlwind of problems at Sanford.
And Lee? Don't get us started. He's just not a good quarterback, folks.
Anyway, as for his actual brilliance on the field, Jefferson was 100th in the nation for QB rating last year (114.7). He was also 107th in yards (1,114) and 114th in touchdowns (7). Jefferson got sacked 18 times, although is this due to his competition (i.e. Alabama, Auburn and Texas A&M's Von Miller)—or the fact that he wasn't very good.
In his defense, Les Miles' running backs were pretty darned strong last year.
6. John Brantley, Florida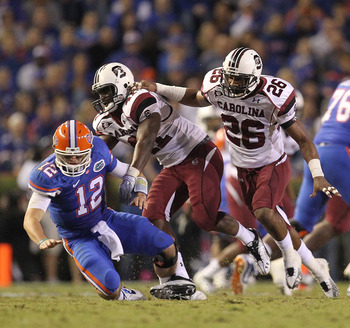 Mike Ehrmann/Getty Images
Whatever you say about Brantley at Florida, the words probably aren't the nicest about the Gators' QB.
Brantley WILL be better this year, not only because Charlie Weis is the new offensive coordinator in Gainesville and he's a great QB coach, but because the offensive line will be more experienced.
This could be yet another learning year for the Gators' QB who was 97th in the country in quarterback rating last year after going 200-of-329 with nine TDs and 10 INTs.
Still, Brantley's got some weapons on his team, and remember, new coach Will Muschamp's one hell of a recruiter.
5. Tyler Bray, Tennessee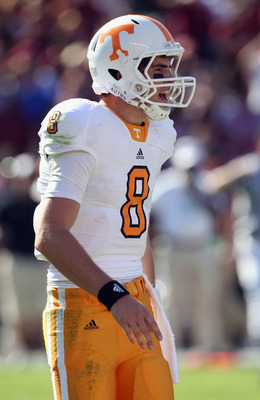 Streeter Lecka/Getty Images
Bray was one of the better passers in the country last year (31st among FBS QBs) with a quarterback rating of 142.7 (although these numbers are quite inflated, bearing in mind he didn't get any reps during the Vols' four-straight midseason losses).
But Bray still managed to make Matt Simms look completely stupid, and you can only wonder what might have happened to Tennessee's season if he'd been named starter in Week 1 rather than Week 9.
Anyway, things are looking up for Bray, as well as the Vols—who could well be the dark horse in SEC East play this year.
4. Tyler Wilson, Arkansas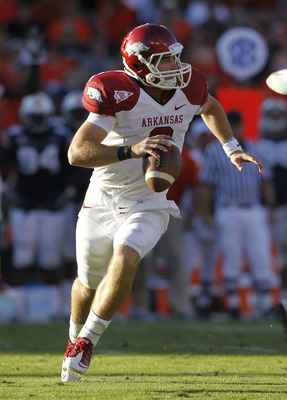 Mike Zarrilli/Getty Images
Every year, Bobby Petrino assures that he's got a good quarterback, and every year he delivers. Even when Ryan Mallett went off in the defeat to Auburn last season, Wilson came on and played brilliantly, going 25-of-34 for 332 yards and four TDs.
If we're honest, we wouldn't have thought that after a less-than-glamorous start to his Razorback career against Tennessee Tech; he threw an INT and was horrible—even in "Who Cares?" time.
According to ESPN, Wilson's already the SEC's "Breakout Player," and he better be now running back Knile Davis is injured. Wilson will have to watch the interceptions, too.
3. Chris Relf, Mississippi State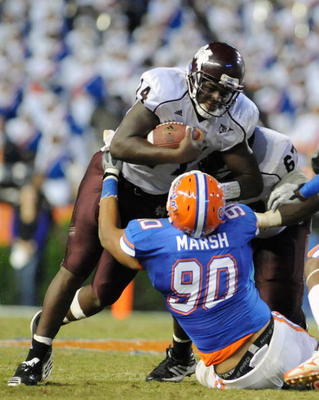 Al Messerschmidt/Getty Images
After three years of underperformance, Relf exploded on the sidelines with 1,789 yards, 13 TDs and six INTs last year, which resulted in a tidy 141.0 QB rating and earned him the 34th spot among all FBS quarterbacks.
As an encore, his scrimmage efforts again were strong, and he's got everyone in Starkville excited. What Relf will need on his resume is the marquee victory State has been lacking for years. If he carries on his trajectory, MSU might have a number this season!
2. Stephen Garcia, South Carolina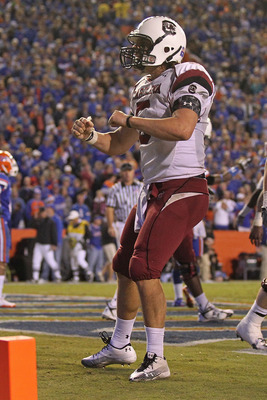 Mike Ehrmann/Getty Images
I've made this pretty clear in articles' past: I don't think Stephen Garcia is a great quarterback.
If it wasn't for the fact that he had Alshon Jeffrey (every QB's dream) as a wide receiver and Marcus Lattimore as a running back, we doubt if Garcia would have won that many games last year.
But to give him his credit, Garcia led the Gamecocks in upset wins over Alabama and Florida, as well as taking them to the SEC Championship game (where they promptly lost).
The biggest complaint against him last year was that he screwed up in big games—like the SEC Championship game and the Chick-fil-A Bowl against Florida State, where he threw two TDs and five INTs combined—and basically sucked.
Garcia's biggest bonuses this year are two-fold: One, Jeffrey's back. Two, he's still on the team after yet another bout of unbecoming behavior.
Garcia needs to sort his life out before he gets to the NFL.
1. Aaron Murray, Georgia
Kevin C. Cox/Getty Images
Even as Georgia's team fell to embarrassing losses last year, Aaron Murray was making quite the name for himself.
With a strong arm, leadership qualities beyond his year and the confidence in Bulldog Nation (all three needed in Athens, where QB mistakes will generally get you run out of town by the over-expectant masses), Murray went 209-of-342 for more than 3,000 yards. Murray's QB rating was also strong nationally (14th).
His biggest problem will be the departure of wide receiver A.J. Green, who can make any quarterback look pretty good. We'll see how Murray does with Marlon Brown and Tavarres King.
What's also going to hurt Murray—who's already being compared to Matt Stafford—is the fact that the running game is going to have to rely on running back Isaiah Crowell after everyone else was either injured or had to leave.
Keep Reading