One Good Reason Every AP Poll Team Could Flop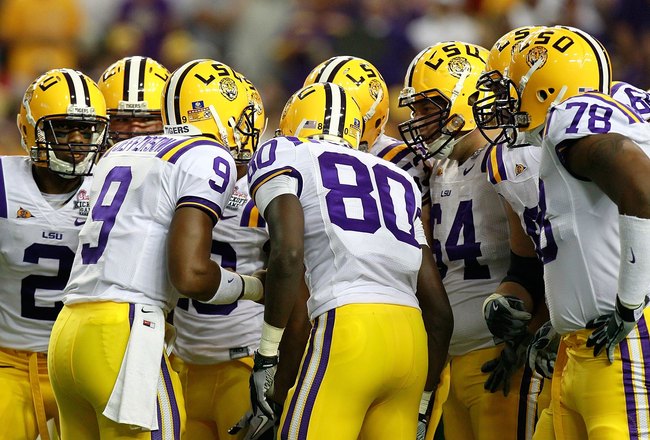 Kevin C. Cox/Getty Images
Now that the AP rankings have hit the shelves, we are officially one step closer to the start of the college football season.
Though looking at the polls can give us a pretty good idea of which squads might actually be good coming into a season, we all know that there are a bunch of "ifs," "ands," and "buts" that separate a hopeful September from a glorious January.
Yes, many of the ranked teams (especially those toward the top of the charts) have what looks to be the right mix of returning starters, strength of schedule, depth, coaching stability, and leadership to make a serious run at something big, but anything (and I mean anything) can happen along the path to glory.
Injuries could be the factors that change the course of a season, or perhaps it is over confidence that key personnel turnover is adequately handled, overlooking a really under-ranked opponent(s), or maybe it could be a superstar that comes out of nowhere that changes everything.
But change it can, and change it will.
The following slide show provides one solid reason why each of the top 25 teams in the AP preseason poll could flop, and "flop" is a relative term that simply means the team falls short of whatever their realistic aims for 2011 might be (a division title, a bowl bid, a conference crown, a BCS berth, or a big, fat national-championship ring).
25. USC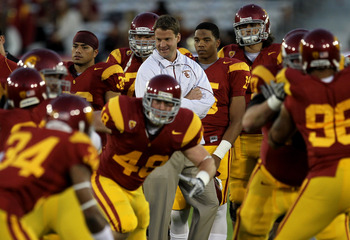 Stephen Dunn/Getty Images
The Trojans didn't figure into the coaches' poll because, well, they couldn't, but that didn't stop them from squeaking into the AP poll at No. 25.
USC may not be postseason eligible, but they are still eligible to win some games, and hats off to the AP for including them in their balloting.
What could upend the Trojans quest to improve from their eight-victory win total in 2010 is flying about as far under the radar as you could imagine…it's the kicking game. Last year's s kicker Joe Houston and punter Jacob Harfman have both left the building.
The addition of a freshman kicker and punter won't help a team trying to come back while managing what Phil Steele ranks as the No. 7-hardest schedule in the land.
It's interesting to note the difference in the margin of victory for USC over the last couple of seasons: In 2008 they outscored opponents 488 to 117, in 2009 this dropped to 344 to 258, and in 2010 it bottomed out at 403 to 347.
Tougher opponents and more closely contested games all make the kicking game that much more important.
24. West Virginia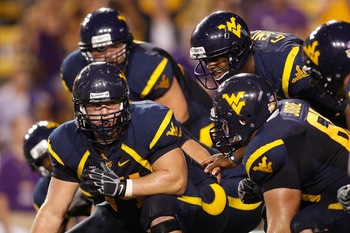 Chris Graythen/Getty Images
West Virginia finished just out of the top 25 in the coaches' poll and sneak into the AP preseason rankings at No. 24 (becoming the only Big East team in either poll).
Much ado has been made of the possible improvement of the Mountaineers offensive fortunes, and with the introduction of the wizard-like Dana Holgorsen and eight starters and 19 lettermen returning on the offensive side of the ball, you have to believe that all the yapation is warranted (and, therefore, with representation).
So, let's say the offensive-yardage explosion is ignited and blows up beautifully in the mountain sky.
What about the defense?
Well, the Mountaineers return only four defensive starters in 2011, and gone are a long list of guys who helped WVU earn a No. 3 ranking last season in terms of points against.
Yes, West Virginia allowed an average of only 13.5 points per game, a figure that, regardless of how many points you score, may creep up to "floppable" levels.
23. Auburn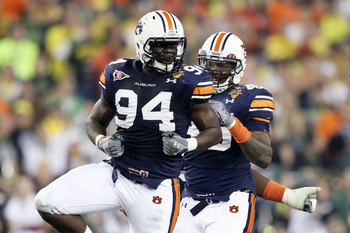 Christian Petersen/Getty Images
The defending national champs come in at No. 23 in the opening AP voting, which represents a four-slot drop from their No. 19 ranking in the coaches' poll.
Much has been made about the Tigers historically low rankings, which are among the most depleted of any defending champ in recent history, but this is a team that loses more starters and experienced personnel than does any other team in the nation.
In the nation.
Auburn won the year they were supposed to, and hats off to them for getting it done. But it's difficult to make a solid, logical case for the Tigers' remaining ranked throughout the 2011 season.
Honestly, it would be absolutely awesome to see them prove us all wrong, but I don't see it happening.
Auburn flops because they just lost too many talented players.
22. Florida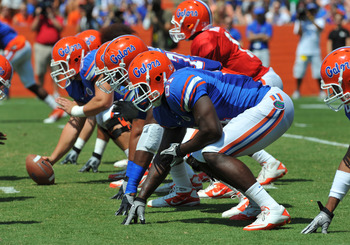 Al Messerschmidt/Getty Images
The Gators came in at No. 23 in the preseason coaches' poll and improved on this ranking marginally with their No. 22 slot in the debut of the AP poll.
Coming into 2011 Florida has a new coaching staff and a new offensive scheme, but they are stacked with as much raw talent as almost anyone in the entire nation.
One big reason that Florida's football fortunes could slump rather than rise this upcoming season is a schedule that is nobody's friend.
The Gators get Tennessee and Florida State at home but will pack a bag to play Kentucky and South Carolina.
But what really hurts are the teams they drew from the SEC West, which come in a nasty three-game stretch: October 1 vs. Alabama, October 8 vs. LSU, and October 15 at Auburn.
Yikes!
21. Missouri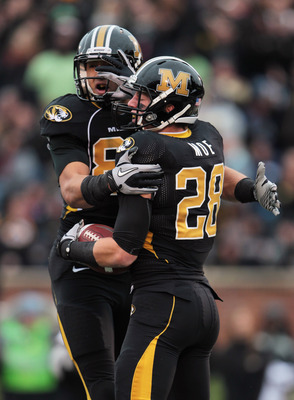 Jamie Squire/Getty Images
The Tigers are No. 21 in the AP preseason big board, which mirrors the spot they collected from the coaches' constituency.
What looms large on Missouri's 2011 horizon are two early-season games that will make the transition from QB Blaine Gabbert to James Franklin an even steeper slope to climb.
Yes, the Tigers are stacked, but a huge leadership change, played out at Arizona State (which has top-25 caliber personnel in 2011) in Week 2 and at Oklahoma in Week 4 (where they haven't won since 1966), won't be easy.
With Oklahoma State, Texas A&M, and Texas threatening later in the season, there is very little margin for error.
The Big 12 is stacked in 2011, and if Mizzou slips up early, their quest to repeat a double-digit win total will be seriously compromised.
20. Mississippi State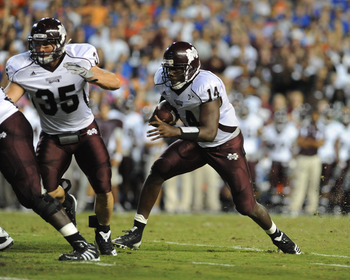 Al Messerschmidt/Getty Images
Mississippi State finds itself among the AP rankings in exactly the same spot in which they were slotted in the coaches' poll: at No. 20.
Though we could run through the Bulldogs depth chart and bemoan the loss of their top two tacklers from 2010, their kick returner, or their punter, what Mississippi State's season is going to come down to is finally making a run in a full-tilt SEC schedule.
Phil Steele says it's the No. 15-hardest schedule in the land, and with games at Auburn, at Georgia, and at Arkansas ramped up by home games against LSU, South Carolina, Alabama, and Ole Miss, you can see the logic behind his numbers.
The Bulldogs haven't bested an SEC West foe other than Ole Miss in Dan Mullen's two-year tenure at MSU. The last time they did so was when they beat Arkansas 31-28 in 2008 in Starkville, and the last season in which the Bulldogs beat more than one SEC West team was 2007, when they bested Auburn, Alabama, and Ole Miss.
If Mississippi State can beat their divisional rivals (even two of them), then they'll be on their way, but if they don't, they'll flounder.
19. Georgia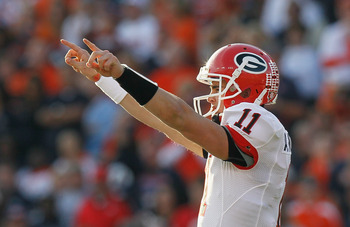 Kevin C. Cox/Getty Images
The Bulldogs gained some momentum from their No. 22 ranking in the coaches' poll, moving all the way up to the No. 19 spot in the AP preseason poll.
Georgia has the right personnel on hand and gets a bit of a break in their schedule (by SEC standards) to make 2011 ooze with possibility for a team that has under-dazzled for two consecutive seasons.
What could make the Bulldogs' season suddenly go kaput comes down to the first two games: Boise State in the Georgia Dome and then South Carolina at home, in Athens.
Worst case scenario is that Georgia drops both these contests (which they could) and basically soils the season before it even gets properly underway.
Perhaps they could survive even this catastrophic turn of events, but in the SEC forgiveness and comebacks are harder to find than an ACC team in the national championship.
18. Ohio State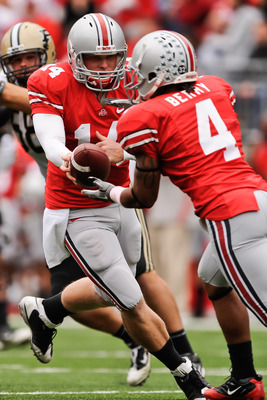 Jamie Sabau/Getty Images
Ohio State, despite a heaping helping of offseason drama that has only been touched (thus far) by Miami, garnered the No. 18 spot in the AP poll, which represents a two-slot drop from their No. 16 ranking in the coaches' poll.
The Buckeyes have more holes that a piece of Swiss cheese, but what stands out to me has little to do with the Tat Five, Tress, and the ongoing NCAA investigation.
It's all about linebackers (or, rather, the lack thereof).
OSU loses its top two tacklers from 2010—Brian Rolle and Ross Homan—both linebackers and both key elements of a defense that was No. 5 (nationally) in terms of points against last season.
Gone also are No. 3 and No. 4 tacklers Jermale Hines and Devon Torrence, which even further hinders a unit that allowed a stingy 14.3 points per game last season, a feat that will be difficult to repeat without the heart of the "D."
17. Michigan State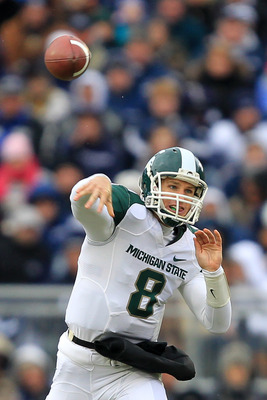 Hunter Martin/Getty Images
The Spartans come in at No. 17 in the AP preseason poll, a number that mirrors their spot in the coaches' rankings.
What could make the Spartans season go south is the fact that they lost the top three tacklers (and the No. 5 guy) from the 2010 team that went 11-2 and captured a piece of the Big Ten crown.
This is a defensive unit that allowed only 22.3 points per game last season, a number that will be more difficult to match without an alarming number of top defenders.
16. Notre Dame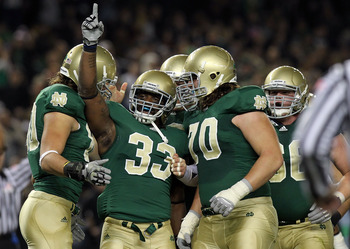 Nick Laham/Getty Images
The Irish found themselves two spots higher in the AP preseason bash than they were in the coaches' poll, and their No. 16 ranking has a sweet aroma for some and a distinct stench for others (oh haters…we love you).
Notre Dame's reasonable opportunities for a disappointing drop in 2011 are plentiful, but an injury to last year's leading rusher, Cierre Wood (who led the team with 658 yards on the ground), could spell disaster for a team that already struggled (in a big way) to run the ball in 2010.
Yes, the Irish were a passing team in 2010 (No. 34 through the air versus No. 92 on the ground), but if you dry up even that little puddle of running, the offense could sputter.
Who's the next guy down the charts?
Well, it's Jonas Gray, an incoming senior, who rushed for a whopping 100 yards last season. Yep…the Irish are thin at running back, and thin isn't a good thing.
15. Arkansas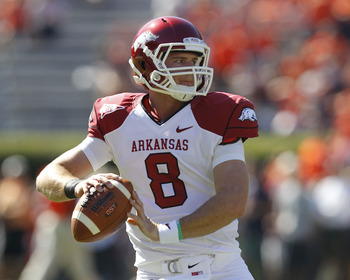 Mike Zarrilli/Getty Images
The Razorbacks take just one step down the ladder in the AP poll, coming in at No. 15 versus the No. 14 honors they received from their friends over at the coaches' poll.
Though the loss of RB Knile Davis to injury for the season looms as quasi-disastrous for the Hogs, it's somewhat soothing for the Arkansas faithful to remember that their team passed better than they ran in 2010 (No. 4 in passing yards versus No. 69 in rushing yards).
Of course this line of thinking is certainly less comforting when you remember that Arkansas is also replacing QB Ryan Mallett with the talented but inexperienced Tyler Wilson.
For me, it's Wilson that is more of a risky situation than anything else, and this is a situation that is compounded by the loss of Davis.
If Wilson falters (and there is not a lot of room for error in the Hogs' schedule), Arkansas could shoot down the polls as quickly as they shot up them, and, of course, if he succeeds, these guys could still win it all.
Either way the pressure is amped up with the loss of one of the best backs in the country.
14. TCU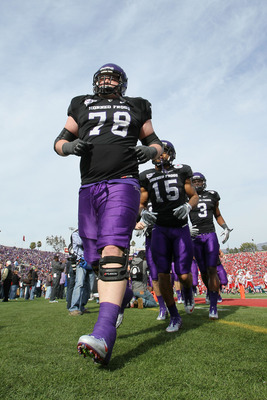 Stephen Dunn/Getty Images
The Horned Frogs received a one-spot improvement over the No. 15 spot given them by the coaches a couple of weeks ago, landing at No. 14 in the preseason AP poll.
Even though TCU has, arguably, the easiest schedule of any squad in the preseason top 25, it's hard not to wonder what will happen if the monumental levels of rebuilding necessary in Fort Worth go poorly.
The Horned Frogs return just eight starters and 54 letter winners from their undefeated Rose Bowl team and lose a staggering 26 lettermen in the process. This combines to saddle the Toads with one of the least-experienced teams in the country.
Sure, Gary Patterson has been a master rebuilder in years past, but can he do it again, especially with road trips to Baylor and then to Air Force in the first two weeks of the season?
If TCU cannot effectively overhaul (at the beginning of the season), a flop could well be in order.
But it will look like less of a fiasco due to a very soft schedule.
13. Virginia Tech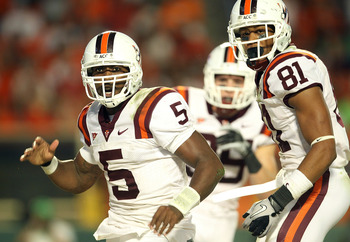 Mike Ehrmann/Getty Images
The Hokies find themselves at the No. 13 slot in both the AP and coaches' polls and, despite attrition, are still the favorites to win the ACC Coastal Division (which they have done four out of the last six years).
Virginia Tech's reasonable reason for flopping in 2011 involves the loss of QB Tyrod Taylor but extends further to the loss of the Hokies' other top rusher, Darren Evans.
Evans and Taylor combined for 1,801 yards on the ground in 2010 (representing a whopping 32 percent of the Hokies total yardage output last season), leading VT to a No. 23 ranking in rushing yards.
Gone also is the No. 4 rusher, Ryan Williams, which makes hits to the Hokies running game far more perilous than those suffered by a passing attack that was No. 72 in the nation.
12. South Carolina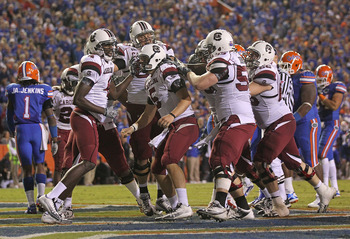 Mike Ehrmann/Getty Images
The defending SEC East champion Gamecocks took home the No. 12 spot in the early coaches' poll and also harvested the No. 12 slot in the just-released AP rankings.
South Carolina has all the pieces in place to build on their success from 2010, but what could turn a championship season into a disappointing one comes down to two opponents: Georgia and Florida.
The last time the Gamecocks beat both Georgia and Florida in the same season was in 2010, which is also the only time they've ever captured a part of any SEC title (divisional or otherwise).
In fact last season is the only time South Carolina has beaten both the Bulldogs and Gators during the same campaign since they joined the SEC in 1992.
For 2011 it's a huge game at Athens (where they last won in 2007), and it's the Gators at home in Columbia (they last iced Florida at Williams-Brice in 2005).
To do meet or exceed last year's output, the Gamecocks need to beat both these divisional rivals for only the second time in their SEC tenure.
11. Wisconsin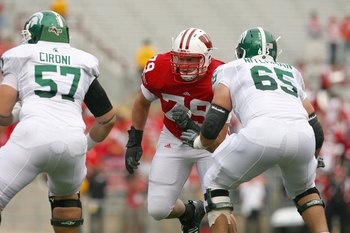 Jonathan Daniel/Getty Images
The Badgers were the highest-ranked Big Ten squad in the coaches' preseason poll, coming in at No. 10, but lose marginal ground in the AP poll, coming in at No. 11 (versus Nebraska's No. 10 ranking).
Wisconsin will field a solid team in 2011, and though it's really a stretch to say that a season could come down to just a couple of games, the Badgers really do have that type of schedule.
After opening up the campaign with five consecutive home games, Wisconsin will stare down a bunch of really big "ats."
At Michigan State and at Ohio State, which fall back-to-back, are the biggest looming road challenges for Wisconsin and could derail their very clear path to the Leaders Division title and a spot in the first-ever Big Ten title festivities.
10. Nebraska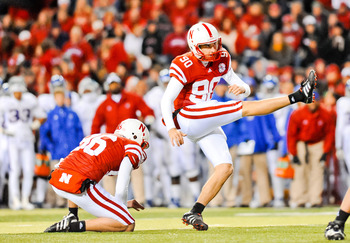 Eric Francis/Getty Images
Let us not forget, amidst our scandal ridden football world, that Nebraska's magnificent debut as a Big Ten member is finally upon us.
The Cornhuskers earned recognition as the No. 11 team in the land in the coaches' rankings and reaped an equally impressive No. 10 by the AP brain trust.
The one good reason that Nebraska's 2011 Big Ten unveiling could flop is all about special teams, where the Huskers return none of their key contributors from 2010.
Gone is the second-most accurate kicker in college football, Alex Henery (who was also the team's starting punter), and gone also is the squad's top punt and kick returner, Niles Paul.
You have to figure that some of these Big Ten games are going to be closely contested (Wisconsin, Penn State, and Michigan on the road and Ohio State, Michigan State, and Iowa at home), which could make the huge attrition at special teams hurt even worse.
9. Oklahoma State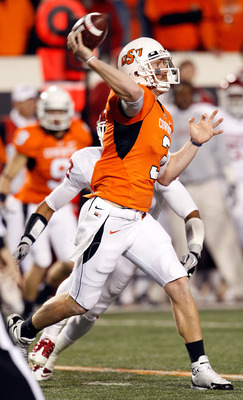 Tom Pennington/Getty Images
The Cowboys tracked at No. 8 in the coaches' poll and received similar levels of love from the AP voters, who have them at a lofty No. 9 overall.
Though OSU definitely will have a tall order in improving their defense (No. 61 in points allowed in 2010), coping without OC Dana Holgorsen, and replacing both top rusher Kendall Hunter and top tackler Orie Lemon, what may really trip up the Cowboys has more to do with whom they'll be playing rather than who is playing for them.
At Texas A&M, at Texas, at Missouri, at Texas Tech…Arizona and Oklahoma both at home. The net result is what Phil Steele says is the No. 18-hardest schedule in the land, which puts the Cowboys' slate as the second-hardest schedule in the conference (to Baylor, who is rated as having the No. 3-hardest slate).
Oklahoma State has the type of schedule that could make them look like they have done less to overcome their challenges than is true in reality.
8. Texas A&M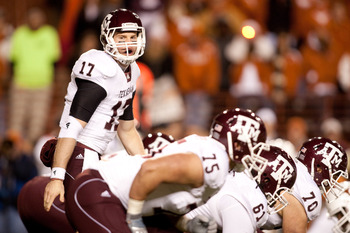 Darren Carroll/Getty Images
The Aggies dream season is finally upon us, and regardless of any successful conference wrangling, it will be played out in the confines of a very stacked Big 12.
A&M garnered the No. 9 spot in the coaches' poll, and the AP has awarded them the No. 8 position on the big boards.
The one blaring deficit that could derail the Aggies is on defense, and it's at the linebacker spot.
Yes, we all know that Von Miller has gone to the NFL, but he's not the only guy missing.
Ever heard of a dude named Michael Hodges?
Hodges (ILB) was the leading tackler on the team last season, and his stats sizzled: 114 tackles (almost twice what Miller racked up), 4.5 sacks, three tackles for a loss, and two picks.
Though it's easy to pinpoint the change to QB Ryan Tannehill and the emergence of RB Cyrus Gray as the catalysts to A&M's fantastic six-game winning streak in 2010, don't forget that the Aggies were ranked an awful No. 105 in total defense in '09 (allowing 426.3 yards per game) and improved to the No. 55 spot in '10 (allowing 364.3 yards per game).
How does this translate on the scoreboard? Well, the Aggies gave up 33.5 points per game in 2009 (dead last in the Big 12) and improved to 21.9 points per game in 2010 (No. 4 in the conference).
That amounts to 62 fewer yards and 11.6 fewer points per game, and that is absolutely a huge difference maker in six wins vs. nine wins.
7. Stanford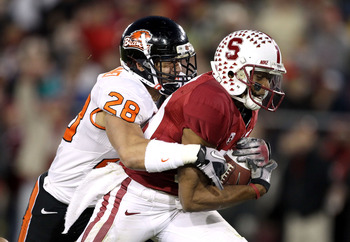 Ezra Shaw/Getty Images
The defending Orange Bowl champion Cardinal zoomed in at No. 7 in the AP poll, a one-slot difference from their No. 6 spot in the coaches' poll.
Though Stanford loses head coach Jim Harbaugh, there are enough leaders left on the '11 squad to make you believe that at least some of his swagger will be carried on through the athletes he leaves behind from the 12-1 team in 2010.
What may be a season-ender for Stanford's bid to win a place in the first ever Pac-12 championship game is a nasty five-game stretch to end the regular season, highlighted by a lurking evil that may be overlooked.
We all understand the inherent dangers of a trip to USC followed by home games against Oregon and Notre Dame, but what looks less foreboding is the November 5 trip to Corvallis to face Oregon State.
This game is sandwiched neatly between the roadie to USC and the whopper of a home game against the Ducks, which makes it look even softer.
But, did you know that that Stanford is 4-6 in Corvallis in their last 10 visits and that their last two wins there (2005 and 1997) came by a total margin of victory of six points?
I'm just saying…the Beavers are not as easy as they may look.
6. Florida State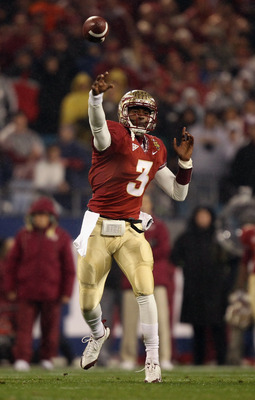 Streeter Lecka/Getty Images
The Seminoles garnered the No. 6 spot in the AP preseason extravaganza, while the coaches' deemed the fifth best team in the land.
Florida State has a nasty little one-two, early-season punch in the Oklahoma game followed immediately by a road trip to Clemson, but hidden beneath this challenge is this lurking question:
How good is EJ Manuel?
The kid with only six starts in two seasons will finally be the guy under center in Tallahassee this fall, but is he really as good as "they" say he is, and is Christian Ponder really that easy to say goodbye to?
Well, the ACC media thinks so and have voted him the preseason All-ACC first-team QB and second in the preseason player-of-the-year honors.
But can he prove them all right?
I'm not saying he's not that good, but is replacing the guy who went No. 12 overall in the NFL draft really that easy?
5. Boise State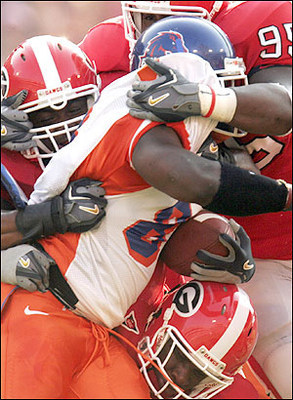 The Blue Turfers scored the No. 5 spot in the AP poll as opposed to No. 7 in the coaches' rankings.
The Broncos one good reason for flopping in 2011 is really simple, and it conveniently occurs once a week: They have to win every single game, or they'll be dropped from the BCS and national-championship conversations like a hot potato.
It all starts with Georgia in Atlanta on the blessed eve of September 3, and then each and every week they have to win (and hope that no more than one BCS school goes undefeated).
Georgia could still make the BCS if they lose in Week 1; Boise State cannot.
Don't think so? Well, how fast did that wild 31-34 overtime loss to Nevada last season take the Broncos from a BCS bid and a shot at a the big enchilada to the depths of a Las Vegas Bowl bid?
Seriously, there is something wrong with college football.
4. LSU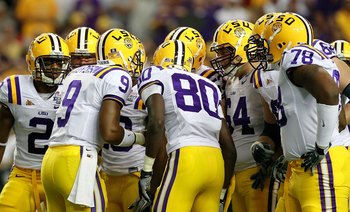 Kevin C. Cox/Getty Images
The Tigers are the AP's preseason No. 4, which is precisely the spot they garnered in the coaches' poll.
Though you could rightly and easily point to a blockbuster matchup with Oregon as a potential season-ender for LSU, realistically Week 1 is just where the fun begins for the boys from Baton Rouge.
LSU's biggest hurdle?
Well, it's their entire schedule.
Phil Steele ranks the Tigers slate of games as the No. 5 most difficult schedule in all of college football, and ole' Phil ain't lying: Oregon, at Mississippi State, at West Virginia, Florida, at Tennessee, Auburn, at Alabama, at Ole Miss, and, to cap it off, Arkansas on the Friday after Turkey Day.
LSU easily has scariest schedule among the top tenth of teams in the FBS, which could possibly make a very good team look like a mediocre one.
3. Oregon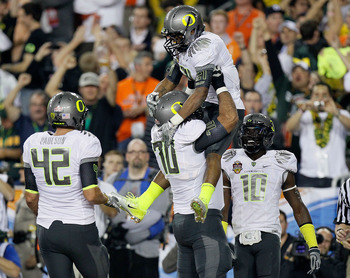 Kevin C. Cox/Getty Images
Last year's runner-up, the Ducks were No. 3 in the coaches' opening rankings and fall in again at No. 3 among AP voters.
Though it might be easier to say the LSU game is the one realistic "flopper" for Oregon, I would argue that this is a game that could be lost while still salvaging a BCS season.
This puts the Ducks' lurking danger among the receiving corps, where they have to replace their two top pass grabbers, Jeff Maehl and DJ Davis.
Sure, lots of talent is left over, but this is the squad that ranked No. 39 in passing in 2011 and averaged over 240 yards per game through the air.
2. Alabama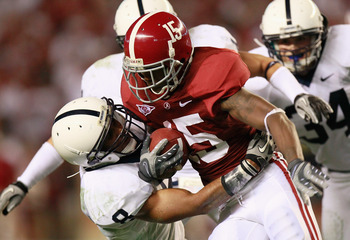 Kevin C. Cox/Getty Images
The Crimson Tide were No. 2 in the coaches' preseason poll, a performance they repeat in the AP rankings.
To be fair, the personnel turnover in key positions might be a problem for the Tide (regardless of the fact that they are as deep as a well and have a sunny outlook on life), and this challenge will be made bigger earlier with a Week 2, September 10th visit to Happy Valley and Penn State.
Overlooked amongst blockbuster 2011 early-season matchups that include Oregon/LSU, Boise State/Georgia, and Florida State/Oklahoma, the Alabama vs.Penn State game is a sweet little sassy all on its own.
The Tide will have to have all their ducks in a row early (and often) to beat Penn State, a team that is somewhat disguised by their 7-6 record in 2010.
Don't forget that Alabama is 2-3 in nonconference away games since 2000.
1. Oklahoma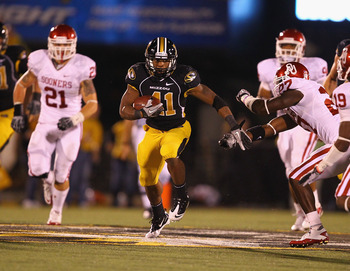 Dilip Vishwanat/Getty Images
The Sooners topped the coaches' poll and are also the No. 1-ranked team in the AP poll.
The one thing that could realistically trip up the Sooners (who are stacked to the gills with talent) in 2011 is a road game.
Oklahoma is 61-2 at home over the last decade and only 30-13 during true away games during the same time period.
The most likely candidates for an "uh-oh" are September 17 at Florida State and December 3 at Oklahoma State.
Both are huge away games against top-ranked teams (at least in the preseason) and are placed almost as bookends on what could be a national-championship season.
Keep Reading