Tripping:Oklahoma, Alabama, Oregon and LSU Have a Lot to Worry About This Season
August 21, 2011
Oklahoma have been given the kiss of death for the start of the college football season: The AP No.1.
Last year was a nightmare for No.1 teams, with Ohio State, OU and Alabama all losing when ranked at the top; and OU could face a nightmare early on with a trip to Seminole Country to play Florida State in Tallahassee and a showdown at Oklahoma State against a team that's laden with receiving talent.
See the Top 25 list below. We've added the scariest match-ups for each team (as well as some other stuff to think about). You can tell we're quite excited about football season, can't you?
1. Oklahoma - See above

2. Alabama - Potential pitfall is Penn State on the road, the SEC West schedule and a new QB. So not much then...
3. Oregon - LSU in Game 1 plus trip to Stanford, Arizona and up-and-comers Washington. Oh, and apparently Arizona State, where there's been a lot of hype.
4. LSU - Oregon in Game 1 and an SEC West schedule that includes a trip to Alabama. Plus the rest of the team's behavior and the play of their quarterback, Jordan Jefferson, who really isn't that great. This SEC is pretty darned good, folks
5. Boise State - Georgia in game one ain't going to be easy, but otherwise the schedule's a joke. Could get hit on strength of schedule
6. Florida State - OU's visit in Week 2, plus trips to Florida and Clemson (the latter of which isn't an easy place to play at the best of times)
7. Stanford - Andrew Luck's got everyone salivating, but games with Oregon, Cal and Notre Dame may hurt. Plus, the team's going to miss Coach Harbaugh more than the critics might say. And what happens if Luck gets hurt?
8. Texas A&M - Von Miller will be a HUGE miss for A&M. Plus, back-to-back games with Oklahoma State and Arkansas could quiet down College Station a little, as well as prove to be realistic about the school's hopes in the SEC.
9. Oklahoma State - OSU's biggest pitfalls will be a game against Arizona in Week 2 and the visit of OU.
10. Nebraska - Visits to Wisconsin, Penn State and Michigan just ain't going to be easy for Bo Pellini's men.
11. Wisconsin - As much as we love new QB Russell Wilson, the visit of Nebraska, plus trips to Michigan State and Ohio State will provide some worry for the Madtown Massive.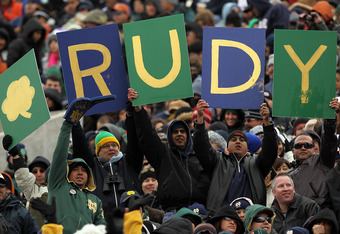 12. South Carolina - The visit to Georgia in Week 2 to start with, plus trips to Mississippi State.
13. Virginia Tech - The schedule's easy—but then again we said that about the Hokies when they played James Madison last year....and lost.
14. TCU - Saying goodbye to Andy Dalton's not going to be fun, but you know what? Facing Robert Griffin, Baylor's speedy QB, is going to be pretty tough too.
15. Arkansas - A frightening SEC West schedule, including a lovely easy trip to Alabama in Week 4.
16. Notre Dame - The two Michigans, Stanford and USC. If they get through all of these, the Irish should be—and probably will be—in a BCS Bowl. But who's the QB?
17. Michigan State- The trips to Notre Dame, Ohio State and Nebraska, as well as Denard Robinson and Michigan.
18. Ohio State - The big thing won't be the trips, it'll be the confidence. The Buckeyes aren't expected to be in the top 10 this year—and there's huge pressure on the Buckeyes to show no signs of "Tresselgate" from their fans. But we'll put to the trip to Nebraska as a big-time worry.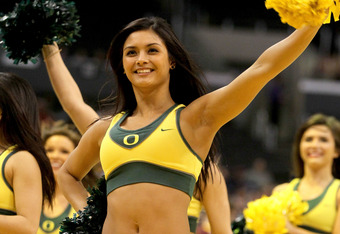 19. Georgia - Boise State in Week 1 and South Carolina in Week 2. Fuuuuuun.
20. Mississippi State - The SEC West schedule looks more and more super-nasty every time we look at it—and SEC East games against Georgia (away) and South Carolina (home) is super-worrying, too.
21. Missouri - Mizzou's trip to much-talked about Arizona State in Week 2 could be an early season upset, then there's trips to Oklahoma and A&M, as well as trying to bed in a new QB after Blaine Gabbert. Expect the Tigers to be out of the Top 25 pretty quickly.
22. Florida - If Florida can get through Alabama (home), LSU and South Carolina (road) and Florida State (home), we're voting for Will Muschamp's men to be number one in the nation.
23. Auburn - Biggest pitfall will be life after Cam Newton. Everybody loves Gus Mulzahn at the moment, but there's also the small fact that the Tigers have a horrible SEC schedule.
24. West Virginia - The coach-burners had an interesting off-season, but the home game against LSU could really hurt the Mountaineers. Especially as we expect them to pretty much run the table in the Big East this season.
25. USC - Nice to see USC getting thought about by the AP despite not having a prayer of making the National Title game. The Trojans face monster trips to Arizona State, Notre Dame and Oregon. If they beat these guys (as well as Stanford), you can see the BCS guys and NCAA suddenly quake in their boots, because SC will be a top ten—if not top five—side.