College Football AP Poll: Are Richt's 19th-Ranked Georgia Bulldogs Deserving?
August 20, 2011
It was Saturday morning in the sultry south when the Associated Press College Football preseason rankings were released.  The USA Today and ESPN polls previously listed the Georgia Bulldogs at No. 22.  Sports Illustrated had left them out of the top 25 completely.
This Saturday, as garage sales and pee-wee football practices were coming to a close, the fans of the Georgia Bulldog nation were texting at stoplights, speed-dialing their friends and yelling "Gooooo Dawgs!" from their pickup trucks.  From Cadillacs to Chevys, Bulldog flags all across the state were suddenly flying.
Gasp! Their beloved team had made it into the Top 25, ranked at No. 19 in the AP's list of those contenders heading into the promised land of the 2011 season.
Whew! "It could've been worse," they chattered on Internet forums as the morning took on the reality of a pre-game pep rally.
It also could have been better.
Is the AP's preseason assessment of the Georgia Bulldogs' 2011 team fair?
After all, they are boasting a head coach that has an 11-season tenure with only one losing season since 1996, a highly touted freshman running back named Isaiah Crowell and a dozen returning starters.  Should the grass be greener at Sanford Stadium where 92,746 fans gather on football Saturdays to yell "sic-um" while frying in the blazing hot rays of fall in the South?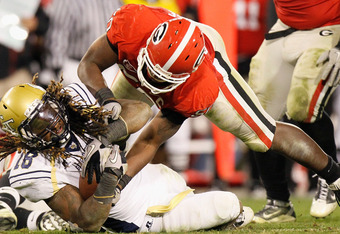 Reasons Why We Think the AP Preseason Poll is Accurate:
So where do the Dawgs really stand and should they be ranked higher, or even lower?
The answers lie in the sun like their beloved mascot, UGA, sprawled out in his chilled Dawg House on the Sanford Stadium sidelines. When there is little motion, there will be few changes.
Sorry, but expectations for the Georgia Bulldogs are higher than the AP's mediocre ranking.  Southeastern Conference teams have won the last five BCS titles and three of the last four Heisman Trophy winners have been from the SEC.  But not since Georgia head coach Mark Richt led the Bulldogs to their first SEC title in 20 years and setting a school record of 13 wins (in 2002) have they fully lived up to their fans' expectations. It was Richt who said at the recent SEC Media Days in Birmingham that it was their goal to "win the Eastern Division." Some would say he should look upwards to higher mountains to climb.
The Bulldogs have come close, but unfortunately, close doesn't get them the crystal trophy. The decline has been a slow one that started so close to the top that fans could taste the national title. The team finished in the top 10 in 2003, ranked at No. 7, and in 2004, they beat their rival Florida (10-2) for the first time and finished at No. 7 again nationally (AP).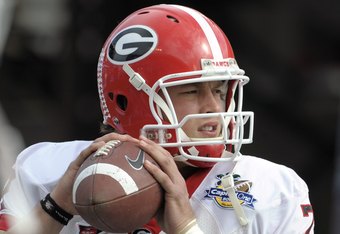 In 2005, Richt took his boys to the SEC Championship game and beat LSU (34-14), but lost to West Virginia in the Sugar Bowl and finished at No. 10 nationally. Even with that loss, Richt joined an elite group of coaching greats (Bryant, Dooley, Fulmer and Spurrier) to become the fifth SEC head coach to win more than 10 games in four straight years. 
More of the same followed In 2007, when they tied for the SEC East and solidly put a whipping on Hawaii in the Sugar Bowl, 41-10.  They finished 10-3 and were ranked No. 13.  Like team saviors, the duo of QB Matthew Stafford and Knowshon Moreno were hyped to take their 2008 team to their first national championship in many years.  It hadn't happened since a Dooley-coached team defeated Notre Dame 17-10 in 1980. But a gimmicky "black out" game against the Alabama Crimson Tide opened the eyes of Stafford and Moreno to the lures of NFL stardom. The Bulldogs lost to Alabama 41-30 in front of a stunned crowd.
Later, and just down the road, they were beaten by the Florida Gators 49-10 in the last game of the season.  When they hobbled into Atlanta to play their in-state rival the Georgia Tech Yellow Jackets, they were stung by three points.  But Richt plowed onward, and they found redemption in beating Michigan State in the Capital One Bowl (24-12).  Stafford and Moreno decided that win wasn't enough to keep them around for another year.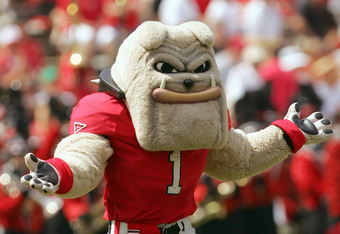 In 2009, fans were tiring of Richt's promises.  The Bulldogs went 8-5 that year, only to see more challenges in 2010 when they sunk to 6-7 and a humiliating loss to the University of Central Florida (UCF) in the Liberty Bowl to finish off the season.
With the pressure on the head coach to make changes to the coaching staff (or else?), he did just that.  The question remains: Were his changes enough? Bringing 11-year NFL veteran Todd Grantham's 3-4 defensive scheme back this year offers a chance for the system "to be perfected," according to Richt, who also promoted former Bulldog center Joe Tereshinski (75-76) to UGA's head strength and conditioning coach.  But Richt hasn't budged otherwise, leaving the offensive coordinating to Mike Bobo, a former Georgia quarterback who has seen the team's ups slowly spiral downward and has faced mounting criticism from fans.
With sophomore quarterback Aaron Murray—who had a higher pass efficiency rating that Matthew Stafford did as a freshmen (154.5)—Richt is seeking divine intervention to drive the young quarterback's success…that, and a little luck. With a solid slate of recruits for 2012 and on, he's clinging to a strong dose of hope that his naysayers will be disappointed.  After all, fans and players adore Richt when he's consistently winning.
"He's (Aaron) is really a coach's dream in how he approaches the game. He understands preparation. He understands team. His motivation is for Georgia to win. His motivation is to see his teammates have success. His motivation is not to promote self. When you have a guy like that, it just makes your life a whole lot easier," he said at SEC Media Days in Birmingham, AL.  How much easier will Murray make Richt's life? We'll soon find out.
According to former Florida State Coach Bobby Bowden speaking recent to a church group in Tuscaloosa, "Mark Richt has to win and he knows it."
The AP's 2010 Top 25 poll is filled with Bulldog neighbors. Many are ranked higher, and only four of those ranked play the Dawgs. Out of those ranked teams, only South Carolina (No. 12), Mississippi State (No. 20) and Florida (No. 22) will meet the red and black.  The Chick-Fil-A Kickoff Bowl vs. Boise State (ranked No. 5 by the AP) will showcase UGA's strengths and weaknesses and has been touted as Richt's "do or die" game by some.  He'll meet the Gamecocks at home the week after, and Richt is 7-3 versus the USC. 
If he falls there, he'll fall loud and hard.  Many will forget the day in August when the AP appropriately ranked the Georgia Bulldogs No. 19 in the preseason, a place they will rightly rest until the cleats hit the turf against Boise State at the Georgia Dome on September 3.