Miami-Ohio vs. Missouri: Matchup Highlights Week 1 College Football Favorites
August 23, 2011
In 2001, Gary Pinkel took over the head coaching job at Missouri, inheriting a team that was 3-8 in 2000 and in need of solid leadership and direction after going bowling just twice over the prior 12 years.
Missouri opened the 2001 season with a home game against Bowling Green out of the MAC, but the Falcons, who were 13-point underdogs that day, spoiled Pinkel's debut and defeated Missouri straight up.
They say, "Fool me once, shame on you...fool me twice, shame on me."
Bowling Green did it again in 2002.
This time Missouri was on the short end of a 51-28 score on the road.
After that, Gary Pinkel had had about enough.
Since then, Pinkel has scheduled seven games against MAC teams over the years (six at home) and made sure that kind of early-season shock never happened to him, his team or the fans again.
Miami-Ohio was the story of the MAC last season, as it became the first team in NCAA history to go from 10 losses to 10 wins, culminating in a win over Middle Tennessee in the GoDaddy.com Bowl.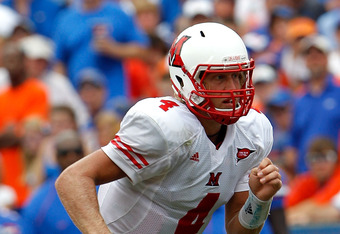 The RedHawks have eight starters back on offense for the second season in a row. Interestingly enough, though, last season's 10-win team actually averaged fewer yards per game than 2009's team that won just one game!
The reason? Turnovers.
The 2009 RedHawks committed a nation-high 32 turnovers, which was a major reason why the team managed only a single victory. Last season was almost a polar opposite as the defense forced 35 turnovers.
The result was a 10-win season, but the RedHawks did win six of those games by a touchdown or less.
The RedHawks lose their top two rushers from last season, and although Zac Dysert is back at quarterback, as well as sophomore Austin Boucher, the quarterbacks will be without the team's leading receiver Armand Robinson and his 1,062 receiving yards.
Missouri welcomes back 17 starters from its 10-win team, but gone is star quarterback Blaine Gabbert to the NFL. However, 80 percent of the offensive line is back along with the top running backs from last season.
That's bad news for Miami-Ohio.
In last season's 51-13 loss (it was a 51-6 game until late in the fourth quarter), Missouri ran the ball 35 times and gained nearly seven yards per carry.
Virtually all the pieces are in place to do it again.
If the RedHawks have any chance in this game, they'll have to do it through the air, as the Tigers lose a few players in their defensive secondary, but that hasn't been a huge factor for the RedHawks against quality competition in recent memory.
They haven't been able to score more than two touchdowns against their last 13 non-conference BCS opponents.
In 2009, Cincinnati returned just one defensive starter and defeated Miami-Ohio by 24 points on the road. The Bearcats played the RedHawks again last season and won again, this time by six touchdowns.
Interestingly enough, Missouri was a 20-point favorite when it hosted the RedHawks last season. Despite the blowout, it has been demoted to a 17-point favorite, most likely because of Gabbert's departure and the RedHawks' 10-win season.
But as is the case with most schools from major conferences, the Tigers will reload rather than rebuild.
Central Michigan won 10 games in 2006 but then opened the 2007 season with a 45-point loss at Kansas and a 23-point loss at Purdue. The Chippewas won 10 games again in 2009 but lost at Virginia Tech by 24 points the following season.
Western Michigan went bowling in 2006 and 2008 but then started the next seasons with a 38-point loss at West Virginia and a 24-point loss at Michigan respectively.
And the last time Miami-Ohio won 10 games, it opened the 2004 season with a 33-point loss at Michigan.
Missouri has gone bowling for six straight seasons now that Pinkel has settled in and built a solid team from core recruits each season, and you can bet that home loss to Bowling Green is etched in his mind against MAC rival Miami-Ohio.
Since losing that home game to Bowling Green in Pinkel's debut, Missouri has defeated its last seven MAC home opponents by an average of 24 points, and the blueprint for this game looks to spell more of the same.
Take Missouri to cover 17 points vs. Miami-Ohio.