Oregon Football 2011: Autzen Stadium Enters 44th Year of Ear-Ringing Noise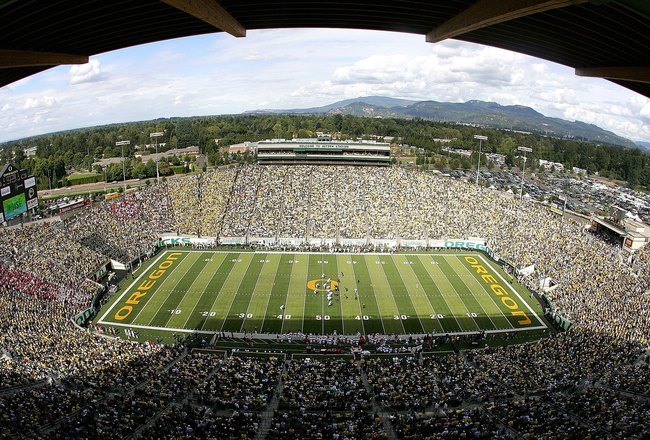 Jonathan Ferrey/Getty Images
While through the '70s and '80s Autzen was quiet as the team failed to perform but as the '80s turned into the '90s and beyond Autzen quickly turned into the biggest homefield advantage on the West Coast and now in the nation.
Coming into the 2011 season, Autzen will be entering its 44th year and has been the key behind many Oregon victories.
Here is a look at what some of the visitors to Autzen have had to say about their unpleasant experiences.
Barry Alvarez (Former Wisconsin Head Coach)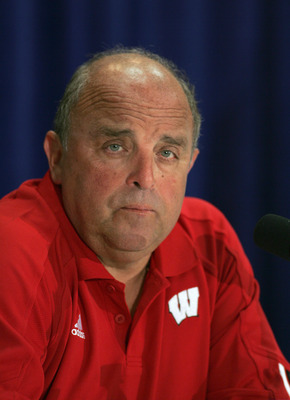 Doug Benc/Getty Images
"They're going to be loud from the first snap until the last snap. They are right on top of you and they're just relentless."
Adrian Peterson (Former Oklahoma Running Back)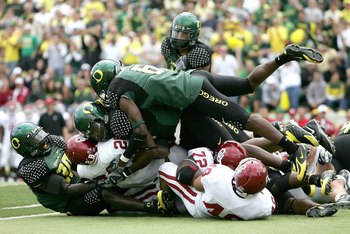 Jonathan Ferrey/Getty Images
"OOOOOOOOOOOOO..."
"It was like some sort of crazy torture in the movies. How do people do that so long without taking a breath? I think my ears are still ringing."
Jeff Tedford (Cal Head Coach)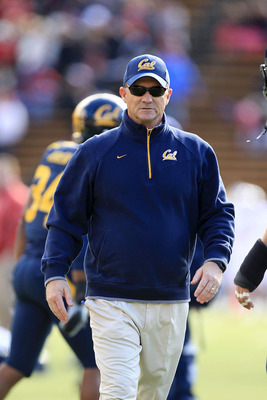 Ezra Shaw/Getty Images
"The biggest mistake people made going in there was trying to instigate the crowd and say bring it on, because they brought it on and usually it was followed by three illegal procedure penalties after that."
"It's very tough. The crowd there is unbelievably educated on when to be loud and when to calm down when they have the ball. It's just a very tough environment with the noise and just trying to communicate."
"At most stadiums, there's ebb and flow of what goes on. When they're excited, they're excited, and then they lull for a little bit. Autzen stays the same no matter what, always, no matter if you get ahead by 14 or 20 or whatever, they stay after it...It's unlike any other stadium."
Jahvid Best (Former Cal Running Back)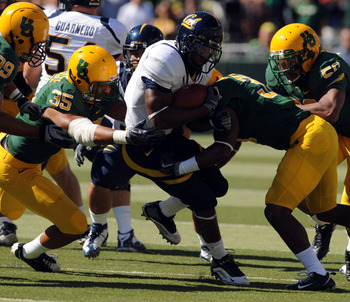 Steve Dykes/Getty Images
"Autzen Stadium is a combination of being super loud and how close they are. From my memory, it felt like it was 10 feet between the sideline and the crowd. No crowd usually gets to me. Oregon is the only one that stands out in my mind that has gotten to me. I was just like, 'Shut up!'"
"The biggest thing I remember about that game is the crowd. The crowd noise is crazy up there. Honestly, any other away game I don't really even hear the crowd. Oregon was the only place where it really got on my nerves."
Lloyd Carr (Former Michigan Head Coach)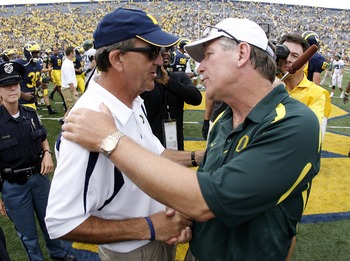 Gregory Shamus/Getty Images
"That's the loudest stadium I've ever been in."
"They are very difficult to beat at home. The crowd is, from every report I get, from every coach I've spoken with, a real factor. You have to learn to communicate without talking, because talking doesn't do you any good."
Jon Alston (Former Stanford Linebacker)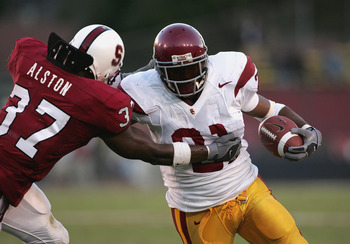 Stephen Dunn/Getty Images
"You got the Supermanned-out duck, he rides a motorcycle onto the field, the crowd is there, it's a smaller stadium, but it's packed from side to side. I hated playing in Autzen to be honest with you. It was a great football experience, but for an away team it's very difficult to play there."
Pete Carroll (Former USC Head Coach)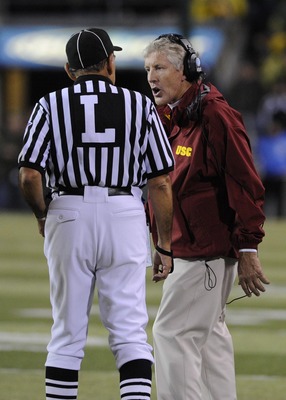 Steve Dykes/Getty Images
"You know, the noise is one aspect, but you can feel the intensity of their crowd."
"They have a good attitude about supporting their team."
"That's a good way of putting it...They are very outspoken and, of course, they do a great job of orchestrating the game environment."
Lee Corso (ESPN College Gameday)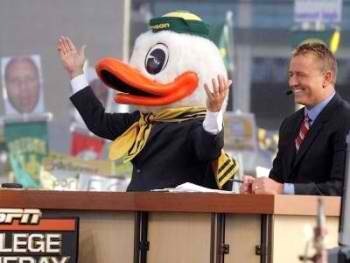 "I think Autzen Stadium [is the loudest]. Per person, the Oregon stadium is the loudest stadium I've ever been in. The fact that it's so low to the ground doesn't allow the sound to escape."
"It's the greatest scene that I've ever seen in College GameDay. That early in the morning, that many people. That makes it special."
J. Brady McCullough (The Michigan Daily)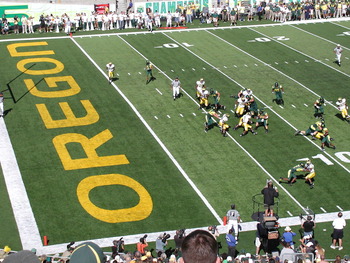 "Sitting in the foothills of the Cascade Mountains, Oregon's Autzen Stadium is one of college football's hidden jewels. Before kickoff, Autzen is as peaceful as the Willamette River, which runs through Eugene just a few minutes from the stadium. After kickoff, the fans—even the alumni—forget who they are, where they come from and what their degree is in. The audience adopts a new collective identity for the next three-and-a-half hours: the 12th, 13th and 14th man. Autzen's 59,000 strong make the Big House collectively sound like a pathetic whimper. It's louder than any place I've ever been, and that includes 'The Swamp' at Florida, 'The Shoe; in Columbus and 'Death Valley; at Louisiana State. Autzen Stadium is where great teams go to die."
Bruce Feldman (ESPN College Football Writer)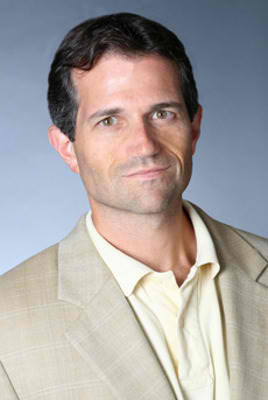 "I'm back to list the overall top 10 most intimidating stadiums in the nation...For the overall top 10, it's back to the basics—the 10 most intimidating stadiums for one game and one game only:"
Autzen Stadium, Oregon
Ben Hill Griffin Stadium, Florida
Kyle Field, Texas A&M
Tiger Stadium, LSU
Doak Campbell Stadium, Florida State
Ohio Stadium, Ohio State
Lane Stadium, Virginia Tech
Jordan-Hare Stadium, Auburn
Notre Dame Stadium, Notre Dame
Memorial Stadium, Nebraska
Keep Reading

Oregon Ducks Football: Like this team?