Oregon Ducks Football: The 5 Biggest Depth Chart Concerns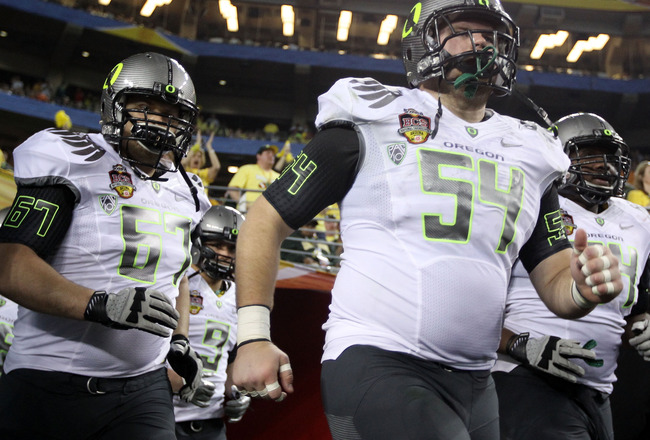 Christian Petersen/Getty Images
Coming off the heartbreaking loss to Auburn in the BCS Championship Game, come back in 2011 fired up and ready to make amends. They'll start the season ranked No. 3 in the country, and look set to once again feature a high-flying offense predicated on speed and precision.
With only 11 starters returning on both sides of the ball, however, some questions need to be asked as to how the Ducks are handling the turnover. Here are the five biggest concerns on Oregon's depth chart going into the season.
5. Wide Receiver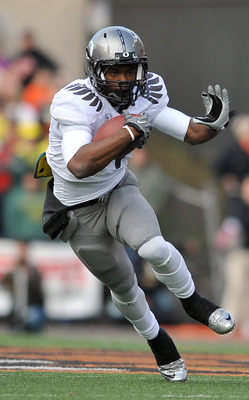 Steve Dykes/Getty Images
The Ducks have an abundance of talent at wide receiver, but it's mostly untested potential. Senior leaders Jeff Maehl and D.J. Davis have both flown to the NFL, leaving a gap in experience at a position that contributed heavily to Oregon's high-flying passing attack in 2010.
One thing Duck fans do agree upon is that Lavasier Tuinei will be the go-to-guy at receiver.
With Josh Huff nursing a leg injury, the Ducks may be forced to rely upon two largely-unproven receivers when they travel to Dallas to face LSU Sept. 3 in the Cowboy's Classic.
Eugene native Justin Hoffman will likely start, and juco transfer Rahsaan Vaughn appears to have cemented another starting role. But don't count out one of Oregon's bright young freshman to fight for playing time.
While heralded recruit De'Anthony Thomas is technically listed as a running back, he has been so electric in practices that receivers coach Scott Frost may just try moving him into the slot. It's at least worth a look, as Thomas looks to be a game-changer.
4. Cornerback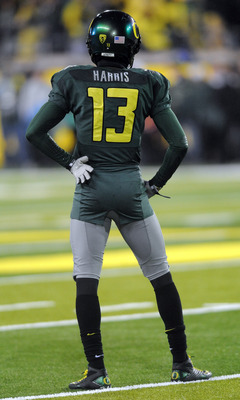 Steve Dykes/Getty Images
Like the wide receivers, Oregon is green at corner. Anthony Gildon will almost certainly start, but with Cliff Harris' indefinite suspension, the Ducks may need to look for a long-term solution to replace him. Right now, several guys are fighting for the other starting job at corner.
Troy Hill has emerged as the favorite to win the job. Only a redshirt freshman, Hill has been solid during spring and summer drills. Another young guy making a name for himself is redshirt freshman corner Terrence Mitchell.
Both of these guys will battle it out with Avery Patterson and Scott Grady for the final cornerback position.
But in all likelihood, the Ducks will continue the trend of rotating players to keep the legs fresh. I would be totally shocked if any of these players didn't see the field against LSU.
3. Linebackers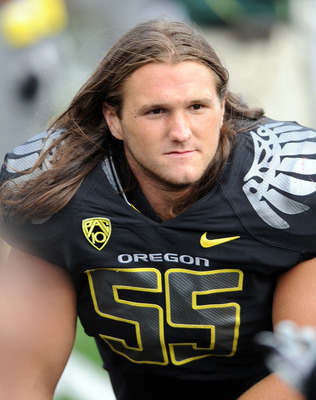 Steve Dykes/Getty Images
The linebackers are probably the weakest unit for the Ducks—offensively or defensively. Gone are Casey Matthews and Spencer Paysinger, who have graduated, and their departures have left a gaping hole in middle of the defense.
Senior Josh Kaddu looks like he'll start the season at one of the OLB spot, but two spots remain up for grabs. It appears that Michael Clay and Boseko Lokombo will battle it out for the other starting OLB spot and will rotate with Kaddu to keep fresh during games.
MLB is cause for worry, however. You only realize how good Matthews was once he's gone. Three guys are in major contention for the starting spot: true freshman Anthony Wallace, suspended junior Kiko Alonso (who has been in off-field trouble several times) and Dewitt Stuckey, who has emerged as the favorite due to his wealth of big-game experience..
With the season weeks away, a final decision should be imminent.
2. Center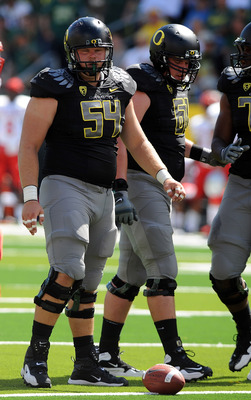 Steve Dykes/Getty Images
There will be new faces starting at center and offensive guard come September 3.
With Ryan Clanton having all but sealed up the RG position, the Ducks need to figure out who the starting center will be—and quickly.
But replacing the departed Jordan Holmes is no easy task.
There is a three-man battle raging between sophomore Karrington Armstrong, redshirt freshman Hroniss Grasu, and Hamani Stevens, with the latter returning from a church mission. Between the three, the slight edge has to go to Armstrong, who has the most experience.
Don't be surprised if any Armstrong or Grasu get the nod to start, however. Given the speed of LSU's defensive line, the Ducks need to figure out their starting line and get them as many reps together as possible. It'll be a war zone in the trenches, to be sure.
I think we all remember what happened the last time the Ducks had to replace three starters on the offensive line (2009 against Boise State). And the Ducks offense didn't have the best of games.
1. Backup Quarterback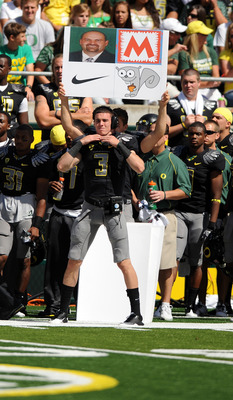 Steve Dykes/Getty Images
A lot of people don't realize just how important it is to have a solid second option at quarterback.
One need only look at the end of last season, when Nate Costa was lost to yet another knee injury. The Ducks coaching staff was much more conservative with Darron Thomas, since there was no viable option to turn to had he gone down.
Or in 2009, when the Texas Longhorns lost Heisman Trophy candidate Colt McCoy on the first drive of the national championship game, they were never the same offensively. Or that same season, when Sam Bradford went down against BYU in Oklahoma's first game of the season. Neither team was the same after.
My great fear is that, should a major injury arise, the season could slip just like 2007, when Dennis Dixon went down and the Ducks limped to the end of the season with three consecutive losses.
If something were to happen to the starter Thomas, hold your breath, folks. The Ducks would need to be ready to go with the next available guy. That looks like it'll be Bryan Bennett, who is the current second-string QB. It's vital that Bennett get as many reps as possible.
Without a solid second option, a season can spiral out of control very, very quickly.
Keep Reading

Oregon Ducks Football: Like this team?