College Football: Tom Osborne Should Be the Next NCAA Infractions Commish
August 18, 2011
Brian Bahr/Getty Images
It's only a game, isn't it?
Not really. Even a hardcore optimist must realize that the NCAA has not changed at all. The recent facade of actual justice has been a joke. Crooked and disproportionate measures of manufactured penalties still reign.
Sure, USC got its just desserts in 2010. Miami's violations go unpunished. Fair? Of course not.
Why? Paul Dee, a.k.a. Thug U's Athletic Director, was in charge of the NCAA Infractions Committee.
Miami haters are throwing joyful parades now that the former Miami AD is out of office. The pompous Chairman gladly punished the USC Trojans, yet turned a blind eye to what Miami players did. Thank goodness he's now out of the control room.
The recent transition--in Hurricane fan terms--allowed the perfect storm to happen. Had the allegations (sufficed with evidence) of Miami's unfair recruiting methods come to light last year, Dee would have done everything possible to keep The U in the clear. Miami wouldn't get the death penalty that it deserves.
More importantly, giving players concussions or neurological damage is akin to murder. As a result, The U needs to be murdered. And soon, it will.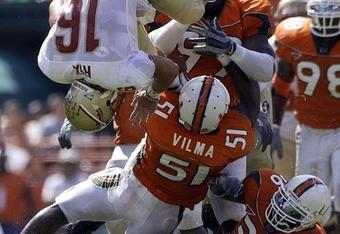 Hooray!
No. One can win a battle without winning the war. We need to think big picture.
Even though Paul Dee is no longer the malfeasant Chairman, another man with a checkered history enters. Dennis Thomas, the former head football coach at South Carolina State University, had three ineligible football players play on the team when he was at the helm.
Similarly to his predecessor, Thomas has a reputation for bias. SCSU was granted permission to reinstate the vacated victories from his tenure. All this transpired soon after he became the NCAA Infractions Chairman.
Thomas's favoritism makes him a Dee clone. To clean up the back porch, collegiate athletics needs a man with a proven moral track record. A respectable man. A man people know and have come to trust.
That leader is Tom Osborne.
Last month, Osborne reported violations at his beloved University of Nebraska. By meticulously following NCAA procedures for even a minor violation (textbooks), the Hall of Fame coach actually lived by the rules.
Osborne is not throwing smokescreens on his reverence of edicts. Nope, it wasn't about crossing his t's after Tattoogate. Go to the shelf and dust off a history book. Turn to the page on the Nebraska football program.
During Osborne's tenure as head coach of the Cornhuskers, the program was not rife with infractions. Other schools, such as rivals Miami and Oklahoma, may have blown off the rules. The Cornhuskers didn't.
Sure, there was the whole Lawrence Phillips affair, but Tom wanted to give the dude a second chance. Who can fault him for that?
Now, third chances ought not to be given. I can't keep track of how many chances the Hurricanes' Athletic Department has blown through since the 1980s.
Osborne would not be that lenient. His ethical code is rigid as steel, but having public support for his candidacy can make the road to football's redemption smoother. As a perennial champion on the football field, he is the quintessential choice to serve as head honcho.
Twenty-five consecutive seasons of having at least nine wins, being declared Coach of the Decade for only seven years on the Husker sideline, and an ESPN fan's poll claiming Osborne is the best all-time coach gets him places.
Every option has its downside. Some criticize Osborne's recent endorsement of Tressel's innocence with Tattoogate. In actuality, the Nebraska AD said he believed that The Vest was a good man, but did not know much about the details of the violations.
Delving into the article, one can hear Osborne's testimony on the state of our sport. Since the first atomic blast (SMU's death penalty) shook the collegiate world, violators have retreated to more shadowy and subtle techniques.
Instant communications lessens the chance to cheat and increases the likelihood of penalization. Nevertheless, Mr. Osborne would not get complacent. Nebraska feels they're being overshadowed in the Big XII? Let's go to the Big Ten.
Talk about playing hardball.
The NCAA has not been perfect, after all. That's motivation enough for the man, who has contributed to Congress on the issue of Due Process and the NCAA. He's proven his merit. Facing a situation like Miami would be a behemoth challenge, though. The place is dripping wet in scandals.
To put it simply, Miami has single-handedly soiled college football's values for thirty years. Nevin Shapiro, an embittered former Miami booster and Ponzi schemer, had to turn in the university for its latest decade of decadence and gluttonous hypocrisy.
If it weren't for the booster, the 'Canes would continue to evade the NCAA guillotine. Like oiled snakes, they'd again slither out of punishment's hands.
As if Osborne needs another reason to be peeved with Coral Gables.
I believe he would succeed, but the opportunity may never come to realization. Unfortunately, Osborne's time to refurbish the NCAA's character would likely not come until September 2012.
Even with the two-year term as the NCAA Infractions Chairman, other issues arise. Critics will point out his not-so-ripe age of then 76. Is having Grandpa in charge of all these spring chickens a good idea?
Not really. But is having iniquity wise? Does it foster sportsmanship? Or does it encourage violence, cheating, and other ills that will spill out as these players go into society?
Whether these men become NFL stars or work at Wendy's, each player sets an example for the youths who will look up to them as heroes or as father figures.
Miami is being taken out to slaughter, but fans (and the NCAA) need to focus on football's future. Who else has the wisdom (and more importantly, integrity) to guide the sport?
You know who it is.
Help us, Tom Osborne. You're our only hope.