How USC Can Save Miami Hurricanes Program
August 17, 2011
Mike Ehrmann/Getty Images
The stunning revelations by former University of Miami football booster, Nevin Shapiro, may be terrible news for The U. But they are potentially great news for the University of Southern California, which is now positioned to not only rectify overly-harsh sanctions to its football program, but also help the NCAA avoid giving the storied Miami football program with the death penalty. 
Shapiro, who is serving a 20-year federal prison sentence for defrauding investors of $930 million in a Ponzi scheme, told Yahoo! Sports that he spent "millions" of dollars providing more than 70 athletes—mainly football players—with prostitutes, cash, gifts, jewelry, access to his multi-million-dollar homes and yacht, as well as visits to strip joints and nightclubs, dinners and travel.
He claims that seven coaches and several support staff were either involved in, witnessed or benefited from his wrongdoing. But that's not all. Shapiro was part-owner of a professional sports agency at the same time he was a Miami booster, a fact he claims was known by the head of Miami's compliance department.  
If even half of what he is saying is somewhere in the vicinity of Land Shark Stadium, then the continued existence of football at Miami looks rather bleak. 
Indeed, it is more than a little ironic that their football program teeters on the edge of oblivion because of the actions and statements of another one of their own: Paul Dee, a Miami alum and former athletic director from 1993-2008.  
After leaving Miami, Dee was the chair of the NCAA's Committee on Infractions, retiring in 2010. He (in)famously slammed the USC football program with a "loss of institutional control" label, the loss of 30 scholarships, a two-year post-season ban and four years' probation for what essentially amounted to impermissible benefits received by one player, Reggie Bush, and his family.  
The sanctions were the most severe since Southern Methodist University was given the death penalty in 1987. In explaining the penalties, Dee said that USC either knew about the Bush family violations "or should have known."   
Although the "should've known" standard went on life support in the Cam Newton play-for-pay scandal, it has the potential to box the NCAA into a corner they—and the Canes—cannot now escape.   
Considering USC's fate and Miami's (equally storied) history of violations—including the involvement of 57 football players in defrauding the federal government of more than $220,000 in possibly the largest Pell grant fraud in history—it is hard to imagine how the program could end up with anything less than the death penalty. 
But fear not, Miami fans! USC may be able to save you.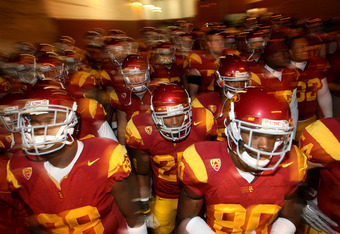 Stephen Dunn/Getty Images
Pat Haden, the athletic director at USC, should immediately write a letter to NCAA President Mark Emmert that goes something like this:  
Dear Mr. Emmert,  
In light of the recent, serious and credible allegations against the University of Miami football program, USC wishes to formally request the penalty component of the investigation into our football program be declared null and void and reconsidered by a new panel without delay.  
Paul Dee, the former chair of the NCAA's Committee on Infractions, was a driving force in determining USC's punishment for impermissible benefits received by Reggie Bush and his family. As you know, Mr. Dee served as the athletic director at Miami during the period now under investigation by the NCAA.
Given the severity of these allegations, which include witnesses and a paper trail to a wide-range of impermissible and potentially illegal activity, it seems questionable that Mr. Dee possessed the judgment and credibility necessary to have actively participated in an investigation of major violations against our program.   
USC has acknowledged that violations involving the Bush family occurred and does not wish to contest this portion of the NCAA's findings.  
USC believes it is in the interest of collegiate athletics for the NCAA to render judgments that are consistent, fair and absent any appearance of impropriety, as I'm sure you will agree. Mr. Dee's considerable role in the assignment of penalties against our football program raises serious ethical questions that, if not addressed, can only harm the reputation and integrity of the NCAA and, by extension, college football.  
Therefore, we request that the sanctions levied against our football program be voided and a new panel be created to consider penalties consistent with the NCAA's findings of wrongdoing. We would ask that this panel be comprised of entirely new members to avoid any appearance of conflict of interest, favoritism or bias toward any party previously involved in the deliberations.  
Thank you for your consideration. 
Sincerely, 
Pat Haden
USC Athletic Director 
If Emmert is smart, he will agree with Haden's request. Voiding USC's penalties altogether is technically not a reversal of the original judgment, which was upheld on appeal. It is a much-needed do-over.  
The penalties against USC never matched the NCAA's actual findings. Subsequent cases involving Cam Newton, North Carolina and Ohio State underscore this point. More reasonable penalties against USC will give the NCAA the wiggle room it now appears to need in penalizing Miami harshly without killing the program altogether.