Why It Is Time to Pay College Football Players or Institute an NFL Minor League
August 17, 2011
Jared Wickerham/Getty Images
Over the past week a Minor League system has been mentioned multiple times in the comments section...
http://bleacherreport.com/articles/403060-its-all-about-the-money-anyway
Here is a plan I tossed out last summer that blends the BCS and NFL Minor Leagues. Check it out and blast away.
Miami today, Ohio State yesterday, who will it be tomorrow?
What allegedly happened in Miami at "the U", should be the straw that breaks the proverbial camel's back when it comes to any appearance of propriety in the recruiting wars that mark college football.
There will be clean programs as well as dirty ones even in the system I am suggesting. But with the major difference of having the IRS looking over your shoulder, the temptation by most will be put in check by thoughts of jail time.
Universities and the NCAA make billions on college football every year
So how would anyone ever think that we could keep this clean?
This is a financial war, and to expect a college administration to do anything that hurts the schools ability to reap huge financial rewards in licensing rights by actively looking for issues is simply not going to happen.
Recruiting is huge business today.
Look at all the pay-sites on line that spend months talking about recruiting, throw in magazines, television programming. and constant coverage in the print media and you can see that this is a money making business.
So instead of expecting Universities, many of them small and private like "the U" to not bend the rules and look the other way when benefactors are taking care of their cash cows, let's finally do what the Olympics have done.
Here is a two part option that would reap huge financial benefits to the universities and level the field in gathering talent. Plus it would put a major dent in cheating, at least when it comes to paying recruits, and more importantly could keep players on the field their entire four years of playing time, rather than two and done for a payday in the NFL.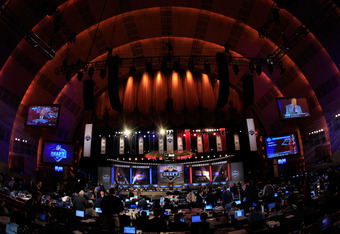 Chris Trotman/Getty Images
NCAA Draft
Crazy right?
Not so fast, how much money would the NCAA make in naming rights alone for a televised "NCAA Football Draft"? Billions...that's with a "B"!
How many of us spend at the very least a day watching the NFL draft?
We spend months debating who our team is going to get, and who others will have to take for us to get "the guy".
This gives the NCAA huge dollars in magazine sales alone, and more importantly is is an event that changes schools fortunes.
Suddenly it is not so important to hire a coach who is a fantastic recruiter like Mack Brown, but instead it is important to hire one who can take good athletes and make them great, like Gary Patterson or Chris Peterson.
While this turns football on its head for a few years, the programs will figure out who to hire in the new world, and will either thrive or fail based on coaching and development ability.
Some school like Buffalo or San Jose State will figure it out faster and find themselves competing for Championships, with the benefit of getting a Johnathan Gray or Mario Edwards that take a program and carry it to glory.
A Salary for Football Players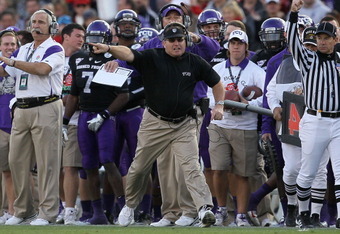 Stephen Dunn/Getty Images
So it corrupts the purity of the game...right?
Give the kids who bleed for a program a financial stake in the program, and the old "he gets a free education!" card simply isn't the case for many who play college football.
Kids are forced to play college football for two years after high school before being allowed to go Pro, so either change that rule, or pay them.
Here is a salary structure...it is simple, has no bonus structure, there is no players union and the NCAA foots most of the bill.
Four Tiered Pay scale
Squad:    $50,000 
1 Varsity Letter:    $75,000
2 Varsity Letters: $100,000
3 Varsity Letters: $150,000
If we figure the numbers based on 35 players who are on the squad, 30 with one letter, 20 with 2 letters and 15 with 3 we come up with a salary of: $8.25 million dollars a year per team. 
This covers a team of 100 players and even with 25 Seniors with 3 letters and 25 in each group we are still well below $10 Million for a full team.
Sure paying players $300 per game is a nice start, but even playing 14 games only puts $3900 in their accounts. Do we really think this is going to overcome the temptation of accepting that new car, or having a family members medical bills taken care of?
The NCAA and member institutions could cover 140 Bowl Championship Series level programs for $1.4 Billion a year.
College basketball would be next in line, but that is another story...
College football is the cash cow that keeps coffers filled, and it is time to take care of the athletes who enable these schools to reap tens of millions every year.
I appreciate your comments, and while this will not change the NCAA, it could create a starting point for discussions that may come up with a positive real world solution to the very real world issues of recruiting violations and unauthorized financial benefits to student athletes.