Auburn Tigers Football 2011: Coach Gene Chizik Rewards 8 Walk-Ons
August 17, 2011
Ronald Martinez/Getty Images
It was Rookie Night Monday, when the freshmen group of the Auburn Tigers put on skits, did impressions and basically performed for the rest of the team, much like you've seen in many NFL movies about what Rookies have to do. Then Coach Gene Chizik called eight young men up to the front, announcing that they had been awarded a free ride to the university to play football for the Tigers. 
A free ride means books, tuition, room and board paid for; a scholarship or in the old days it was called a grant-in-aid.  But the monetary award is a reward for something that means more to these eight young men. 
When you're out there pushing yourself through 2-a-days, in the Alabama heat, in some cases putting in extra weight time, track time, mental time and punishing your body probably moreso than those with scholarships, you've got to believe these kids really love this game.  
Take it from someone who's been there, when you're a walk-on you've got to push harder than those that have already made it, just to be noticed because you are an unknown in the coaches eyes, and you do it because you really want to continue feeling the thrill of just playing football. 
The Auburn Tigers were well below the NCAA limit of 85 scholarships with only 72. This was because of a large number of Tommy Tuberville's last recruiting class graduating last year and several Chizik dismissals from the team.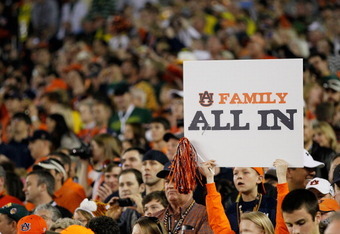 Kevin C. Cox/Getty Images
Those recognized and continuing on scholarship were safety Ikeem Means, center Blake Burgess, offensive lineman Aubrey Philips, fullback Chris Humphries, tailback Davis Hooper, wide receiver Nathan Taylor, linebacker Ashton Richardson and kicker Chris Brooks. 
All of these players have their own stories, and some have been around for awhile trying for that coveted status. 
Ikeem Means from Wetumpka, AL, has been a walk-on since 2009. He along with Chris Humphries, Ashton Richardson and Davis Hooper were with the team at the BCS Championship game last year so they carry that "All In" Auburn Family spirit that was created during the 2010 season.
Richardson is a senior from New Orleans, a long time as a walk-on. Reports are he's one that has been putting in the extra reps in the weight room, more laps on the track and spending extra time with the coaches asking questions after practice.
Blake Burgess was awarded a scholarship back in 2009 after transferring from Florida State, but had to leave due to medical issues.  He returned as a walk-on and was awarded again, so you know he's gotta be tough. Now, he's in a battle for the starting center position.
In his time at Auburn, Coach Chizik has award about 20 walk-ons with scholarships.  He says that they "really believe strongly in those young guys that are out there just because they love football and love Auburn."  He also says that it is a huge part of who they are, what the program and Auburn is about.
You can bet on Monday night there were a lot of calls home to Mom and Dad along with high-fives and fist pumps. Now, as the season gets closer, its back to work in the southern heat, but heads will be higher and the work much more rewarding, for these young men and for the Auburn Tigers.