University of Miami Scandal Yet Another Symptom of How Sick NCAA Football Is
August 17, 2011
Marc Serota/Getty Images
What's that rotten smell? Oh, it's nothing—just another in a seemingly endless string of scandals that seem to nearly mirror a top-25 list.
Ohio State, Miami, Auburn, Oregon, USC. Is that the preseason top five or a list of programs under serious NCAA investigations? In many ways it's both. 
You can pretty much queue up the fans of all these programs as they seek to compare and contrast their own beloved teams' indiscretions with those of their BCS rivals. Some will claim that their team's violations aren't as bad as another's. Some will say it's no big deal because it's everywhere. All are merely rationalizing, though. 
College football has a problem, and its name is the NCAA. A hypocritical organization that has archaic rules designed to maximize not the integrity of the sport but it's profit. These rules have worked to a tee. A lot of money is being made. 
Raking in so many millions is pretty impressive considering that the alleged title game doesn't even provide assurance of an undisputed national champ. When even the illusion of a champ is up for sale then can we really be shocked when the players and coaches are frequently indicted in scandals for taking gifts, talking to the wrong people and putting their personal profit in front of the rules? After all they all work for an organization that knows the ins and outs of that. The NCAA.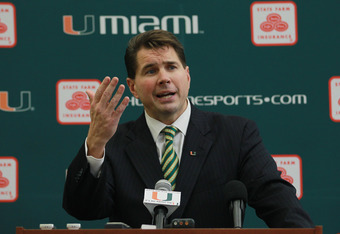 Joe Raedle/Getty Images
The Miami allegations are terrible. The school may be facing the dreaded "death penalty" which is when the program with the violations is actually shut down. No University of Miami football—possibly for a whole season, maybe for more? It would be an epic punishment for one of College football's most decorated programs. 
This isn't a case of "one bad apple." When Ohio State, Oregon, Auburn and Miami are all facing major investigations and former national champ USC has already been stripped of most of its glory from the previous decade, then it's time to start asking if all these programs made bad hires of bad people who got bad recruits or maybe there is a systemic problem in the ruling body—the NCAA. 
According to an investigation by HBO's Real Sports this past March, the NCAA has a whole fleet—as many as 14 executives making in excess of $425,000 a year.
That type of payout doesn't insure integrity. It insures inaction. Who's going to rock the boat when everyone is getting paid? Everyone except the NCAA athletes who generate revenues of over a half billion dollars a year for the NCAA and then are told they are suspended for games because they sold their own autograph and jersey for a couple of hundred dollars. 
Solving this problem will be very difficult and there are no simple or easy answers. The lack of a perfect solution does nothing to diminish the reality that the NCAA football system is fraudulent and broken. Defenders of it will point to the revenues and the ratings. As long as it's generating profit it's OK, right?
But is it? If the NCAA is going to constantly preach about the "student athlete" then shouldn't they be teaching them that sometimes there are things worth doing for reasons other than profit? Or are they just in the business of training the student athletes to be sports mercenaries? If that's the case then they appear to be doing an excellent job.
According to accusations, Miami booster Nevin Shapiro (no relation) provided a veritable "Sopranos" lifestyle to potential Miami recruits. Money, alcohol, hotels, hookers, boats and more. The violations were numerous, they were constant and they took place from 2002 to 2010. Head coaches Larry Coker and Randy Shannon will both have to answer questions.
How many more Miamis are out there? How many more need to be exposed? What's the tipping point for not just the NCAA officials but the fans?
If the stadiums were empty, the jerseys remained on the shelves and the television was on a different channel then I'd bet the NCAA would make dramatic changes pretty quickly. Why it would have to get to that point is a much better question.