SEC or No SEC: The Most Obvious Answer in College Football, but for Who?
August 16, 2011
Mike Ehrmann/Getty Images
If you received a job offer from the most respected company in your industry, what would your answer be? Let's add to the enticing offer. You're going to be receiving a lot more money, be given a larger national presence and a great deal of respect because your part of the best.
Hopefully, your answer would be yes, and if any school in the country were offered to join the SEC, they would likely say the same thing. Now, obviously the candidates are limited to a certain part of the country (at least that's what the acronym would make you believe).
A number of schools have come out in recent days and said that, "we're staying put!" Or even, "we were meant to be a member of [insert lesser conference here]!" It's all good. Really, we weren't born yesterday. We all understand that these schools are playing the role of Nick Saban while he was head coach of the Miami Dolphins.
These schools are playing the same role that many people play when they're interviewing for other jobs outside of their current company. It's all a game, and it's one that the SEC is going to win.
Basically, Texas A&M opened the door for a number of schools in the Big 12 and the ACC. However, the SEC is staying put, for now, with 12 teams. This makes sense, considering 13 aren't going to work when you already have a championship game.
In a perfect world, the SEC probably wishes Texas came knocking, but that would only be a perfect world. The SEC told Texas A&M that we're interested, but we're not looking for a long term relationship right now. The Aggies are currently in the "friend zone" and they only have themselves to blame for being there.
However, they helped open the nation's eyes to a world where the SEC is even more powerful than it already is. There was primarily talk about A&M, and then either a combination of Clemson, Florida State and Missouri. Then Oklahoma came into play, but then maybe Oklahoma State has to be part of the package; who knows?
One thing's for sure. The SEC didn't say a word. For one, they pretty much had their hands tied. The SEC would have opened them up for a lot of trouble if they went knocking on everyone's door at random. So instead, they waited for someone to show up, and it happened.
Will the SEC expand? Probably. Who will they choose? Well there are a couple of teams that make a whole lot of sense and they're in separate parts of the country. Texas A&M will likely be added to the conference if and when they expand. But who's the next target, and will they expand to 14 or 16 teams?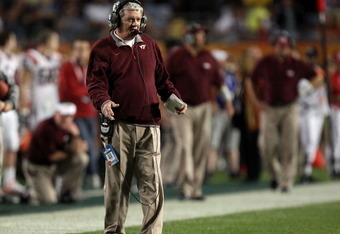 Streeter Lecka/Getty Images
Let's assume they start small and expand to 14 teams, meaning the focus will be on the east. Television will play a huge factor. Current conference standing should play a role and tradition will without a doubt be an important factor. The SEC already has the state of Florida, which means adding FSU could happen if they went with a 16-team league opposed to a 14-team league.
Clemson sounds like an SEC school, but they don't play like one. The Tigers would likely be a middle-of-the-road team or less in this conference, nothing more. If you don't agree, here's some food for thought. Clemson plays in the below average, borderline abysmal ACC and they're an afterthought. Plus, the SEC is already in South Carolina.
There's one obvious choice for the SEC in the east and it's Virginia Tech. The Hokies are more SEC than they are ACC. Why? Because football is king in Blacksburg and it always will be. Yes, the Hokies haven't won a national title, but they also don't have the long-standing history of a lot of other top echelon teams in the nation.
That doesn't mean the Hokies don't have a great tradition. If you've ever been to or watched a game that was held in Lane Stadium you can see that it's a hostile, passionate environment; they just got to the party a little bit late. The Hokies are the class of the ACC (for whatever that's worth), and they've only been there seven years.
Sources within the school have said that they're "staying put" and we're "meant to be in the ACC" and "this is where we've always wanted to be." But, that doesn't mean they have to stay. The Hokies would be unlikely to dominate the SEC upon entry like they're currently doing in the ACC, but they would make some noise.
Add to the picture that the school would likely generate close to $10 million of revenue more than they're currently making, and that's just for football. Football is the moneymaker in college athletics and it's the Hokies best and most prominent program.
If the SEC does expand to 14 teams, we already know one team that wears maroon will say yes; but will the Hokies? We'll have to wait and see.