Florida State Football: Examining the Depth at Quarterback for the Seminoles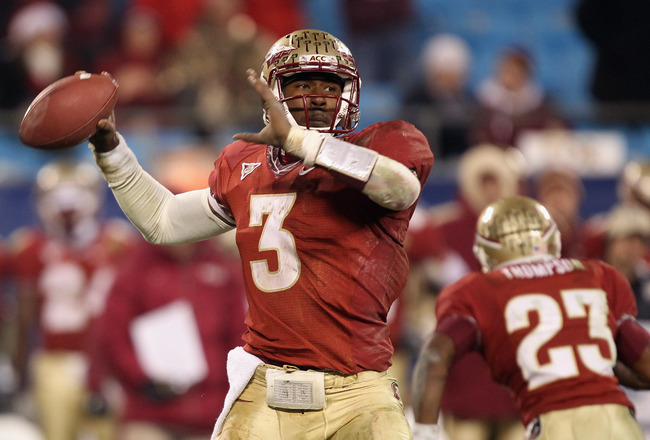 Streeter Lecka/Getty Images
The recent commitment of Jameis Winston was great news to many Seminole fans as he is one of the top quarterback recruits in the country.
Winston can provide security for the future at the most important position on the offensive side of the ball.
Obviously, he won't be a starter for a few years and E.J. Manuel looks to have the job well in hand for at least one year, but what about the guys below Manuel on the depth chart?
They have seen little exposure in the backup role and have little to no experience in games.
So when the Garnet and Gold game rolled around this past spring, it was their time to shine in the few snaps they got under the Florida Sun.
It was hard to judge any of them because of the patchwork offensive line they were working behind, but fans were able to get a glimpse at what this season and the next few might hold in store as they pertain to quarterback talent in Tallahassee.
Without further delay, the FSU depth chart at quarterback follows.
4. Jacob Coker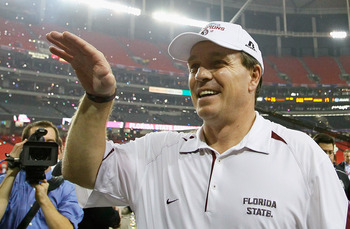 Jimbo Fisher has been positive about Jacob Coker.
Kevin C. Cox/Getty Images
This young man is at the bottom of the depth chart as a freshman, which should serve as time to learn the offense and adjust to life in college.
Coach Jimbo Fisher referred to Coker as one of the more underrated recruits of last year's class. Fisher's confidence is based on the fact that Coker was in a run-heavy option offense in high school and has serious potential to develop as a passer.
It is a surprise to me that Coker has not redshirted because he obviously will not be seeing playing time at fourth on the depth chart, but the coaching staff has their reasons.
Analysis: Have patience with this one. Coker could become a great quarterback for the 'Noles in the future. If he puts in the investment, he could see major returns. Fisher's faith could be well-placed in this one.
3. Will Secord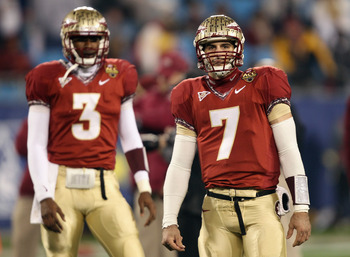 Quarterback has become a strength for the Seminoles in recent years.
Streeter Lecka/Getty Images
The talented southpaw out of Frisco, TX ends up third on the depth chart after an unimpressive effort in the 2011 spring game.
Secord went 3-for-9 in the 2011 Garnet and Gold game, which is a primary reason he lands third on the list.
In 2010, Secord had a strong performance in the spring game, landing him third. He experienced a few snaps against Samford this past season, but only has two years of eligibility remaining behind a younger quarterback and an established starter. There is also a freshman behind him who no doubt will be pushing him.
Analysis: For his sake, I hope he is able to get some playing time and show the Seminole fanbase what he can do. It doesn't look bright for this lefty, but it is my hope he does not transfer for a chance at playing time with another program.
2. Clint Trickett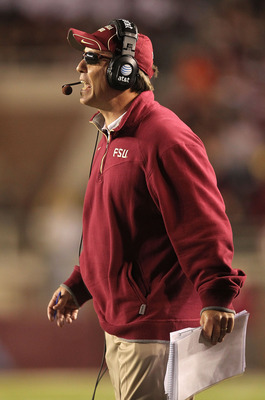 Fisher has placed Clint Trickett as the backup to E.J. Manuel.
Mike Ehrmann/Getty Images
The son of offensive line coach Rick Trickett has shown himself to be the top backup and heir apparent to Manuel.
Trickett stole the spot from Secord this past spring with a 13-of-22 performance with 137 yards in the Garnet and Gold game.
Even though he is only a redshirt freshman, he has adjusted to the offense well and looks to continue his development as a passer in Fisher's offense.
Another development is his work in the weight room. He is getting noticeably stronger; however, he still possesses the skinny frame he did coming out of high school.
He is the backup despite his lanky physique and he has the talent to succeed at quarterback.
Analysis: Look for Trickett to make an appearance in the first two games on the schedule. Despite his position, he still needs to put on some weight. He should be ready to lead the offense when he gets time on the field.
1. E.J. Manuel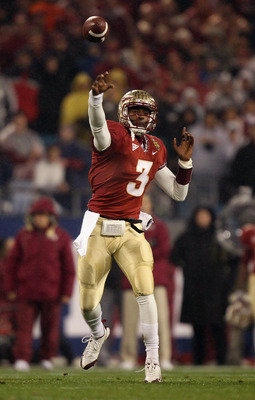 E.J. Manuel will lead the Seminoles to great success this season.
Streeter Lecka/Getty Images
E.J. is the starter. What more can be said?
After two years of sitting behind Christian Ponder and proving himself with the opportunities provided by Ponder's injuries, Manuel's patience has paid off—he has had made it to No. 1 on the depth chart.
Not only is he the starter, he is also a dark-horse pick for the Heisman.
Much of the hype is based on his record in the big games he has come out on the winning end of. Manuel will be the leader on the field and he will be the catalyst for success this season.
Analysis: He is the starter. There was never any doubt about that. The only doubts will be in his ability to lead this team to great success and a National Championship.
Keep Reading

Florida State Football: Like this team?